PJay _BabyAngel_ Frith
is creating the StarArena, A Cyber-Combat Card and Boardgame, For All Rages!
Select a membership level
Soldier-Pack!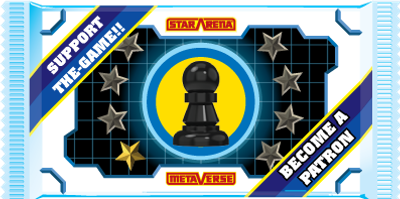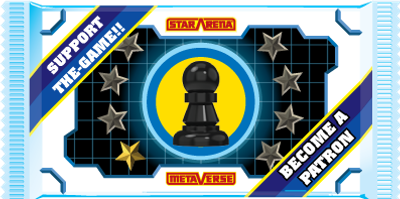 Help Keep The-Card-Game !!FOREVER~FREE!! and Sponsor further Game-Development.
Package Contents:
Starter-Deck Collector-Boxes
Patron-Only Access:
Battle-News, Progress-Reports & Unedited Original-Artwork!
Gratitude!
Sentinel-Pack!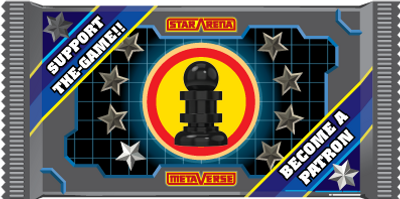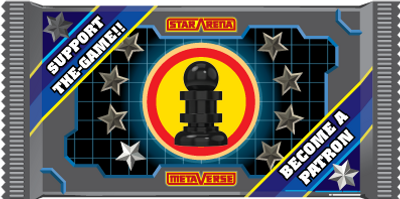 Package Contents: 
The Collector-Boxes
Booster Game-Packs
Patron-Only Access:
Battle-News, Progress-Reports & Unedited Original-Artwork!
Glory and Gratitude!
Gunner-Pack!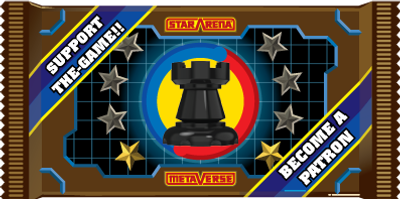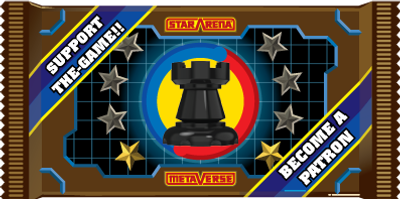 Package Contents:
Starter-Decks 
Booster Game-Packs
1 Weekly MetaVerse Comic-Strip.*
4 New Battle-Cards each Week.*
30 Days of Early-Access!* (Before 'Public-Card-Activation' in the !!FREE!! Booster-Packs!) 
Patron Only Access
Glory and Gratitude!
*These features will 'Unlock' when the Monthly-Marks are met.
About PJay _BabyAngel_ Frith
Hello out there on the other side of this screen.
My gratitude goes out to those who have supported me on my way and are willing to help me further achieve my goal:
Creating the ever expanding (fictional) Metaverse called StarArena.

The Globe is a big place, so I better introduce myself: My name is PJay
"BabyAngel"
Frith and I am a self employed Carpenter who, when in between jobs, works on his true passion:
Designing & Drawing a Cyber-Battle Card & Boardgame.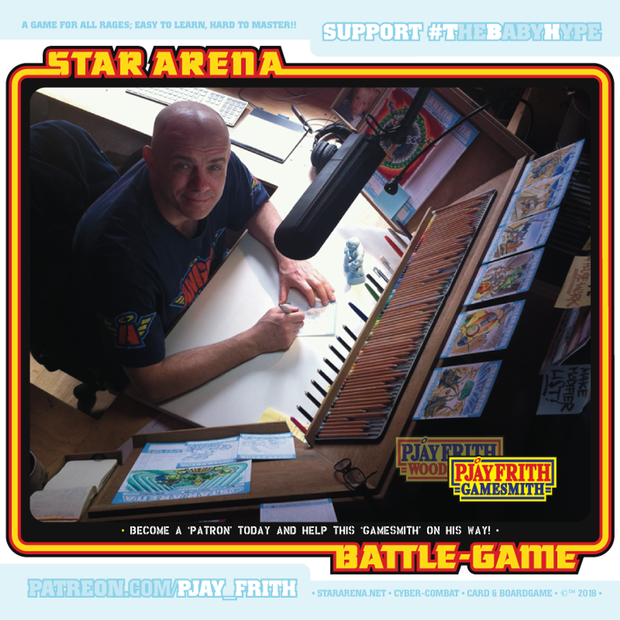 By the end of the year 2019, I will have lived half a century. With that comes the harsh realization that carpentry is a young man's game and I would rather spend my Autumn-Days doing
Art-Work
.
Don't get me wrong; I love doing classic
Wood-Craft
, but as hard as it is to admit, I am but a mere mortal and unfortunately these
Arts & Crafts
don't mix well together. After each day of commercial carpentry I need time to recuperate and regain my energy. This is why I work on StarArena 'in between' jobs.
My aim: Creating a
Customizable-Card-Game and/or Deck-Building-Game
that can be further enhanced with a surprisingly one of a kind
Tabletop_Gameboard!

Above is a preview of how I aim to 'Entertain' and Pay-You-Back for your Patronage. Again, depending on the amount of backers and funds raised, I will periodically publish
Comics & Cards
, ranging from
Randomly,
Annually,
Quarterly,
Monthly
or
Weekly.
What sets me apart from anything you have ever Read & Played before, is that my
Comic-Strips
are instantly converted into
New-Game-Cards
and Each-Publication comes with a
Print & Play PDF
attached at the bottom of the page for you bring onto the Battle-Grid as soon as humanly possible and Attack your friends in Card-Combat.
Drawing Comics is the vehicle of communication I choose to present the story aspect of The Arcade. My primary goal remains to create a
Kick-Ass War-Game!
This in itself is challenging enough and it is with lowbrow, blue-collar, technophilia or phobia game-banter, that I wish to full fill your
'Hack & Slash'
appetites.
Click the image above to: Become A Clone-Operator!
The fastest way to find out more about this Virtual-World is to
become a Patron
so that I can put pencil to paper on a daily basis in pursuit of the
Action Packed Adventures
that I have in mind for the:
#AtomicBabyClones!
These are specialized genetically engineered Infantry-Soldiers that continuously battle Cyber-Terrorism that plagues the commonwealth of The Arcade! The year is 2520, Mother Earth is no longer fertile and inhabited by the human race whom have scattered in all directions, although most seek refuge in the Metaverse. This is a Digital-Domain that is governed by a 'Stratocracy' that is perpetually under martial law and their prime directive commands:
Code is Law, Protect The Core!
No one can calculate the dimensions of this Cyber-Space, leaving plenty of gaps for unregistered users to enter this Virtual-Reality. Among the multitudes of Malware that have become Mythical Monsters, or hordes of Techno-Thieves, are those known as the:
'Outlaws!'
These believe themselves to be freedom fighters and claim 'Liberty for all Arcadeans!' These consist of a wide range in variety, from Tribal to Paramilitary. But are further too diverse to form a united front. The Metaverse is so vast and in eternal conflict between Order & Chaos! At any given time:
A Cyberwar Rages!
The more religious fanatics proclaim that the Core is an Oracle, intended as Shareware to enrich _and not enslave_ all electronic entities.
To gain citizenship to The Arcade, one must do mandatory military service. But there is a short route for the Young & Brave, or the Old & Cunning: An open Battle Tournament wherein the Victor is granted Sanctuary! This is:
The StarArena
, a Game-Portal to that other Dimension!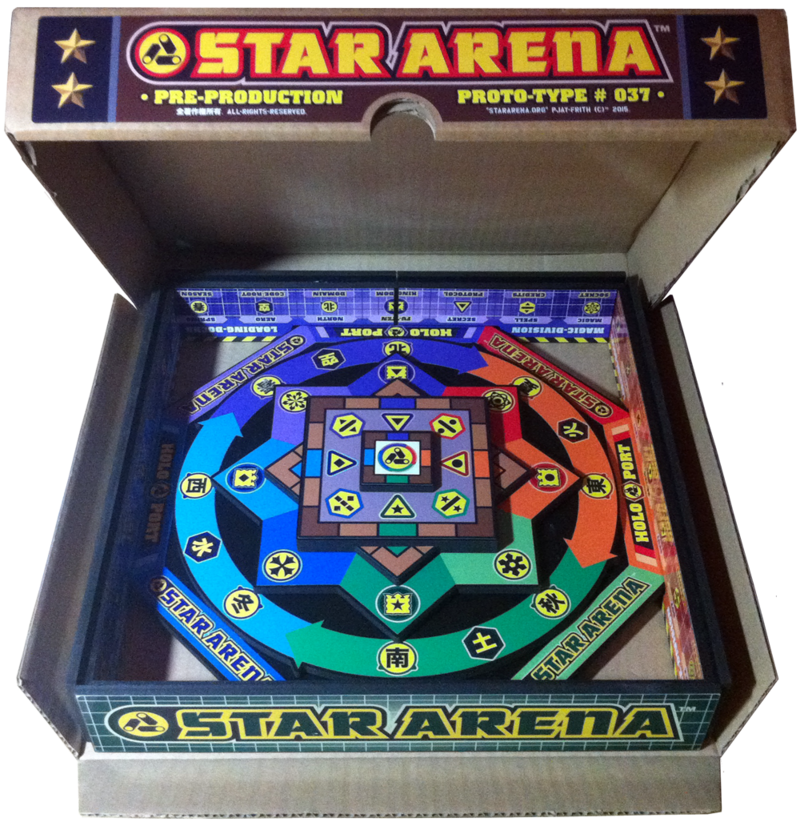 "Be Victorious or be Vanquished on this Strategic Multi-Levelled Rotating Tabletop Boardgame! As you Battle your way to the Top to gain The Grand-Prize of Sanctuary and Take The Coins!!"
These Game-Portals have undergone several revisions over the years concerning graphics and technical game enhancing upgrades yet unseen in tabletop boardgames. In 2015 your narrator and creator of the StarArena gradually
'optimized'
the design over 44 Pre-Production Proto-Types and will be submitted for Rewards to Patrons with big hearts.
All this can be captured in one sentence;
This Table-Top-Sensation Is A Kick-Ass War-Game!!
The 2017 luxury deluxe game-units are UV-printed on polyvinyl foam board, assembled and shipped by yours truly!
Order Yours Today and Help this GameSmith on His Way.
Use PayPal or Credit-Card. Your Personal Game-Portal will be Sent-Out on the first following business day.
Only Available Here
Via Patreon!
Meanwhile we need to 

'UP'

The-Card-Game_Production
It is here where I ask you to consider donating
Coin
or
Credit
towards
The StarArena
and
Become A Patron
so that I may full fill my task of completing a Kick-Ass
Cyber-War-Game!

"The Dream is to

Quit-Carpentry

and

Draw Comics & Cards Daily

, while keeping The-Card-Game

!!FOREVER~FREE!!

"
For this to succeed? The project will need;
Supporters, Sponsors, Backers or Patrons,
which we collectively call
Big~Mamma's
and 
Big~Daddies,
to grace us and donate some Coin to the Cause:
"Getting These War-Babies into the Booster-Packs and onto the Battle-Field, Till Kingdom Come And Forevermore!!"
If you are
A Player
and
'Take' cards from the !!FREE!! Booster-Packs,
you should seriously consider;
To 'Give' something back? To keep this project in production.
If all your Friends and Friend's Friends would sponsor
€1
a month;
This Would Go A Long Way!
While I Do;
What I Do!
 ...And continue my Quest to;
Create Bad-Ass Comics & Cards for You to Read & Play!
Signed:
PJay "GameSmith" Frith,
Summer of 2017
.
Whois the
#GunShin?
#軍神? #战神? #군신
$98.46 of $132.21
per month

This is what it is all about: !!FREE!! On-Line Boosters-Packs for TCG_combatants worldwide to Print_And_Play.

Become a Patron and Support further Game-Development.

Get The Full-Story Here!
2 of 8
By becoming a patron, you'll instantly unlock access to 307 exclusive posts
By becoming a patron, you'll instantly unlock access to 307 exclusive posts
Recent posts by PJay _BabyAngel_ Frith
How it works
Get started in 2 minutes