Stella Gray
is creating photos and videos
Select a membership level
Club Stella
Committing just $10 a month is basically like taking me out for coffee and a donut (it would have to be vegan, naturally). Joining me on this level shows me that you are interested in seeing more content... and some days, that's so helpful. You'll be among the first to hear announcements and grab offers that I have! (For example, you'll be able to enter in giveaways or discounts before it's announced publicly on my social media accounts!)

3 posts per week
Patron Exclusive updates, photos, and offers
Secrets with Stella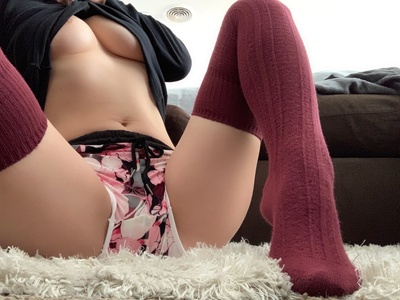 Censored, yet more risque and fun poses that I'm unable to share on other social platforms that you know me on! Join me on this level if you're a friend of mine that likes to get frisky in their imagination. Tell me all your naughty stories! You'll also be the among the first to see new panties, try on videos, and Katie and Laura satin panty MODEL ONLY styles! 

Patron Exclusive updates, photos, and offers. 
Posts 3 times each week.
Exclusive Sexy "Mini-Video" Posts shared every week.
Sexy Time with Stella
Limited (9 remaining)
Let's have some fun, and get personal. There will also be occasional NSFW or implied nudity included within my posts on this level. Suggestions for videos are also encouraged! Total Limited Spaces: 10
Patron Exclusive updates, photos, and offers.
Posts 3 times a week.
Exclusive Sexy "Mini-Video" Posts shared every week.
Birthday Club - Free Merchandise (up to $65 value) during your birthday month! Proof required as well as active subscription for the month.
Exclusive SEXY FULL 5 MINUTE VIDEO, posted via Dropbox link (around the 15th of each month).
About
I have been helping people accept themselves and enjoy what they truly desire for almost four years now. Mostly in the form of panty obsession! I've dabbled in quite a few types of self expression and it has been an incredible journey. What I have found that I enjoy the most is modeling. So that is what I plan to do! But... my style is not common or commercial.

Thank you for joining this part of my entertainment and panty art; the belfie!
My Patreon account is intended to continue creating content for my fans to enjoy. My goal is for posts to be added Mondays, Wednesdays, and Fridays of every week! I'll be providing exclusive photos, videos, and merchandise options. If you have ANY questions about my Tiers, please email me! I'd love to help clear up any confusion you have. If there is another combination you're interested in, please email me about that too!
Adult: Occasionally, I will add NSFW content. To me, this means topless or artistic nudes or sometimes implied nudity. Please note that my content here on Patreon is never explicit or pornographic.
Although my work has always been online, I hope to connect with you in a way that feels more than just virtual. I have a big heart, a silly side, and a lot of dance moves that I'm looking forward to sharing with you.
Sending financial support is one of the biggest compliments you can give. I appreciate you. Thank you for being here.

-Stella xo.


***Please do not screengrab, screenshot, save, or record any of the content you see here. It is intended to be shared directly with active patrons.***
My first goal! I'm hoping that if I reach this goal, doing Patreon full time will be an absolute win! Then I can fully commit my time to creating content for all my friends!  Wouldn't that be wonderful?

1 of 1
By becoming a patron, you'll instantly unlock access to 166 exclusive posts
By becoming a patron, you'll instantly unlock access to 166 exclusive posts
Recent posts by Stella Gray
How it works
Get started in 2 minutes