Amy Davis Roth
is creating Multimedia art projects inspired by science, society and nature.
Select a membership level
Welcome to my Patreon art family!
$1
per painting, drawing or fine art piece.
Just one or two bucks will give you behind the scenes access to my works in progress as well as the ability to suggest new design topics. And you can chat with me in the comments or in my Lens feed whenever you want a friend or need some inspiration! You will also be the first to see finished works I create. 
You get access to my patron only Lens feed where I post daily photos of work in progress and my daily art studio life. Yes, of course my adorable dogs make it into the art videos now and then! Look at that cute puppy belly! 🐾
Includes
Access to my Patron only posts AND my Lens feed
Access to any art I create before the general public
More art and a sticker pack!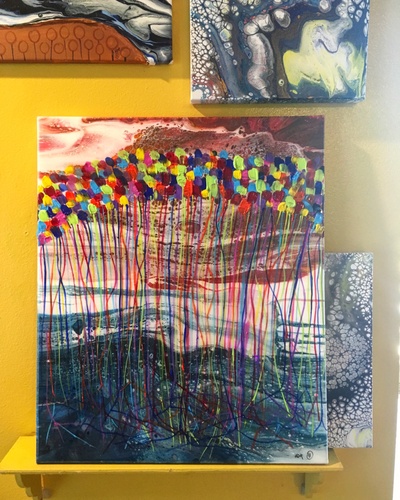 $5
per painting, drawing or fine art piece.
For just five dollars you get the above rewards and I will sometimes post extra art that only patrons at this level or higher can see! PLUS you get a one time gift of a pack of approximately 10 stickers of my art sent to you that you can stick or save!
Includes:
A one time gift of a half pack of my art stickers (approximately 10 stickers!)
Access to my Lens feed.
Access to any art I create before the general public.
All of the art, stickers & Surly-Ramics!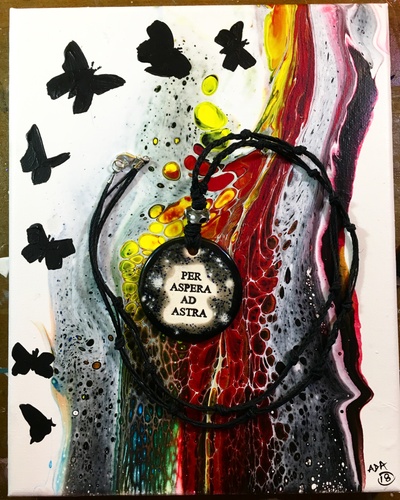 $20
per painting, drawing or fine art piece.
If you pledge this amount, you get the above rewards and I will mail you one surprise, handmade, Surly-Ramics necklace thank you gift made by me. You will get a one time surprise Surly package and I will send one of every art sticker I have made so far.  
Includes
Full Sticker Pack one time gift.
Access to my Lens feed.
BONUS art!
One time free Surly-Ramics surprise gift!
Access to any art I create before the general public.
About
I'm Amy Davis Roth and I am a multimedia artist in Los Angeles, California. I love dogs and plants. I have been a professional visual artist for about 25 years. I love to create, innovate and make, and I need you to be on this journey with me.

Please enjoy my short video that explains a lot more about who I am and what type of art I make.

******(Just a note to clarify from the video, when I do painting giveaways they are open to everyone. You don't have to be a patron to qualify, no purchase necessary.)******
Many thanks to Adam Isaak for the beautiful video.


Note on how much work I post:
I am now attempting to do at least one drawing or art piece per week for my patrons. Sometimes, I can't get that many done because of travel to cons to sell my Surly-Ramics. But sometimes, when time allows, I do post a lot more than that. This note is to help you if you plan to pledge so you can
set a pledge limit
if you need to.
I also post a lot of free, bonus content like time-lapse drawings and digital art and photography AND I'm now using the Lens feature so you can see what I'm up to on a regular basis, I post works in progress and older paintings, and current pics of me and my life there.

Thank you SO much for supporting me! Every dollar helps me stay independent with true freedom of expression. You are the best.
To learn even more about me, you can read my artist bio on my website by
clicking here
. Or ask me anything in the comments! 
If I reach this goal I will adopt another dog from East Valley Shelter and post photos of it to entertain you. I have 3 dogs I love dearly and Los Angeles County allows four! I will also create and post a bonus monthly science illustration for you to download and print at home. It will likely be botanical or molecular in nature and will be a free extra post for patrons only. Hooray!
1 of 1
By becoming a patron, you'll instantly unlock access to 388 exclusive posts
By becoming a patron, you'll instantly unlock access to 388 exclusive posts
Recent posts by Amy Davis Roth