Welcome to my Patreon page!
I am happy to be part of this wonderful new way to share my world of art with you. I discovered my passion for painting way back in high school and never looked back. I have had the honor and privilege of studying with the best of the best from Chicago (my home town) to New York. Over two decades ago my husband and I settled in the Great Northwest. I did step back a bit from my career to raise our two boys. Now as I quickly approach the 'empty nest' phase of my life, I am back into my artist life full time. And I am excited to be able to take you along on this wild and 'colorful' journey…
Visit my web site -  
susankuznitsky.com
 Mom's Stuff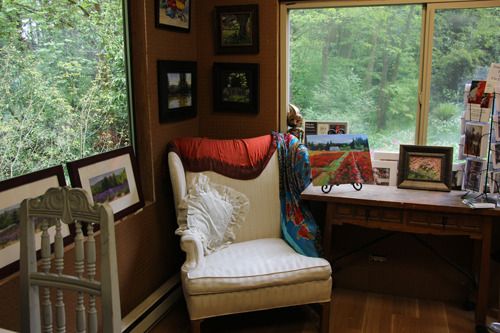 Studio in the Woods Northwest  - my studio

What does it mean to be a Patron of the Arts?
'Patronage is the support, encouragement, privilege, or financial aid that an organization or individual bestows to another. In the history of art,
arts
patronage refers to the support that kings, popes and the wealthy have provided to artists such as musicians, painters, and sculptors.'
I don't know a lot of kings or popes, maybe a handful of wealthy people but I do know there are many who love and appreciate fine art. Patreon has put together a lovely platform for us to connect art lovers and artists.
What your contribution provides-
Many art lovers I know do not fully understand the 'behind the scenes' costs of being an artist. Quality art supplies, framing, web sites, marketing, shipping, to name a few. And many don't know that the average gallery takes a 50% commission on each painting sold.
This is
after
the artist frames and delivers the painting.
Your contribution will help off set this ongoing expense. 

What you get in return-
Here on Patreon you can contribute to this expense and in return you get an inside look into what goes into creating a painting.  There are several packages to choose from so you can pick what works best for you. Pick whichever monthly package fits into your budget. Besides getting a look at what I do and how I do it you will get 'thank yous' from me in the form of greeting cards, prints, and discounts on all my artwork.  Depending on what level you pick, your monthly pledge can be used towards the purchase of a painting. Yes, you can use your contributions as a lay-a way plan towards an original painting or commission.
Your act of support is worth more than you know. Thank you so much!
Susan
More questions? Go to
Patreon FAQ page
Visit my 
Fine Art America
web site for prints, cards and more...
 'Goddess of the Roses'