Tara Pappas Art
is creating Mixed Media Paintings & Illustrations
Select a membership level
Trailblazer
Thank you for joining me on my adventures as a mixed media artist!
As a trailblazer, you receive: 
-Access to my exclusive, patron-only newsfeed, regularly updated with behind the scenes videos, process photos, polls, and more!
Stargazer
Thank you for joining me on my adventures as a mixed media artist!
As a stargazer you receive:
-The benefits of the Trailblazer tier
-Access to monthly mixed media technique instructional videos
Rock Hopper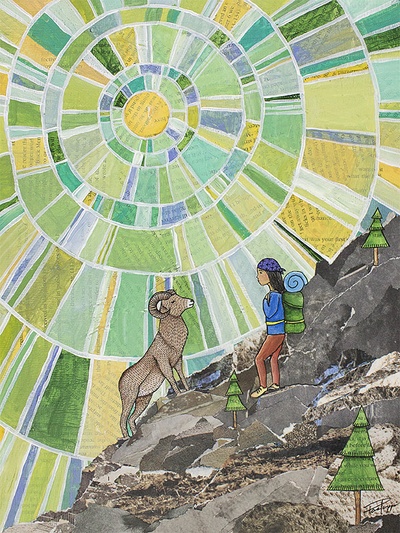 Thank you for joining me on my adventures as amixed media artist!
As a rock hopper you receive:
-All of the benefits of the Trailblazer and Stargazer tiers
-An advanced, signed, copy of my book (once released!) 
*must have been a pledging member for at least 3 months prior
About
Hi Friends!
I am so excited to share with you an idea that I've been thinking about for quite awhile now...
...I am creating my first BOOK! 
As many of you know, the driving force behind most of my work is encouraging storytelling through capturing a moment in a story that hasn't been told before. With this in mind, the most challenging part of jumping into book illustration was figuring out a way to stay true to the heart of my work. After thinking through many different directions the book
could
go, I finally came up with the perfect idea for my first book.  I know it's the
perfect
idea because from the moment I came up with the concept, I was 
excited
to start. In fact, I was
so excited
to start that the very same day I began creating the thumbnail sketches for the illustrations! 
THE PLAN
As you may have guessed from the subject matter of many of my paintings, I love spending time outdoors--hiking, biking, camping, backpacking, you name it. Whenever I'm on the trail, I have the sense that there are endless stories around me.
That being said, the concept of my book is a visual hike. Starting at the trailhead, this book will tell the story of a day hike, following a hiker as he encounters a variety of wildlife and natural elements on the trail. In typical Tara Pappas art fashion, each illustration will capture whimsical moments along the way, encouraging imaginative storytelling throughout. 
TIMELINE


Once my project officially begins on March 1st, my plan is to finish 1-2 paintings each month, with a goal of completing the book within 12-18 months. 
When the book is finished, I plan to organize a series of exhibitions showcasing the paintings in conjunction with book signings.
This is going to be a HUGE endeavor, requiring a significant amount of time, resources, and support. 
Enter...Patreon! 
WHY PATREON?
As I was brainstorming ideas for my book, I happened upon Patreon and quickly realized it was the perfect platform for a project like this. Patreon is a membership platform, giving me a unique opportunity to create and share my creative process with a community of
patrons
. 
As a patron, you get the opportunity to be a part of my behind-the-scenes, sometimes messy, but always fun, creative process! Since this will be my very FIRST time dipping my toes into the creation of a book, you will have the
unique
opportunity to experience the exciting creation of something completely and utterly
new
. No matter the membership tier you select, you will have access to all of my behind-the-scenes photos and videos, documenting my creative process along the way--and exclusive to my Patreon community! If you are a member at the Rock Hopper level ($10/month) or above, you will also receive a signed, advanced copy of my new book, once it is completed!
As an added bonus, I will be periodically sending out special, patreon-exclusive surprises (not available anywhere else!) for those patrons who have stuck with me for longer periods of time (3 months, 6 months, etc). And, of course, you are able to cancel or change your subscription level at any time!
From the bottom of my heart, thank you for taking the time to consider joining me on this new and exciting venture! 
Cheers to the big things coming this year! 
...AND WE'RE OFF! Once we've reached this goal, I will be able to purchase the supplies needed to complete all of the paintings for the book!
1 of 6
Recent posts by Tara Pappas Art
By becoming a patron, you'll instantly unlock access to 34 exclusive posts
By becoming a patron, you'll instantly unlock access to 34 exclusive posts