Tattoo and Arts Talk
is creating a podcast focused on tattoo lifestyle and all things artistic
Select a membership level
A shoutout on my youtube videos
°I'll give a special thanks to patrons on my youtube videos. ill try to shoutout  about 10 of you per video
°Send your email, and you'll be added to our mailing list. Keep up to date with offers, behind the scenes, and other antics
Downloadable Art Prints
Each month, I draw a brand new, original 11x17 art print. which I will post here.  For $7 you will receive access to said content.
Digital + Physical (signed) Art Print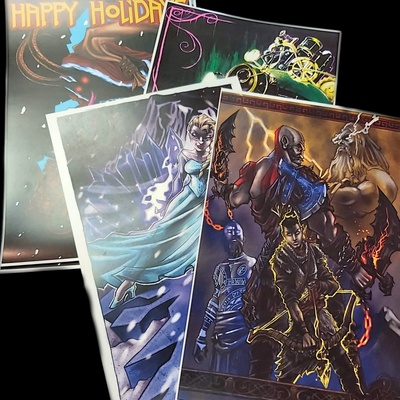 Each month, I draw a 11x17 art print. Which I will post here For $20 you will receive:
-access to said content
- a signed physical copy of A print of your choice, signed by me
About
My name is Steve Sklepic, I am the owner of a Tattoo studio in Edmonton, AB, Canada. I have roughly 15 years of experience in the tattoo industry, and have been drawing all my life. My dream is not only to produce the best art I am able, but to share my love and passion for all forms of art with the world. Here, ill be giving step by step videos on drawing techniques, reviewing the newest and best technology and apps in both tattooing and the art world, interviewing artists of all sorts, and hanging out with the interesting and amazing clients I am lucky enough to spend time with each day. Stay tuned

"Lets Just put a happy little tree here"

With an extra $100 a month, I can take a little time each month to record and edit a "how to" video, showcasing art theory, digital art creation and other tips and tricks to up your art game. Help me inspire others to pick up a stylus or pencil, and get creative!

1 of 3
By becoming a patron, you'll instantly unlock access to 6 exclusive posts
By becoming a patron, you'll instantly unlock access to 6 exclusive posts
Recent posts by Tattoo and Arts Talk