Tenerife Horse Rescue
is creating A fully registered charity to rescue horses and animals
Select a membership level
Official Buba Sponsor
Welcome to the Finca family Buba. 🧡
This poor girl was left starved, on a chain, full of fleas on a Finca when it was sold along with her brothers.
Fortunately for her, the new owner of the Finca Is a lovely man, who took them to the vets, cared for them, treated the fleas, heartworm, fed them up, vacinationed and castrated them. ( What a lovely man, restores faith in humans)

She has already put on 5 kilos and her skin issues are already on the mend. But you can still see how skinny she is, the mange on her tail, and her torn ears.

The guy couldn't keep 4 dogs, so he is keeping the really old one who has never left the Finca, the girl has come to us and we might have to take a boy also unless he finds a good home. ( He is younger, so might be easier)
As you can see she has already settled quite well, maybe too well as she has already told Coco the boss off and stole his place at the top and stolen his ball 🙈

She wants to play with all the cats who are not so impressed.
But other than that she is a very sweet and relaxed old girl 😻

🧡 Welcome Buba🧡

Official Finca Patron
This tier is for general support of the sanctuary, every litte helps and its people like you that keep this recue centre going.

This tier gives you
*early access to unreleased and untested content.
Donkeys recovery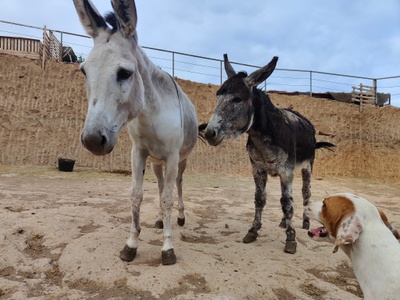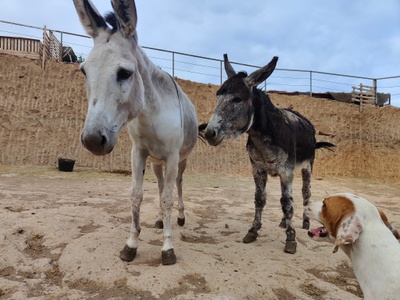 This two lovely donkeys came to us as an emergency case. Their previous owners didn't want to keep them anymore so they were trying to sell them.
Specially one of them is in really bad conditions, he really needed someone to really take care of him. That's why we agreed on a price and decided to buy them both. 
We did it because we know that we can give them a better life. But we can not do it alone. We need your help in their recovery. Specially on their skin scare routine. The black one has a lot os scratches and need special tratments.
Thank you very much for your support!
 

About Tenerife Horse Rescue
We are relatively new as we were founded in late 2018 and we are building a self funded and eco freindly horse and animal rescue from scratch, specialising in rescuing and rehabilitating horses in a relaxed way. Creating a natural and safe environment for Barefoot Equines to live out the remainder of their lives happily and in peace. But we don't stop with horses, on our small private farm in the quiet area of Arico we have a huge array of animals all rescued from the island. From guinea pigs to goats to dogs to horses…… please have a look on our website if you want to read more.
Things have grown alot over the first 2 years, but what we see most is the huge need for us to expand as the sad realisation that the amount of horses in need in huge, currently we are trying to buy the neighbouring land so that we can expand as we have built on every inch of our land barely leaving any rock untouched. we need 2 more spaces, a big retirement paddock for older and chronically unwell horses that need a place to see out their days in peace with freedom to move. Horses are built to move many miles a day and many of their injuries and illnesses can be cured through correct movement or at the very least controlled. Due to lack of big spaces, although our spaces are far bigger than most places we have see on the island we still believe it is not enough and currently choose to exercise all of our horses to keep them well, this may be 15 minutes in hand walking a day, free schooling or light riding for the healthy ones (please note we do not do excursions, nor make any money from them). This is why we have plans to build a big track system around the outside of the land which helps to encourage horses to move as they are designed to keep them fit and healthy, this is particularly important here due to the lack of space generally offered to horses on the island and this will help lower the need of our horses who need human intervention to keep them mobile, this will not only free up our time but allow us to rescue more. It will also benefit the horses who do not enjoy human interaction and prefer to be left alone, with enough space to keep sane and well. We sure know that Shadow and Trufa would particularly benefit amongst others.


$413.82 of $484.98
per month
Comfortably feed 4 horses a month solely from Patreon.
1 of 4
By becoming a patron, you'll instantly unlock access to 92 exclusive posts
By becoming a patron, you'll instantly unlock access to 92 exclusive posts
Recent posts by Tenerife Horse Rescue
How it works
Get started in 2 minutes