Select a membership level
You'll have access to Patron-Only posts, and you'll also get to be a part of all of the conversations on the Patreon Activity Feed where we discuss all the important things happening in the world…. In other words, Cat Pictures.

Also, each time I publish a new blog post, I will thank one random patron by name who is supporting me at the end of my post. This might be a shout out, a picture, a poem… Or if you are also a blogger, maybe a plug for your page. I don't know. It will be fun.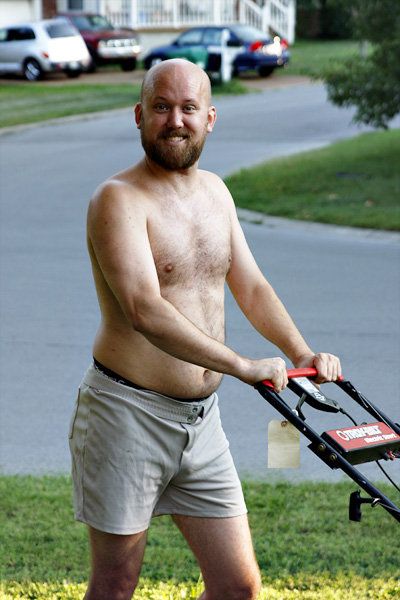 At this level, you will receive an autographed 5x7 glossy print of me mowing my lawn with my shirt off. You can hang this in your room and use it as the natural aphrodisiac that it is, you can give it away as a Dirty Santa/White Elephant gift, or you can hang it in your office cubicle at work if you have a job you don't really feel like keeping. You could even play a really fun game called "Find The Whistling Gorilla." The world is your oyster….
I'll write an original poem in your honor, and I'll post it to my blog in a new section called "Poems." I will also hand write a copy for you, sign it, and send it to you. Then, someday when I'm totally famous, you can sell that hand-written poem on eBay, and buy yourself a really nice patio furniture set. Or a cup of coffee… Depends on how famous I get.
About Chris Boeskool
I have been blogging now for one tenth of my life. For the past
four
years (carry the 1.... Yup, I'm 40) I have been writing about Jesus, Politics, & Bathroom Humor while being a dad to
three
of the funniest kids you'll ever meet, working
two
jobs, and doing my best to be a husband to the
one
love of my life. When I started, I was just writing for the few folks who knew me. I figured that if writing ever started feeling like work, I'd just stop (That had been my M.O. for a big chunk of my life). But I discovered something pretty amazing:
It turns out I 
love blogging
.
Even when it felt like labor, it was still a labor of love. And I figured something else out that was kind of cool as well:
It turns out I'm pretty good at it.
 If you're reading this, chances are good you are here because you read one of my blog posts and identified with it in some way....
Writing on "The Boeskool" has turned into something I do for my own soul. What started out as posts for a maybe a hundred of my friends and family (if I was lucky) has quickly transformed into something that is has been read by millions of people all around the world. What started out as some random thoughts about stuff that used to cause a bunch of arguments on Facebook has morphed into something I honestly consider a ministry. And for that reason, I never felt comfortable putting Google AdSense or some other sort of revenue-builder on the site.
The stuff I write has always just felt like the truth to me
, and charging someone for the truth is something we should all be very skeptical of. I'm not trying to sell anything here.
So what AM I trying to do? That's harder to narrow down, but here goes.... I'm trying to stomp out cynicism and fan the flames of hope. I'm trying to protect the reputation of Jesus from all of the garbage that people who call themselves "Christians" keep trying to pile onto him. I'm trying to love my neighbor--especially when they are the vulnerable, the poor, the oppressed, and the underdogs--regardless of where my neighbor is from, what color their skin is, what name they have for God, or whom they love. I'm trying to remind people that every time there is a story about God showing up in the Bible, he tells us NOT to be afraid. I'm trying to convince people who are 100% certain about God to be a little less certain--Whether they are certain that they know everything about God, or whether they are certain there is no God. I'm trying to encourage people to get involved in any process that works toward making the world a little bit closer to "The Kingdom Of God" that Jesus was always talking about. And I'm trying to do this in a way that is accessible to most everyone.... All while making people laugh.
So yeah, pretty simple task: Bring Hope, Fix Christianity, Love Neighbors, Take Care of the Vulnerable, Get Rid of Fear, Fight Fundamentalism (of people both inside the Church and out), and Save the World.... All while being understandable, engaging, and funny. NBD.
But I've never made any sort of money off of my writing. For whatever reason, making money off of one's "ministry" has always been an idea that has made me uncomfortable. I'm not sure why.... Guilt maybe? I believed that if I wasn't making any money off my blog, it was somehow more noble.
But I'm starting to understand that my whole life is my "ministry."
And it's okay if people want to support me in the "simple task" I mentioned above. And that's why I'm doing this Patreon page. I can't tell you how many times I HAVEN'T been able to write about something that I desperately felt I needed to write about because of the pure exhaustion of maintaining two jobs, all so my kids could have fancy things.... Like "food." 
So I'm asking for your help.
If you enjoy the stuff I write.... If you believe that my voice is one that the world needs to hear.... If you want to support my mission of hope and love and rationality and salvation and laughter.... I'm giving you a way to do that. If you value the content I create, and you have been affected by what I am attempting to do on my blog, and you want to help me do it, you can give. The content I post on The Boeskool will always be free for everyone, and I plan on it always being uncluttered by advertisements, but I need your help. And, for what is probably the first time in my life, I feel completely at ease asking for it.
Thank you so much for considering....
Right now I post my blog on a free WordPress page, and they put a few ads up to help them pay for their site. At this level, I will figure out how to have one of those fancy, newfangled websites of my own that someone else is not running ads on…. I'm not exactly sure how to do this, but I know people who are way smarter than me.
1 of 5
Recent posts by Chris Boeskool