Justin Jay I Nitsuj Yaj
is creating An Infinite Novel Series
Select a membership level
MEET YOUR 'OTHER'
Thank you so much for your help :D
-Your name will be shown and mentioned (by me) in the end of all videos forever afterward. 
Here's how it will look. (I will also personally mention you in the video) 
"A huge thank you to; 
                       Mike Sonas /\  Èkim Sanos for being our first Patron" 


You also get added into our Acknowledgements page in our upcoming book!
You will also get a visual image made for both you and your reflection!
Here's an example of one we made for Ariel  /\ Leira:
https://t.co/VHHqcRnLlk?amp=1



SUGGEST MY NEXT VIDEO + MORE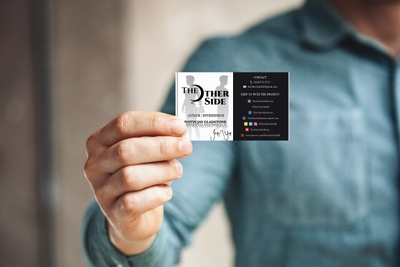 Thanks for helping our future selves! With this tier, you can suggest our next video topic!
It can be questions about:
The Other Side
Our current developments plans/projects
Writing related videos
Writing related advice
Anything you need!
With this tier you will also have
EARLY ACCESS
to information regarding our writing process, tips, and tricks, as well as more information regarding the story's plans!
You can email them at any time to
:
[email protected]
You also get:
Your name will also be shown and mentioned (by me) in the end of all videos forever afterward. 
Here's how it will look. (I will also personally mention you in the video) 
"A blessed thank you to; 
                       Selena Gomez /\  Anelès Zèmog for being our first Patron" 
A DIGITAL POSTER W/ YOUR NAME
You will get a digital downloadable poster with our signature, that comes with your name and the reflected version of it!
Below you will see the template.
(Just imagine it with your name in the center and our signature in the corner).
Your name will also be shown and mentioned (by me) in the end of the video. 
Here's how it will look. (I will also personally mention you in the video) 
"A blessed thank you to; 
                       Cerdio Shaw /\  Oidrec Haws for being our first Patron" 
About
Who Am I?

My name is Justin Jay Gladstone, and I'm the creator of
The Other Side
. 
11 years ago
, I looked into a mirror and heard a voice inside ask;
'
What if there was a world within the mirror that reflected ours?
'
And thus, a book series about 
The Other Side
was born...
I'm currently doing everything in my power to make this series accessible to everyone. 
I started this Youtube channel to produce various forms of writing content
I started sending free books out to willing readers
I have developed 15+ episodes for an audiobook 
AND SO MUCH MORE!
The problem is,
most
of my assets aren't original, so I
can't
monetize anything...I work very hard with one job to pay my bills, and even with that, it's a bit hard to obtain new materials to better present the developing series.    
I started this Patreon because I need help with covering the cost of tools that will help gain the ability monetize
The Other Side
. 
(What will I do with your money?)



-Send FREE books to willing readers-


Readers find the synopsis of The Other Side very interesting. However, since I'm a freshly new author, people are often reluctant to purchase a book. So I have to send free copies out in exchange for honest reviews.

I'm completely fine with doing this, but I can't deny that this will require great deals of money to ship to all those who do want to review it.

(Honest reviews will help others to buy it in the future)

(More than fifty are on my to send list.)

Here are the shipping prices for those who want the book;

To anyone in USA;
$16.19
To Uk, $18.00
To Italy, $20.00
To Argentina, $23.00
To Africa, $30.00
To Australia, $30.00
To India, $31.00

I have 50+ people to send books to, and as you can see...It gets pretty pricey.
So everything counts.

-What will I do with your money?-

-I want to hire artists so that everyone can see exactly who the characters are. Below, you can see what kind of artwork I'm looking to create.

On average, most artists charge $35 for something like this
(Colored by me) 

And $65 for something like this; 

(Each are owned by me) 

I want to have it so that readers/watchers have more to look forward to when not only reading but watching the videos. I also want to make an artbook with collections of character artwork
in the future
.  
I currently use
Live Portrait Maker.  
It is an app that allows you to create characters...But since it is
not
mine, I cannot monetize anything.
Thankfully, a lot of us creators who
cannot draw
can at least use this
iPhone
/
Android
app to freely paint a clearer image for us and the reader. 
(Live Portrait Maker)


-What will I do with your money?-
-I want to purchase original stock footage for Youtube. So this is basically about finding videos with specific environments, settings, and happenings to make videos much more realistic and relatable.

Websites like Pond5 are where I want to start. However, they often charge 75$ per video clip.

-What will I do with your money?-

-Make an original soundtrack for the series-

I occasionally try to collaborate with a talented musician who charges 150$ per song. With bills in mind, it can get a bit difficult.

You can listen to our developing soundtrack here;

https://soundcloud.com/tunesfromtheotherside

Frequently asked questions:
How did you publish your book?
I did it independently :) So I am what you would call, an
Indie Author
. 
What is an Indie Author?
Unlike
traditional publishing
, an indie author is allowed to create their own works of art without the need to seek an agent for publication. Traditionally publishing is certainly an easier road and one that everyone would take if they could.
I chose to publish independently because I did not feel like waiting a few weeks or months for anyone's approval on this stories concept. 
The tradeoff is that the Indie Authors are forced to advertise, promote, his/her own work, without the assistance of a big company.
Many aspiring authors stray away from this road because of its expensive trials and tribulations. I do not blame them. 
However...I'm a 25-year-old creator.

Time is passing quickly...
I'm fully aware that as time slips, the world and approaching responsibilities will do their best to stop this series from breathing.
 Will you help us win this 11-year fight? We're counting on you. 
Remember, everything counts. 
The Rewards will continue to increase as the number of patrons does!
Find the book and all of its affiliates here;
linktr.ee/theothersideeb
Interested in the book but don't enjoy reading?

That's okay! 
We have an interactive series on Youtube that shows the listener a video with environments, music, and sound effects to better convey the story.

Check out the first episode; 
(Episodes come out every Thursday)

https://www.youtube.com/watch?v=R0M-xWH1Uv0&t=44s
All funds are currently being spent on:


Sending FREE books to readers who would like to read The Other Side. We are currently at $152?! 
Paying our artist, Jessica Lagos for her hard work in bringing these characters to life.
Now that we've gotten to 175$, we will start shipping MORE BOOKS, AND obtaining MORE character-based artwork! :D 
We are now currently able to send 5 FREE books per month to readers in the USA. Thanks to the funds, we can now ALSO send 3 books to a foreign country. (The best part about these new funds, is that we have the option to select speedy shipping for foreign readers!) 

THIS IS INCREDIBLE!

Now that we've achieved our goal of $125, we'll begin searching for an artist to bring us more background artwork such as what's below. 🠗


I started this Patreon page in November 2018. I was so worried that it wouldn't go anywhere. But now, thanks to you all, I now believe that there is nowhere to go, but up.

Our goal after will be to arrive at $300 per month.
This will allow us to earn artwork at a swifter rate (and more types of art), thus speeding up the publication process for Book II, and those to come after.

Things we'd like to do with the artwork: 


We want to make an art book with character sketches and designs for readers! I have a lot of friends who love drawing. They love to collect art samples from those who've made games like, Legend of Zelda: Breath of The Wild, and Kingdom Hearts. So I figured, why not do the same?
The more artwork we have, the better we can convey our visual audiobook! Meaning, we would not only have our own original characters, but also our own backround visuals! Imagine that! 
We will also be able to update our debut novel with character and MORE background images! This will help enrich every readers' experience while visiting The Other Side!

Thanks to our 14 lovely patrons, w
e have hired a character artist/animator for The Other Side series!
This is Jess Lagos! She'll be drawing every single character in the series!
MORE INFO BELOW

Here are the shipping prices in case you were interested;
To anyone in the
USA
,
$16.19
To
Uk
, $18.00
To Italy, $20.00

To Argentina, $23.00
To Africa, $34.00
To Australia, $34.00

To India, $
34.00

(Africa, Australia, Argentina, and India take the longest! So the fastest shipping options are 30$+. Without a speedy option, they must wait 20-30 days!)

Why do we send free books? We want book reviews!
Book reviews help The Other Side with exposure and also helps the series grow stronger!

(See what readers are saying about the story so far!)

Reviews for The Other Side:
https://www.goodreads.com/book/show/41004013-the-other-side
3 of 3
By becoming a patron, you'll instantly unlock access to 18 exclusive posts
By becoming a patron, you'll instantly unlock access to 18 exclusive posts
Recent posts by Justin Jay I Nitsuj Yaj