☾ THE OTHER SIDE ☽
is creating AN INFINITE NOVEL SERIES
Select a membership level
Get exclusive patron-only merch
MEET YOUR 'OTHER'
BEHIND THE SCENES + BLOOPERS & MORE!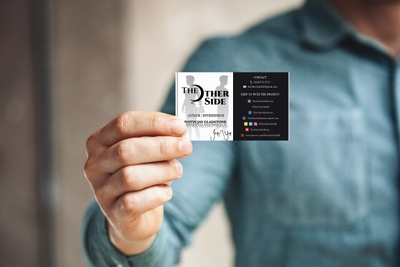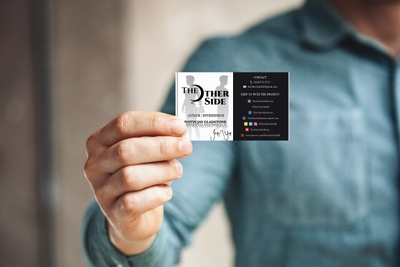 Monthly Consultations OR Free Graphics!
About ☾ THE OTHER SIDE ☽
Hello all. My name is Justin Jay Gladstone, and I'm the creator of The Other Side. 


13 years ago (in 2009)
, I looked into a mirror and heard a voice inside ask;
'
What if there was a world within the mirror that reflected ours?
'
And thus, a book series about 
The Other Side
was born...
This
Patreon
account started in
November 2018
, and has continued successfully up to this point with the intent of making this series accessible to everyone with all accrued funds. 
Here are some examples of something that we've done: 
We've started a YouTube channel to produce various forms of lore and much more
We use funds to send free books out to willing readers, bloggers, and reviewers.
We have developed 15+ episodes for an audio book
We have hired more than 3 artists to produce all sorts of content for our social media platforms. 
Hired 15+ voice actors
And much more!
When we had originally started this Patreon account, it was because most of the assets we used (such as artwork), did not belong to us. So the first and most important goal to us was to cease utilization of any resource that was owned by someone else. To produce artwork, we used to use a service app known as
'LivePortraitMaker'
.
Time passed, and thanks to these funds, we were able to hire multiple artists who thankfully have decided to join our team here, at
The Other Side.
We would love to continue having your assistance so that we can continue providing our audiences with the above mentioned services.
(What will we do with your money?)


-Send FREE books to willing readers-


Readers find the synopsis of The Other Side very interesting. However, since I'm a freshly new author, people are often reluctant to purchase a book. So I have to send free copies out in exchange for honest reviews.

I'm completely fine with doing this, but I can't deny that this will require great deals of money to ship to all those who do want to review it.

(Honest reviews will help others to buy it in the future)

(More than fifty are on my to send list.)

Here are the shipping prices for those who want the book;

To anyone in USA;
$16.19
To Uk, $18.00
To Italy, $20.00
To Argentina, $23.00
To Africa, $30.00
To Australia, $30.00
To India, $31.00

We have 50+ people to send books to, and as you can see...It gets pretty pricey.
So everything counts.

-What will I do with your money?-

Vanessa is the official character artist of the many characters who take part in The Other Side.

On average, Vanessa charges $50 per character:




So most of the funds would go to funding her artwork as she will be drawing characters from throughout the series. (There are 13+ books in total). Any extra funds will go to anything that is related to The Other Side;
-Advertisements
-Monthly Adobe Subscription
-Purchasing books for willing readers
-Equipment for Cameras, Computers, Books, and more!
-Dropbox Monthly Subscription (to store all The Other Side data)
My vision for
The Other Side's future,
is to utilize artwork so that we can help the minds eyes of all readers, to see
exactly
what us creators see, when writing and taking part in this long series. 
I want to have it so that readers/watchers have more to look forward to when not only reading but watching the videos. I also want to make an art-book with collections of character artwork
in the future
.  
(Made With Live Portrait Maker) [A program we no longer need to use thanks to our patrons]



-What ELSE do we plan on doing with your money?-

[Future Goals]

I would eventually like to hire a landscape/environmental artist, one who can portray the environments of both reflecting worlds like shown below.
These typically cost from $45-85. Vanessa has offered to draw backgrounds like these for 100$.


-Make an original soundtrack for the series-


You can listen to our developing soundtrack here;

https://soundcloud.com/tunesfromtheotherside

FREQUENTLY ASKED QUESTIONS

How did you publish your book?
I did it independently :) So I am what you would call, an
Indie Author
. 
What is an Indie Author?
Unlike
traditional publishing
, an indie author is allowed to create their own works of art without the need to seek an agent for publication. Traditionally publishing is certainly an easier road and one that everyone would take if they could.
I chose to publish independently because I did not feel like waiting a few weeks, months, or years for anyone's approval on this stories concept. 
The tradeoff is that the Indie Authors are forced to advertise, promote, his/her own work, without the assistance of a big company.
Many aspiring authors stray away from this road because of its expensive trials and tribulations. I do not blame them. 
In your '$30 Tier', you offer a 'Part-Time Writing Coach' program, what is that?
While being on this road of Indie Publishing, I've come across many other authors. In September 2017, I met one who came seeking help on rewriting, rebranding, and republishing her series. My dear friend Maria, joined what I have coined as the 'Creative Studies' program, where I as the Writing Coach would use my experience and knowledge to help her meet her goals. 
Over the years, this program expanded to two more clients who are also seeking their own goals. One aims to become a published Comic Book Artist, and the other, a renowned Author and Artist.
The Writing Coach program has proved to be very useful to them, and if you seek success while battling against your own weaknesses, I promise that within our communities group chats (on
Discord
and
Instagram
), we will find you a home where you can be as creative and talented as you wish to be.
How many people have you worked with?

So far, three wonderful people.
Why should we work with you? Are you certified in what you profess?

Well, the 'Creative Coaching' program comes with more than just advice on; preparing yourself to become an author, or following good routines to stay productive. I am here to help in whatever goal you desire. So if you wanted to write a novel series AND become more well known on social media, I can suggest my methods of obtaining organic growth based on experience, observation, and what I constantly teach myself.
I currently have 4 certifications with regards to social media.
Those being:
Email Marketing
,
Sales Enablement
,
Inbound Marketing
, and the
Fundamentals
of
Digital Marketing
with
Google Digital Garage
.
With my aid, so far; one client named Maria Ashen (the first to join) has published her first of many stories to come. Her debut novella was published on April 30th, 2021.
I teaching myself new things to bring to not only she and the others, but myself and all those who follow after.
My time spent with my clients, helps not only them, but also what we do here for The Other Side. The funds they give in exchange for my service and advice, helps us more than we ever imagined.
Join us in our
Creative Community
to learn about yourself, and your characters.
If you're not here to become a part of the '
Creative Coaching
' program, then perhaps you will consider supporting us with the other tiers. We offer a lot of merchandise in exchange for your support.
Thank you for your time, help, and service.
See you, on The Other Side.


All funds are being spent on sending FREE books to readers who would like to read The Other Side.

Here's what our current patrons help us do:
-Send 1-5 copies of Book I to readers throughout the world per month. (Books are $25 per copy)
-Pay Vanessa, Nicole, and Jewlie for artwork, ranging around $30-55 per character. (We can afford 1 character per month)
-Pay for Dropbox and Photoshop. ($40 per month)

What we would like to do once we reach 50 patrons:
-Send 10 copies of Book I to readers throughout the world.
-Commission our artists for 2-3 characters per month.

Reviews for The Other Side:
https://www.goodreads.com/book/show/41004013-the-other-side

1 of 2
Become a patron to
Unlock 28 exclusive posts
Connect via private message
Recent posts by ☾ THE OTHER SIDE ☽
How it works
Get started in 2 minutes