Christopher "Arcaxon" Malouin-Monjaraz
is creating Projects: TSG!(Community) - Arcaxonia(Store) - and more!
Select a membership level
Every Dollar Counts!

It does so thank you! With this you will gain access to:
Gain Supporter Role on TSG! & FG!
Access to the SUPPORTER-ONLY channels on TSG! & FG!
Gain Access to Audio Updates!
Sneak peeks of upcoming projects!
Sneak peeks can be given on request too, meaning if you wish to see anything in the works you're free to ask!
[TSG!] Exclusive usage of some Patreon-Only commands!
Some commands ONLY work for our Patreon supporters, 9 commands to be exact!
[TSG!] Submit a PERMANENT status for Cassi's "Playing" status!
This status will last forever no matter the duration of your Patreon support! The status can be anything that is SFW! It will still need to be approved within the Patreon Channel on Discord though.
Includes Discord benefits
Cassi's Little Helpers!
Thank you so much for your support! Cassi would like to thank you with these cool perks!
[TSG!]Get a Custom Trigger on our Discord where you can decide what Toony shenanigans Cassiopée herself will do for you!
Cassiopée can do an action which will trigger when a trigger phrases is said, example: "I see no pistons". After hearing that she'd crush someone with a piston as requested! If you have questions about this, feel free to ask them in #help_suggestion channel within the server!
[TSG!]Get Discounts to appear in Event Arts!
For every HUGE Slotted Event Arts you will be able to have your characters appear within them for a discounted price! The in-house/affiliated artists of TSG! draw "event arts" every few months!
(This will eventually be available for FG)
Get a FREE Sketch from our Affiliated Artists/In-house Artists when you become a Patron!
This is available in both TSG! and FG.
When becoming a Patron you get a free sketch from one of our Affiliated/In-house artists! This is only upon becoming a NEW Patron that you can get 1 free sketch!
Plus all previous rewards!
Includes Discord benefits
Cassi's Heroes!
Whoa! Thanks so much for the help! Not only do you get
every previous rewards
 but you also get to be included in all Event Arts!  
[Arcaxonia]Get 2$ off Most Products!
On almost all products on store, get a 2$ off coupon! (Please contact Arcaxon before ordering a product to get your custom coupon!)  
[TSG!]Get included in Event Arts for FREE!
For every events we have an event art! Said event arts are made by one of our in-house/Affiliated artists of TSG! Event arts normally include all 10$+ Patrons. You will be included for both 10$+ Patrons and slotted Event Arts.
(This will eventually be offered in FG)
Plus all previous rewards!
Includes Discord benefits
About
Hi! I'm Arcaxon a professional Web/Graphic Designer. I love to work on my various projects whether it be my online store Arcaxonia, my internet safety blog PSAid or my Toony focused community: The Squish Gang! They are all projects I put a lot of efforts into! 
Here are a Few Things I Work on:
Why Support me?
Supporting me means supporting the projects I own and by doing so receiving unique perks! Within this page you can see the list of all perks gained from supporting me!
Main Projects
Not all project get the same amount of attention and so only main projects listed below will get you rewards!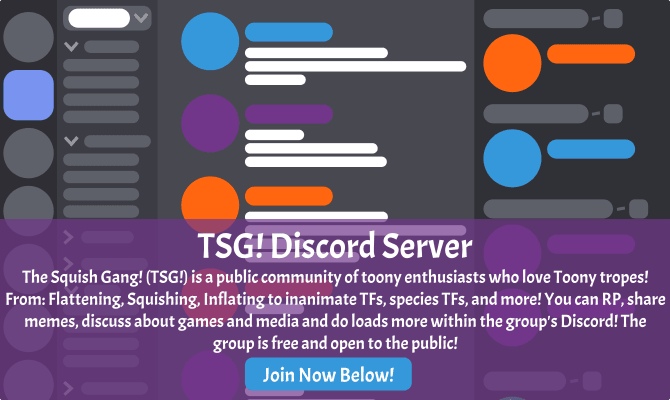 The Squish Gang! (TSG!) is a public community of toony enthusiasts who love Toony tropes! From: Flattening, Squishing, Inflating to inanimate TFs, species TFs, and more! You can RP, share memes, discuss about games and media and do loads more within the group's Discord! The group is free and open to the public! The Discord server has custom Bots most notably Cassiopée aka Cassi. She's a kind AI and also TSG!'s mascot, she helps run the place! She has unique Commands to interact with the toons of the group! She can even create a customizable toony licence for you! In TSG! Events are held every few months! These events are host to multitude of new commands, wonderful toony event art by our affiliated and in-house Artists(Who are paid by our Patrons and non-comital), multitude of pins to collect for your Toony Licence (Which give access to commands even after the event is over!), and occasionaly raffles and other activities! We also have a monthly art raffle thanks to our Patrons! All of this is offered for free for the Toony community to enjoy! We're also committed to offering a space free of Drama, political and religious topics. Our dedicated staff team is always available to help if you need anything or have any questions!
You can join our community by clicking this link: 
http://Discord.TheSquishGang.com
Or:
https://discord.gg/bUtbUVK
!
(There is a little initiation phase, Listen to Cassiopée and you'll be okay!)
We love artists and the amazing art they bring us which can help us reflect or simply keep us entertained! Arcaxonia is a small merchandise store based in Québec, Canada. Our goal is to give artists the opportunity to make their designs into real products and to offer them to you!
Arcaxonia started from an idea originally called Toony Shop; but as we worked on trying to find partners we found others outside of the Toony community interested in our project and ideas after several months of research Arcaxonia was born and the original idea of the Toony Shop was integrated into one of our many "collections"!
Store is available at: 
https://arcaxonia.com/
With this amount we will be able to fund a lot of projects currently in the works! Making it easy for us and others to use! We will also hold 2 more art raffles per month!

Thank you all so much for the kindness! <3
6 of 7
Become a patron to
Unlock 30 exclusive posts
Connect via private message
Recent posts by Christopher "Arcaxon" Malouin-Monjaraz