The Freelance Life
is creating exclusive videos, design + art tutorials and Monthly Happy Mail
Select a membership level
The Thank You Note Crew
💌 Poll access to vote on content from YouTube videos to Product ideas.
💌 Access to Patreon feed where I'll posts random sketches, life updates, tips and thoughts on running a creative business.
💌 Access to "Lens" app where you can see "behind-the-scenes" videos (stories) of my daily workflow, product design, 
motivation, and more!
💌 Downloadable Calendar each month created or hand drawn by me!

The Planning Crew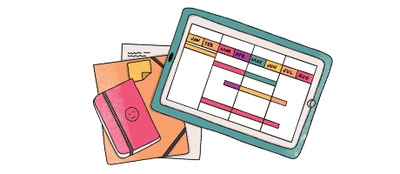 💌
Digital downloads
Including, but not limited to  desktop/mobile wallpapers, digital planner products and Printable Stationery each month.
💌
10% discount code on everything
in the Bella+Sophia Creative Etsy shop!
💌
PLUS all previous rewards!
The Creative Crafters Crew
💌 Exclusively Monthly Video that only patrons get access to! These could feature anything from mini vlogs, design and art tutorials, draw with me videos and more!
💌 A Special Shout-Out at the end of my Youtube videos as a thank you all those supporting me at this level!
💌 15% discount on everything in the Bella+Sophia Creative Etsy shop!
💌 Plus all previous rewards

About
Welcome to the Freelance Life!
I'm happy you've landed in my corner of the internet. What's the
Freelance Life
? Well, in short - it's a
youtube channel
that I use to share my experiences running my independent studio:
Bella+Sophia Creative
. I share
informative videos
,
tutorials
and
vlogs
relating to running your own creative business and the fashion industry. I also create courses over on
skillshare
.
As a freelancer, it can often feel like we are alone, but the reality is that there are so many of us out there and I want to help create transparency in the industry and show others that if they're ready to put in the hard work, they can launch their own creative small business as well. There are many facets to our journeys, just as there are many facets to our lives and I hope I can highlight that as a small business owner, artist and mother on top of it all.
The Freelance Life is a channel dedicated to empowerment in the creative and business space. In a time when social media so often portrays the perfect picture, here you can find the raw reality behind pursuing the path less traveled when it comes to creative pursuits, careers and life. My hope is that this space will house inspiration to keep you motivated while traveling your own path.
Who am I?
I'm Jen Lezan-Veguilla. As a creative entrepreneur, I've had the opportunity to connect with and learn from many people who are taking an alternative route when it comes to their life, creative passions and careers. Personally, I'm working on rediscovering my own footing in my career.
In addition to being an adjunct professor teaching at a major university in their online department, running my own freelance digital media, design and illustration business, I also launched an indie publication called: Halfstack Magazine 8 years ago. I am a mom to two beautiful young daughters: Bella and Sophia (they're the inspiration behind my studio and the reason I work so hard).
Yes, it was as exhausting as it sounds. I'm a recovering work-a-holic whose trying to strike a balance between making a living and living my life. After 7 years - I made a pivot in 2018 and decided to shut down the magazine, refocus my energy on my freelance creative business and find time to spend with my family. Yes, I'm still teaching, but as the education industry continues to change for professors like me who are considered "contingent", I find myself continuing to build more opportunities for myself as an entrepreneur. Primarily building my own online courses with the same quality and information that I put into the college courses I teach. I guess, that's what is in "alignment" with my heart and soul right now. It's an interesting place to be as someone in their mid 30's and as a parent it can be daunting, but I'm learning to trust my intuition and as uncomfortable as it may be, it feels right.
The Goal for Patreon
Supporting me on patreon means you can help be a part of building an inspired online community, where we can help one another to achieve our goals and create more! This also means I will be able to spend more time filming and editing video, building more courses and making better content for those who follow on youtube rather than working on client work! This outlet will also be helping me focus on building product launches that you all will get to test from time to time.
How to Support on Patreon?
So, if you would like to support me on patreon, just pick a pledge from the tiers or pledge however much you can make work and enjoy the rewards that came with that level. Don't forget you can pledge as little or as much as you like! It's really up-to you, you can also edit and cancel your pledge at any time!
I hope you join me on this journey. I look forward to sharing my insight, experiences and shedding light to the realities of running your own creative business. I'll be sharing helpful tools to help you on your freelance journey, informative videos and offering some fun products along the way!
---
Jennifer Lezan-Veguilla
At this goal you will help me keep creating new products, courses and informative YouTube content for creatives and art lovers alike.

1 of 1
Become a patron to
Unlock 21 exclusive posts
Connect via private message
Recent posts by The Freelance Life