Tiffany Dae
is creating other worldly oil paintings
Select a membership level
Dreamers
On my Patreon you will find:
Sneak Peeks:
I'll be posting day to day progress updates including thumbnail concepts, sketches, studies, in progress pictures, and concept thoughts.
Patreon- Exclusive Polls:
From time to time I really need another set of eyes and that 's where I'll turn to you to vote on one thing or another! This can be a fun way to be directly involved with my work!
Final Images:
I'll post high res images of finished pieces here before anywhere else online! Be the first to see these completed works!
About
Welcome!

Instagram:
tiffanydaeart

Website:
tiffanydae.com
Hi I'm Tiffany Dae, a full time painter, studio hermit, and part time teacher. I truly believe that magic is real and it's one of my favorite things to look around this world trying to spot it all.
One way painters make a lot of money is they sell paintings for thousands of dollars, but even that can have its pros and cons. I've had the pleasure of selling some big paintings for big price points. It can be such a rush to sell a piece with that kind of price tag! It makes you feel fancy and validated! But the true joy of those sales comes from the connection made with the collector.
For someone to look at a painting and see something of themselves in it, that is one of the main reasons I do this at all. And then for them to pay a huge price because they felt that connection so strongly. Wow that's a great feeling. The only sad part about this is that I know that a lot of people can't afford to buy a $3,000 painting. I certainly can't. And I don't want my work to exclude people just like me. So that's where Patreon comes in.
My goal for this page is to gain support at the price of $3 a month (people definitely can pledge more but you never have to do that). With enough patrons at that level, I could give the paintings away to people who really connect with them.
Yes, I do mean GIVE them away. My dream is that these paintings go to the home they're meant to be in. I put my heart and insides on a panel, and someone across the world will look at it, and see their insides too, in so we can be reminded of all the ways we're the same, rather than different.
I hope you can join this community, and I'm very grateful for any support you can give.
Tiffany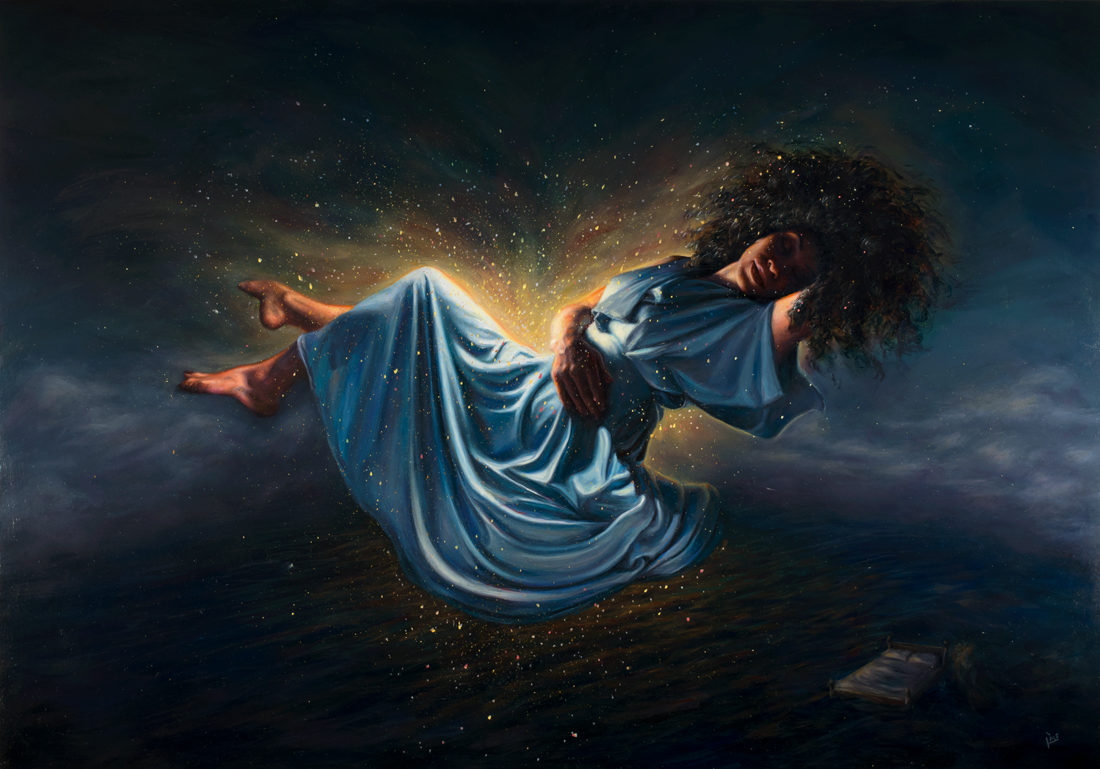 "Stop Suppressing Your Magic, 24" x 32", Oil on aluminum composite, 2019
How Patreon Works:
I've set the page up so each patron is charged the set rate ($3) when they first sign up and then regularly at the first of each month (if it's towards the end of the month you may want to wait to pledge until after the 1st so you get the most out of your payment). It's because of your support that I'm able to live my dream and paint magic. Please know you can cancel any time, and leave with only my gratitude that you were ever here. I really believe that my magic wands are in the shape of paint brushes, and you're a part of that. Thank you.
By becoming a patron, you'll instantly unlock access to 45 exclusive posts
By becoming a patron, you'll instantly unlock access to 45 exclusive posts
Recent posts by Tiffany Dae