Tikal De Meru
is creating Sovereignty in the voice, Mystical Music and Shamanic Voice Work
Select a membership level
Mystic Voice Loops (intermediate)
Weavers sonic templates by Tikal
Download the voice loops and music I have created for you to practice weaving on your own. Included is a warming up audio track to help you enter a more creative intuitive state before starting to weave (solo improv).
To get the best out of these it is recommended to have attended a few events or sessions before - if that's not the case, I'm providing a 20 minutes session to prepare you for weaving.
Most highly recommended thing to do if you are still not feeling versed enough on the weaving practice or wanting to go deeper in the intuitive improvisation/channeling state and feeling sovereign/confident is to pick the "
INTRO TO SOUNDING" Tier
(to be familiar with, and more importantly to be sitting in a siege of power with your awakened sovereign voice).
Go for this first tier though if you're curious to have a go for a couple of sessions even if you have never attended the circles in person before - choose the other tier later on to reeeeally get into the weaving bit ;) and to reeeally get what the voice means to you.
Recap for what this tier I will give:
1 audio track preparing you to enter into an intuitive flow state (warming up to it)
2 times 20 minutes of voice loops tracks with variations and lots of space for you to weave your own soul voice.
Total about 45 to 60 minutes of recording for daily or weekly practice in your own time cut in two sets.
Ample examples of harmonies Tikal style within the recording
Suggested apps to do extra toning with chakra frequencies or singing bowls downloadable on any mobile device
coming soon a video of the warm ups, loosening up, toning and humming and call&response fun. "Eeeooooo, eeeeeeoooo"
Wohoo!
Temple / Shaman Sound Journey
Get comfy, set up your living room or turn your favourite space into a temple. Sit up or lay down and delve into a journey to contemplate on the beauty of life's mysteries, move through skies and oceans, ride with panthers and whales. Bask in an ancient journey and be held by my templar music. I believe every human has a shaman within, and even travels every night in the dream time.
You can choose to lay down and contemplate on the emotions that show you who you are, or meditate and see where your journey takes you. I would love your feedback if you have any stories you'd like to share with me! Where does my music take you. Where did you go and would you like me to make you a journey based on your name in it?

You will get one 20 to 30 minute track a month. It depends what comes through it may even be longer!

Attention: Please use proper speakers or get yourself a pair of proper bass earphones/headphones to really journey.
PS. some of these might` make you want to dance!

Real Talk - Step Up No BS
Limited (4 of 4 remaining)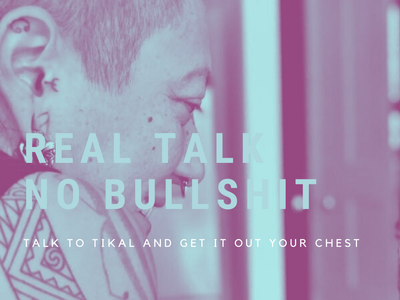 Ancient Friend Human Council

The start of a deeply rewarding work. Let's have that talk.
Difficult as it may be. Unpacking one's shit is finding out where we feel the weakest, where we pile up our crap, where we can give more love to and oh my gosh where we can feel so liberated, it's so freeing! so let's have it.
Unpacking means you are willing to open up your baggage and let someone in, as scary as that might seem, being honest and having a friend that is respectful of you, sovereign in their own shit and seeing you as a sovereign being too, there just is nothing like it, and no room for mistakes. 
At the end of this journey you may also be able to provide a real nice environment for a friend to unpack their shit, the more we do this the less there will be need to hide, to lie, to manipulate, to self sabotage, you name it the list can go on and on, everything that we complain about in a relationship, or about ourselves can come to a slow end if we practice being super authentic, practice radical honesty and, well, open up first.
Need to talk to a friend? You will be held so dearly it may surprise you if you're not used to it. Need to get something out of your chest? You can offload here, it's safe. Want to
unpack shit
? I am not afraid of your shit and there will be no judgements here, I got shit too and I can tell you it has simply showed me what I been feeding myself!
Want to discuss what it means to be human? Got something on your mind that's not easy to talk about? You can
talk to me
. This is a challenging journey but a supreme step to knowing thyself and taking back your power.
I'll create the environment for you to
take the opportunity in your hands
, to open up your mind/your heart,
unpack your shit
and grow from your own realisations. Let's
hear it from a sovereign stand point
. We'll keep it tight, keep it confidential and get your power back. I will help you be ready to speak honestly and be open about yourself, I am not here to give advice UNLESS YOU ASK but here to give you pointers to your potential blindspots.
Together we will engage in having the following:
Real talk - Have a NO BULLSHIT (no bullshit from you, meet your BLIND SPOTS)
Experiencing authenticity
Practicing relating deeper
Cutting to the chase
It being OK to be vulnerable - it's actually POWER
Receiving feedback - all of it. - you will remain in a safe space and never be judged, but some feedback will shine light on old patterns and loops that may ruffle your feathers and it will take practice and more practice to get used to a new mindset of self sovereignty vs victimhood.
"That's what friends are for..."
Practice taking back responsibility over what happening for you 
Practice being gentle with oneself
Practice with being gentle with the one not being gentle (more about this in person when it does come up and it will come up...)
Realising the power of being in the driver seat (knowing it is one thing, experiencing it is a whole other story)
helping another friend unpack
stepping out of manipulative, self loathing, blaming, shaming attitudes and getting down to real "I see you" type relations.
so much more
2 to 3 meetings in person or online - up to two hours each interaction
We can talk just once first and see if you need to have another chat, that same month. This is up to two phone-calls a month if you are struggling and we both agree you need more time. I am happy to keep witnessing and facilitating your unpacking for a few months as things can get very deep or very deep very quickly, hence they must be honored with enough nurturing on your own, as well as time and space.
F2F Meeting in real or online
About
Welcome to Tikal's Patreon
Watch the VIDEO below.
Home of Sovereign Voice, DMTikal Music, and Mystical Shamanic Sound Journeys.
How to work with our unique expression, wether it be our voice, our body, our music, our business and our relationship to self in this age of Aquarius.
Lexicon
DMT
De Meru Tikal
ASK
Alchemical Sound Kitchen
LIVE
Liberated Intuitive Voice Experience
RYSE
Re-wild Your Sovereign Expression

Sovereign & Intuitive Voice mentoring and meditation sessions are designed to open doors of perception - experience exploring the corridors of the self through the voice and conversing with the mystic within you
My aim is to provide guidance and sacred space, intuitive music and insider videos to help people who want to remember who they are and that there are infinite ways to do so, or help people who want to realise their supreme creative potential, and act on them. I will personally mentor you who wishes to show up, step forth and make yourself known.
With this platform I will make this a reality by making it available for anyone to connect in person or via direct phone call and live videos, for them to be held and witnessed during their self initiation journey. These sessions now on Patreon are taken from my workshops and meditations that are designed to channel one's inner voice, to embrace and feel the being as a whole, to nurture our timeline, to take responsibility in our creations, to face emotions with grace, and to have a logical understanding of its presence or its grip on the mind.
The guidance you will find here allows for a mystical experience - weaving your unique sound signature within the formerly-ephemeral and now forever-recorded sonic temple structure.
Highly interactive and invigorating to take part in.
Sound Journeys or Contemplation Concerts are events showcasing improvised sound healing for people to drop into a deeper state of consciousness, opening oneself to the emotional and spiritual realms while being rooted in their body.
-
now offered on Patreon
I offer you a deeply moving container to meditate on and journey with! My channellings are grounded on the intent to reach a certain climatic point for an emotional ecstasy and/or a unique personal transmission in a Theta state of consciousness to land and burst like a cosmic star with total relaxation. Engaging the listener or meditator to really tap into a level of relaxation that's for the SOUL is what I love! I'll create enough depth to receive medicine from your
oversoul
, and maybe even reset from a current unbalanced lifestyle, for you to then know for yourself what is best.
My Mystical Mystery Channel (coming soon)
Feel the connection between mystical mysteries and humanity. Discover and learn from others experiences the potency of the Mind, of Listening and of the Mystical in all its glory.
I'm an investigator of a space between spaces, and the consciousness observing itself being observed, experiencing itself being experienced, and this channel will help bridge gaps between worlds.
My Music
Experience my sensual approach to music, what it means to me to make love to life, to music and to myself - and the vulnerability of sharing that with others, into the World Wide Wonderment!
A.S.K. and you shall receive - tune into the Alchemical Sound Kitchen (coming soon) for everyone to listen to.
Available for you now
You can talk to me - I've travelled the world perhaps in very unconventional ways but I have seen and experienced extremes that have built my character. I'm an Aquarian, born a multinational citizen from two very different cultures and I've lived in three very different countries before my fourties. I have mingled with every type of peoples, touching everything from the luxurious debaucherie and sophistication, to natural beauties and gutters, I've seen privilege and injustice I have been exposed to. My life has been my greatest teacher and I have saved my own life from depression, drug abuse and suicidal tendencies. My childhood - although it was rich with experience, still I managed to have trauma growing up fatherless by age 4, queer by who knows when, too smart for my own good at times but pays in the older years, and as a mixed-blood caught between multiple dimensions, religions, customs and governments I have a fair share amount of experience in adaptation, and shapeshifting.
I have travelled to deepest jungles and remote mountain villages in search of truth, following philosophers, poets, mystics, shamans and musicians to the edges of consciousness. Mediums, Mystery schools and ancient texts have been my secretive go-to and it has never been easy being on the margins of any society pushing for conformism or even worse, all types of slavery. But I now absolutely love the world and see magic everywhere!
More on me and the work I do on
www.rewildyourvoice.com
Let's keep it wild. Let's keep it real. Let's be free to express our true selves and keep creating magic for one another.

Peace & Sovereignty!
€252.53 of €1,000
per month
When I reach a thousand Euros, I'll continue to work with a film artist to help me start the Mystical TV show on YouTube!
1 of 3
Recent posts by Tikal De Meru