Top Shelf Mutt
is creating Holistic Dog Guidance For Pawrents Everywhere!
Select a membership level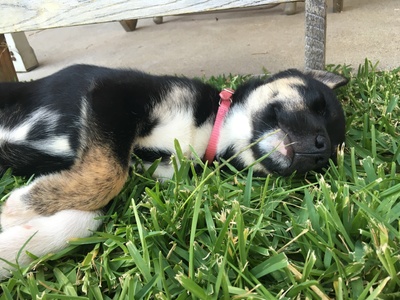 Puppy Love
You are now officially a Pawtron of Top Shelf Mutt. We are so excited for you to join us on our journey to heal the world beginning with mending the bond between human and canine!
~Enjoy your Patreon Exclusive Access to our Top Shelf Posts and Early Access to our wider spread posts!
~You also have access to our Canine Collective Community
(a place for Pawrents to come together and gush over how much we love our fur-babies, share tips and stories, and hold a supportive, judgement-free space where you can be free to be vulnerable, loved, guided, and pawssibly make some life-long friends!)
~As a sign up gift you get a Signed and Licked Pic of the Pack
~ A one on one 30 minute chat with us on the topic of your choice, 
~The pack will pick a Crystal suited specially for your beloved mutt! (Can be for you or another pet as well, we are working towards the health of all animals!) 
Pawsitive Pooch
From the bottom of our paws... Thank you! Your contribution is spreading Pawsitivity and helping to create a better world for dogs everywhere! 
Enjoy all of the perks from the Puppy Love Tier PLUS:
~We will send you the Crystal Pick that we chose specially for you with instructions and affirmations for healing..
(after 3 months on this tier);
~The Pack picks an Essential Oil recommendation for your fur-baby..(you will be sent tips for consideration);
~Access to our exclusive monthly Pawdcast -that's 'Podcast' in case ya couldn't tell... we like to goof around here! lol- where we discuss anything and everything 'Dog', General Animal Health/Info, Pack Updates, Q&A, and more!
(Be sure to cast your vote for topics of discussion and submit suggestions in the Canine Collective Community!);
~Access to the monthly Essential Oil Highlight 
(each month we will give an in depth overview of an essential oil. Learn the benefits, contraindications, and best ways to use them!)
Bow WOW, that's a lot... we sure do appreciate you and want you to feel it too!
Mystic Mutt
Oh. My. Dog. You are really serious about taking care of the physical, emotional, and spiritual health of your fur-baby!! This brings so much happiness to our hearts; you have no idea! 
Not only are you super committed to the health journey for your pup, but you are a huge supporter of the Top Shelf Mission to heal the relationships that humanity has with dogs and all of the other beings on this planet.
You DESERVE all of the perks from the two prior tiers PLUS:
~A one time One on One 30 minute video chat with the pack 
(ask us anything: health, training, behavior, psychology- Pick one subject, ask as many questions as you like. Time is your only limit!);
~Monthly One on One chats with Pack Leader Mina
(44 minute chat. Any topic, the sky is not the limit here, let's get to know each other!);
~The Pack send you a sample Essential Oil Blend with instructions
(shipped every other month after 3 months at this tier);
~Exclusive Access to our Crystal Energy Updates
(we share documentation of our therapy sessions and client success stories, feedback, reviews, and more!);
~Exclusive Access to updates on the volunteer work done at our local animal shelter.
(Behavior, Crystal, Massage, and Pawromatherapy Sessions (yes, that's 'aromatherapy' people, get with the program :p );
~Exclusive Access to our Trick Or Treat of the Month Tutorial/Taste Test
(each month we will post a video of either a training tutorial or the taste test of a new treat complete with reviews from the pack! This one is lots of fun, so don't miss out!)
About Top Shelf Mutt
Holistic Dog Guidance

 
Hi, I'm Mina! Dog/Cat Mom, Dog Whisperer, Animal Behaviorist/Nutritionist, and Animal Advocate certified in the Veterinary and Behavior fields. 
I teach Pawrents to effectively communicate with their fur-babies by explaining the Dog Psychology behind their behaviors in order to create lasting relationships built on respect, trust, and love. 
I strive to bring Pawrents everywhere Plant Based remedies for the best Natural Health Alternatives for their fur-babies! 
I incorporate the use of Natural Elements from Earth like Essential Oils & Crystals; I share my knowledge of these powerful healing tools here!

I Provide A Holistic Approach To Guide Dogs And Their Pawrents To Healthy, Happy, & Harmonious Lives Together, FUREVER!

Changing The World Naturally
I share information about Canine Psychology, Behavior, and Health; bringing us back to a state of Natural and Harmonious living with the beautiful beings we share this Earth with!

I combine Mental, Emotional, Physical, & Spiritual Health practices to bring you a Holistic Guide fur all your needs as a Pawrent!
Here Are A Few Things You Can Expect To Receive As A Pawtron:
Dog Obedience Tips, Tricks, & Tutorials (Raise the most well behaved pooch!)
Canine Psychology Insight (Learn how your dog understands you/world)
Natural/Holistic Health Care & Tips (Plant Based Nutrition, Remedies and Solutions)
Pup Therapy (Learn how to be your dog's therapist!)
Dog Friendly Reviews (Toys, Treats, Gear, Nature Spots, & Dog Friendly Establishments!)
More About Me
I Rescue, Rehabilitate, and Rehome dogs, Provide therapy services of all kinds (Behavior Therapy, PTSD Therapy, Massage Therapy, & Crystal Energy Therapy), Volunteer at local Animal Shelters helping shelter dogs get adopted, as well as Research & Experiment with the use of Herbal Remedies for health concerns that we face as Dog Owners, so that I may share my findings with all of you!
Through a combination of my own personal ongoing research, my Veterinary Education (which I plan to continue once I'm able to afford it), & my Professional Dog Obedience studies (I'm a certified Dog Trainer through the Animal Behavior College).. I'm a well of overflowing information, using this platform to lay it all out for everyone to see!

The End Game
My ultimate goal is to open a non-profit rescue for overflow from Animal Shelters that will provide Healthcare, Training, Pet Owner Education, and assistance to Homeless Pet Owners. By becoming a Pawtron you will be helping to fund my initiatives and the care that I provide to rescue and foster dogs while I continue to build this business.
Thank you for helping me help the babies!

About Our Name (We know you wanna know)
I am fully aware that the term "
Mutt
" has a less than endearing connotation for most.. but in my experience Mutts have proven to be some of the smartest, kindest, and most intriguing group of dogs that I have ever had the pleasure of working with. My two girls, Elsa(Shih tzu/Chihuahua/Terrier) And EV(Husky/Cattledog) are both great examples of this! To me, Mutt just means 'mixed'; this is why I have always called myself a Mutt (I am mixed with about 12 different ethnicities from various reaches of the world.. Not to mention that I truly believe I was a dog or wolf in another life!)
So, considering the fact that we all come from different cultural, ethnic, and environmental backgrounds, it is my belief that whether you are raising a purebred Golden Retriever or a Shih tzu/Chihuahua/Terrier mix we are all Mutts when it comes down to it. No two people or dogs are mixed with precisely the same ingredients, but we are all made up of a variety of factors that build a unique being! 
As for
 "Top Shelf"
I really wanted our name to reflect just how highly we care and the level of care/education that we aspire to inspire and share! And what's higher than the Top of the Shelf?!
Recent posts by Top Shelf Mutt
By becoming a patron, you'll instantly unlock access to 4 exclusive posts
By becoming a patron, you'll instantly unlock access to 4 exclusive posts