Touch of a Healer
is creating transformations through meditations, healing, and shamanic work.
Select a membership level
Quarterly Meditations
Super budget supporter. You like the idea and aren't ready to receive healing sessions or personalized work just yet, though meditation sounds great!. Once a quarter you will get access to a meditation customized to my Patreon audience.


~ Quarterly Meditations

Energywork Group - long-distance healing
Inclusion in weekly remote group energy healing. In the session, I will direct energy for each of my Patreon supporters at this level. I will also direct healing globally for peaceful flow and trauma recovery regarding one current or ongoing event in the world. Using Reiki or other modalities for a long-distance boost each week, I will focus this group session on you, your needs, and the one international need each week followed by an Instagram post with an image and description of the week's focus.

You will also have access to a Quarterly Meditation.

~ Weekly Group Energy Healing
~ Support Global Energy Work
~ Quarterly Mediations

Trauma Relief (Donation for others)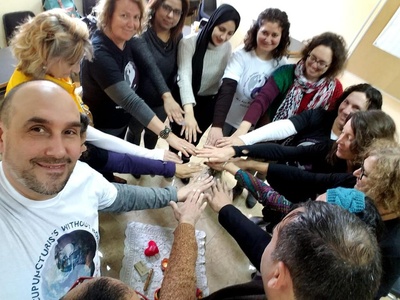 Support trauma-relief around the world. Your subscription goes directly to supplies for clinics I set up, or to helping me with larger Acupuncturist Without Borders efforts. I help teach others how to care for their communities and directly offer free clinics to those experiencing natural disasters, relocation, and human-generated traumas such as human trafficking, the results of war, and poverty.

You will get access to special stories and personal updates about the work and Acupuncturist Without Borders efforts in which I am personally involved. Your membership also includes the quarterly meditations which you can use for yourself or in your group setting.

~ Help people around the world
~ Special stories and personal updates
~ Quarterly Meditations

About
Join me for healing work around the world. My foundations are in Earth-based shamanism and I hold a master's degree in acupuncture and Chinese East Asian medicine. I recently expanded into teaching yoga, and have taught massage and Reiki through the years. My natural gifts included being a psychic empath which allows me to share my work with you both in person and at a distance.

Here at Patreon, you have access to neuro-linguistic programming (NLP) meditations (similar to hypnotherapy), to energetic healing sessions and imagery, and to personalized readings, consultations, and shamanic sessions. With your subscription, you can also support ongoing trauma recovery work of Acupuncturists Without Borders in places I have worked such as Mexico, Cuba, Israel/West Bank/Palestine, Greece, and Australia.
Become a patron to
Connect via private message
Recent posts by Touch of a Healer
How it works
Get started in 2 minutes