Trias
is creating Anthro Art ~ Pin Ups ~ Dino & More ~ Comics
Select a membership level
Generous Guest Tier
Tier for those who don't really care about the comic-tier, but still MAYBE want to pledge more than just one buck :)

Comic-Loving-Dino!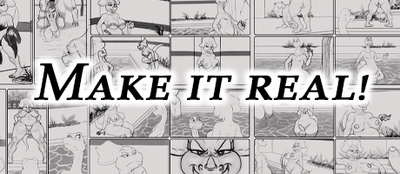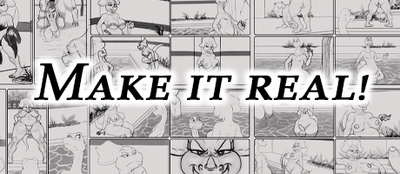 Official support-tier of my comic works! Super important ~ Thank you so much!

About Trias
Hello there!

I am "Trias The Dino Artist" or probably better known as just Trias. If you've ever heard of me, you probably know that I specialise in drawing anthro dinosaurs. Maybe it's also not new to you that I like to draw and paint curvy smooth females in general.
I joined the Furry Fandom in late 2006 when I started to draw. Since then I had the great honor of people telling me that was/am improving, which motivates me to continue following my vocation delivering digital art for you.
I hope to be able to create art and also comics for you to enjoy!
The money you pledge will go into the production of all the sexy pin-ups, the comics and also stories I am planning and doing.
I intend to bring fun and joy through my artwork ~ I need YOUR help though!
Why I need your support?
It always has been really important to me to avoid the infamous "pay-wall". The only way I can assure my creations can be enjoyed by everyone is the money you pledge to keep me above the water.
In addition to that, I can continue producing the content and maintain a decent output of artwork (along with paying bills, insurances and that
neat
stuff).
How frequently will I be posting the content?
Since I prefer quality over quantity, my output strongly depends on the current project; meaning that pictures with many characters or entire comics will naturally come slower than solo images.
Another fact worth mentioning is that I also work as a general commission artist in the furry fandom which still prevents me from focusing 100% on patreon ~ I hope you understand this and won't hold it against me :).
What I deliver when you support me?
- All images that are not outside of patreon commissions in their original resolution without the patreon mark, as well as their sketches, inks and flat-color versions
Do's or Preferences for the commission tiers:
- females
- males
- erotic themes
- funny themes
- herms
- lesbian stuff
Dont's (...which means, don't even ask):
- anal stuff (okay when only indicated though!!!)
- any extreme fetish
- scat, piss, vore, gore (gross-out effect galore)
- violence, transformation, cub-stuff, rape
- inflation/ "uberfat" (gross-out effect galore)
- hyper-stuff in any direction
- food-play (...like seriously, I genuinely HATE wasting food!)
- pregnancy things, lactation (gross-out effect galore)
- bondage, torture
- male gay stuff (not my thing and since I'm straight, I just can't judge whether it's looking good enough or not, no offense)
$241.44 of $500
per month
Whew...!
I can pay some major expenses due to the income of my creative work!
This was possible thanks to YOUR support!

1 of 2
By becoming a patron, you'll instantly unlock access to 717 exclusive posts
By becoming a patron, you'll instantly unlock access to 717 exclusive posts
How it works
Get started in 2 minutes