TytanTroll Miniatures
is creating Printable Miniatures and Busts for your DnD and gaming antics!
Select a membership level
Supporter
You'll be in the knowledge that even though you haven't reached the higher tiers, you are supporting me to continue to do what i love, you'll have access to my Discord Channel created fresh for this patreon and be able to view the work in progress posts i put up either there or on patreon!!

*You do not recieve any STLS for this tier*
Includes Discord benefits
Hoarder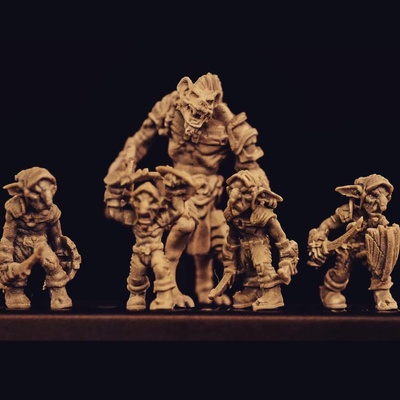 Includes Discord benefits
Merchant
◙ Receive all the benefits of the previous tiers.
◙  Access to all the Printable STL files for all the busts/Heads and miniatures that i make during the month! 
◙ Ability to sell prints   (Not to redistribute or sell digital files provided)  made from the STLs provided during the  month supported. If switching to a lower tier for the new month you lose the right to sell the prints.
Message me with the name of your store/shop as you join please,
Includes Discord benefits
About
ALL $10+ PATRONS RECIEVE 50% OFF MMF Store(Reverted to 30% as of 1st March)
MERCHANTS
~DontCreateAScene -
https://www.ebay.co.uk/usr/dontcreateascene?_trksid=p2047675.l2559

~RoyalFluffMinis -
etsy.me/3gEJdPL

~Wonder Emporium~
http://www.wonderemporium.co.uk/

~VisionCreations~
etsy.com/au/shop/PerfectgiftsAU
ebay.com.au/usr/threcrea-0
visioncreations.com.au




"
Who goes there!?"
Hello! I'm Dave or TytanTroll as some of you may know me by. I'm a 3D Digital sculptor, and i sculpt miniatures, busts and statues for 3D Print

"What do you want!?"
I want to release the printable files for you to print on your own printers, or an alternative solution so you can have as much fun playing with them, as i did making them!
And supporting this Patreon will enable me to do this longer and drift away from client based work (though i will be dabbling on certain projects!)
"What do i get out of it?"


I want to offer my miniatures that i make on a monthly basis (that isn't client related) Some of which will be decided by the community, some of it will be dictated by myself as to keep it interesting for me too.
"What can i do to help, Friend?"
Share, share, share. Sharing will get more people involved, more models. I'll be able to use funds i gain through patreon to fuel my designs via comissioning others to concept art for me.

Share my Patreon:
https://www.patreon.com/TytanTroll_Miniatures
Share my store:
https://www.myminifactory.com/users/TytanTrollMiniatures

As i'm just starting out, a share would be very helpful to reach people who would be interested but wouldn't necessary see me due to my reach in the community. More support means more models for you and your friends, due to my other commitments on client projects which stop me from working on more models

If you support and print out the models, a mention anywhere you post would be super helpful to me, and yourself in the longrun, meaning more models per month!



"What can i expect?"
You can expect at least 5 models per month until the patreon grows so i can comfortably stay afloat without working on client work. Bills to pay etc.

Eventually, i want to be able to do this full time and offer a huge range of variety, get more people on board to help out with more pieces, artwork to support, stories for certain character. But we'll see where it takes us!

"Whats the rules?"
These files are in no-way to be used commercially for financial gain. Do not re-distribute, sell or pass off as your own
. *The exception being the relevant tier(s)*
Also
Here's my store
https://www.myminifactory.com/users/TytanTrollMiniatures
Dragons be flyin'
 I will sculpt a dragon as part of the month release based around the theme.
4 of 4
Become a patron to
Connect via private message
Recent posts by TytanTroll Miniatures