Sue Patterson
is creating resources for unschoolers
Select a membership level
Unschooling DIY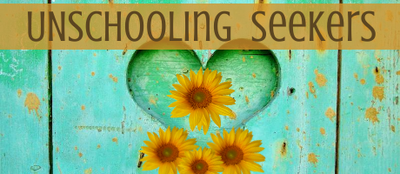 Unschooling DIY!
All New in FALL 2020!
You're busy - I know it! And with the pandemic, life is even harder. You don't have time to go sifting through websites and FB posts to find what you need.
You may be brand new, looking into transitioning from homeschooling to unschooling.
Or maybe you've been unschooling all along but needing a little pep talk!
No matter where you are on this Unschooling journey, if you like to get the information and look into it when you have time - this is perfect for you!
Choosing this level allows you to get regular unschooling resources from me every week! 
You'll be able to:
Get answers to the questions that haunt you about unschooling.
Gain more unschooling information to strengthen your foundation.
Overcome your fears
Each Monday, you'll receive an email with unschooling action steps. This will allow you to move along on your unschooling journey without feeling overwhelmed, yet make steady progress toward becoming more confident with unschooling. 
THIS TIER INCLUDES:
A Weekly Email from me

Monthly themes
Coaching inspiration
Unschooling Resources
Fun ideas for ways to Learn
Guided worksheets for parents
Calendar reminders

The Monthly Strewing Guide - with links and mini-celebrations for every day of the month
Not too much
...just enough to help you make a little progress each week.
I can help you create a family life that's a little happier - while the kids are learning!
A Perfect DIY Unschooling Plan!
Unschooling Inner Circle
This Tier is our Private Inner Circle!
In addition to resources and information, you'll receive the extra support you're looking for on your unschooling journey! You'll receive coaching from me as well as connection with other unschooling parents at various points on their own family journey. We all learn from each other in this awesome community!
Your Benefits Include:

Unschooling Success Path Resources and Walkthrough!


Weekly Calendar to keep track of the benefits for the week.
Access to Private FB Group
Access to our private WhatsApp community
Access to private Zoom Calls for Group Coaching
Monthly Unschool Strewing Calendar with weekly reminders
All of the past Unschooling Guides
All of the past worksheets and ebooks I've created for the group or for private clients!
All past ebooks (including Homeschooled Teens)
Zoom Call Schedule:
Mondays - Community Building (zoom and FB LiveStream)
Wednesdays Group Coaching Calls:
     12N Central time
      8 PM Central time
Fridays - Parents of Teens zoom call (Every 2nd & 4th Friday -12N Central)
About
Hello, Friends! Thanks for checking out my Patreon page!
I've been helping other home educating families for decades now. Ever since we pulled my son out of public school in 1996, we've been talking about learning and parenting and unschooling (even when we weren't so sure about the word yet!) with anyone who was curious. So now the kids are grown and instead of retiring like most veteran unschooling mamas, I've decided to stick around! I have all sorts of tips and resources for those coming after me! I love what unschooling did with my own kids and I want you to have the family life I know is possible.
Volunteering, problem-solving, and creating resources is what I love to do!
With that in mind, I founded
Unschooling Mom2Mom

with a few online friends back in 2014 - and now it has garnered a social media following of over 80K!! We've created a kind and inspiring place that helps families figure out what to do when school isn't working for them on Facebook, Instagram, and Pinterest and YouTube.

So here's a little bit about how I spend my day:

I'm homeschooling/unschooling coach

for families who need group or 1:1 support as they venture out into this exciting unconventional world! I do a weekly coaching calls and live streams in my groups. Joining here will give you access to these! Or we can set up a private coaching call here.

I'm a website creator.

Our fabulous curated website has all the best unschooling writers, video-makers, podcasters linked. I know who's good and who's, umm, not. I'm adding to it all the time.
I'm an Instagram enthusiast.

I've been diving into IG, inspiring and encouraging families visually. I love creating new graphics to share and inspire you!

@UnschoolingMom2Mom

I'm a Facebook fanatic.

I answer questions from parents who join our huge Facebook groups. I spend a lot of time in there because I want a place to exist where new people can come to get solid answers to their unschooling questions from moms who are kind, compassionate, and most of all, remember what it was like to be new! Families who tried other homeschooling methods, or just can't seem to make unschooling work for them also come for advice and help.

I'm a compulsive writer.

I've blogged since 2007! I have a book: Homeschooled Teens: 75 Young People Speak about their Lives Without School. It's available in print and digitally. I also have a new ebook: Unschooling your Teens.

I'm a digital creator.

I have courses, videos, and PDFs to help unschooling families no matter where they are on their educational journey. My Unschooling Guides are incredibly helpful to families who want to strengthen their unschooling foundation.

I'm a featured speaker.

I speak at conferences all over the country but also on podcasts or in magazines.
I'm an Unschooling Moms' Retreat host/creator!

That was so much fun, I'd love to do it again!
I want to continue to do ALL of this AND find innovative ways to help the bazillions of families who are streaming out of schools today (or out of homeschooling methods that drove them all nuts!) - and some are frantic to find a better life for their kids.
For instance, here are some of the things I will use your money for:
Website Hosting for UnschoolingMom2Mom

, as this grows, so does the price.

ConvertKit,

a monthly expense for maintaining an email list and getting information out
Thinkific is a platform to my course Jumping Into Unschooling - for new unschoolers, those considering unschooling, and those who feel "stuck."

Continued time

answering questions for free & hosting Unschooling Mom2Mom and creating new resources.

A "virtual assistant"

to help me with all the behind the scenes stuff.

A Light and a Microphone

to make the videos better.
I want to invite you to hang out with me in here, supporting my endeavors and helping us reach more families so they too can have a wonderful unschooling life!
Your support - at ANY LEVEL - is helping those parents who desperately need a kind place to land, where they can get questions answered and learn more about how to unschool. I love the idea of being able to give back - unschooling was such a wonderful experience for my family! I want you to know about it so, if it's a good fit, you can have these awesome adventures too!
This Patreon account,
my coaching site
, and my
Unschooling Mom2Mom website
- give me platforms to share all the information I've learned over the past two DECADES! Your contribution here allows me to pay the bills and keeps the doors open for those moms who don't have any money to spare, but still want to know about unschooling. We're all Paying it Forward! .
Thank you so much for being actively involved in the unschooling community! I love forward to getting to know you better!
Also.... shhhh!
I want to find a way to host an Unschooling Mom2Mom forum that is over here - but doesn't break the bank. I'm working on this behind the scenes as I really am growing weary of the free-for-all that is Facebook. I can't see abandoning FB entirely, because that's how people will find us and I want to always offer something free for people to learn more about unschooling.

But wouldn't a private forum to ask a couple questions and get some calm response, be nice? Even at its own $3 level might be enough to make sustainable.

4 of 4
Become a patron to
Unlock 190 exclusive posts
Connect via private message
Recent posts by Sue Patterson
How it works
Get started in 2 minutes