Unto the Wolves
is creating Music and Video
Select a membership level
OFFICIAL PATRON
OFFICIAL PATRON: You see a need and want to help.
- Access to Patron only feed
- Name on the album
- My appreciation 

THE NIGHT GUARDSMAN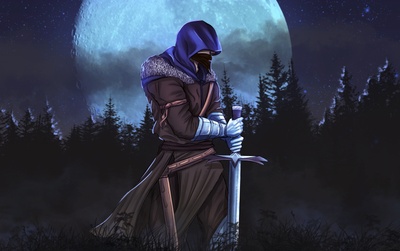 THE NIGHT GUARDSMAN: You stand as the guardian of those who fear whats beyond civilization. You know whats out there and are ready.
- Access to Patron only feed
- Name on the album
- My appreciation 
- Song stream (No Download)
THE LONE WANDERER
THE LONE WANDERER: You are the humble wanderer who has stumbled upon an oasis. You see the opportunity but you take only what you need.
- Access to Patron only feed
- Name on the album next album
- My appreciation 
- Song stream and Download available
- Access to Project inspired Art and Wallpapers


About
Welcome, everyone!
INTRODUCTION:
"Unto the Wolves" is a Hard Rock/ Metal project with one goal in mind, to inspire tolerance and acceptance of all races, religious beliefs, and cultures. Every song created during the recording year is inspired by a different culture, religion, historical event, or location.
The songs are not based on these topics, but rather served as inspiration for the ideas behind the songs.
The music is riddled with driving rhythmic guitars, a deep bass, hard-hitting drums accompanied by melodic but aggressive vocals. You'll also find an additional instrument or two in multiple songs based on the subject matter and inspiration. In an effort to combine these ideas into a single project in a respectful manner, each topic is examined from multiple points of view. The project truly offers a unique perspective on how music can be inspired by the way people choose to live.
THE MUSIC:
These songs are created and released on a monthly basis exclusively for the subscribers of this Patreon page. At the end of a full year of content, the years' worth of work is combined into a single album and released to the public. The project has now released 3 albums called "Year One", Year Two", and "Year 3". All of which are available now at all digital retailers.
WHAT IS BEING WORKED ON NOW:
For a limited time, the project has deviated to complete a new trilogy. This new trilogy focuses on the path of struggle in which all people must experience simply to live. Along with this new set of songs comes new art, new audio journals, and new insight behind the songs and the lyrics. "The Trilogy Ecliptic" is being built and the patrons get to hear the songs as they are completed.
WHAT DO YOU GET AS A PATRON?

EVERY 1st OF THE MONTH, YOU WILL RECEIVE AN EMAIL WITH YOUR REWARD TIER ITEMS. IT'S LIKE GETTING A PRESENT EVERY MONTH.

YOU ALSO GET...

- GUARANTEED RECOGNITION:
Just you becoming part of the Patreon gets your name on the next album.
- PATREON EXCLUSIVE SONGS:
When you become a patron at any level, you get access to the posts on Patreon set to your reward tier. If you sign up, even for $1, you get access to songs exclusive to Patreon.
- NEW MUSIC:
Every month I write, record, mix, produce, master, copyright, and release a new and original song, released initially only here on Patreon.
- ART:
New pieces of art or photos that capture the feeling of the background of the topic chosen.
- MUSIC VIDEO:
I'll be doing at least one music video per year. As the support grows, Ill create more content.
PATREON INTERACTIVE
- DAILY Thoughts of the days:
Here on patreon, I now post a daily thought for you to digest.
- BI-WEEKLY Audio Journal:
Every other week, there is an audio journal uploaded only for Patreon patrons. It's a sort of "behind the scenes" of the music creation as well as a more personal side to the creative process.
- MONTHLY State of the Wolves Address:
A monthly video blog that could be a variety of things. How the creation process is going, a focus on converting a cultural or religious background into inspiration for lyrics, or information about the culture or religion I'm studying during the month and answering questions asked. Most of the time, all of the above.
- ANNUAL Patreon Package:
At the end of one full year of content, you will receive a package in the mail which will include a hard copy of the album you helped create along with some other goodies...WITHOUT ANY ADDITIONAL COST.
IN CASE YOUR EMAIL SOMEHOW GETS LOST OR DELETED, NO WORRIES. ALL CONTENT WILL ALSO BE POSTED HERE FOR THE CURRENT MONTH.


UNTO THE WOLVES MEMBERS:
Gage Sifuentes: Writer, Musician, Producer, Engineer, and Architect of the project
Mitch Edwards: Lead guitar

MY FINAL THOUGHT
To be honest, I'm amazed you read this far. So if you're still reading, it means you find what I'm trying to do interesting. I ask you now, please show support by becoming a Patron. Become a Patron, share with friends, tell family, mention in music groups online. Every little bit you do goes a long way to provide me with the motivation to create. If I know you're there to listen, I will create for you.
ALL LEGAL FEES COVERED
Trademarks, business license fees, logo implementation, and gear maintenance is covered. You guys are amazing.
2 of 6
By becoming a patron, you'll instantly unlock access to 14 exclusive posts
By becoming a patron, you'll instantly unlock access to 14 exclusive posts
Recent posts by Unto the Wolves
How it works
Get started in 2 minutes