Us Theatre Co.
is creating Weird Theatre
Select a membership level
Lil Weirdos
✩ access to our Patreon-only feed
✩ access to our monthly gratitudes & updates, "How U Helped"
✩ credit in our show programs as a Patron
Patreon charges in USD, so this tier is approx. $2.00 CAD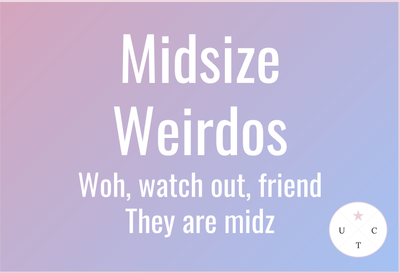 Midsize Weirdos
All previous benefits, plus:
✩ access to our polls to help us make creative choices
✩ access to behind the scenes footage of our rehearsal process
✩ CUSTOM "Olivia's Proud of U" image from Olivia the Cat, only for our first 10 Patrons! Only 6 left!! (Midsize Weirdos & up)
Patreon charges in USD, so this tier is approx. $6.50 CAD
BIG-TIME Weirdos
All previous benefits, plus:
✩ credit in our show programs as a Special Patron
✩ personalized letter of gratitude from Us Team
✩ one (1) free ticket per show
Patreon charges in USD, so this tier is approx. $15.00 CAD
About Us Theatre Co.
*

New video coming sooooon*
Us 
Theatre Co.
Makers of Weird Theatre
"A totally real & not made up genre!" 
✩ 

✩ 

✩
TAKING OUR DREAMS INTO OUR OWN HANDS
Us
began as a vessel through which to produce our own work, and along the way, $ employ $ our fellow artists. Our style of theatre is has a myriad of influences, but the result is kinda like if [early] Arrested Development had a baby with Samuel Beckett, within the universe of Adventure Time, aka, Absurd Realism, aka, we
ird!
It's essentially a live-action cartoon on Adderall.
We made
Us,
 get our work seen and get paid to work! Normally, doing work and getting paid is sort of a given, but in the arts world, the reality is that there are way too many of us not getting paid for our skills and contributions to culture. Aka, Starving Artists.
Our goal is to bridge the gap between work and pay for Toronto's theatre creators. It's a cultural issue, but together, all of
Us
, we have the power to make tangible change toward a culture of
Thriving Artists
. And that's really what this Patreon is about.
If you:
-Wanna make a difference the world, but don't know how
-Wanna help banish starving artists and make $ Thriving Artists $
-Have an extra couple bucks!
Then this is your chance to make a concrete difference in the lives of creative people in this city. 
HERE'S HOW IT WORKS

Much like Netflix, on Patreon, you can subscribe to an artist (e.g.,
Us
) for a monthly price and in return, get something awesome to look at. Except in this case, instead of TV shows, you get live theatre tickets, an inside look on our creative process, exclusive meet n greets with our casts & crews, input on creative decisions, and the heartwarming knowledge that you for real changed our lives. Seriously, if you join...we can never thank you enough.
You can subscribe to
Us
for as little as 2$ a month. That's less than the price of a cup of coffee, and you get a heck of a lot more for it. The high of helping other people, even better than caffeine! (Hopefully?)
So check out the Tiers for more info on what your subscription level gets you, and we can't wait to have you #joinUs.
Up your cool factor:

#JoinUs!
S O C I A L C O M M E N T A R Y X H U M O U R X T E A M W O R K
✩

 Patreon charges in USD only, so our tiers are listed in USD, with the CAD approximate equivalent listed below each tier's benefits. Your Canadian card will be charged approximately the amount we list in bold! So be sure to check that out!


✩

Interested in a one-time gift? Email [email protected] for details! 
We'll launch Patron of the Month videos! Enjoy discovering your Patreon community, & get featured yourself! We'll happily promote YOUR project!
Production Value:
✩ monthly contributions to venue rentals


1 of 5
Recent posts by Us Theatre Co.