Walk, Love, Sparkle
is creating Labyrinths, Art & Transformation
Select a membership level
There and Back Again
Limited (8,887 of 8,888 remaining)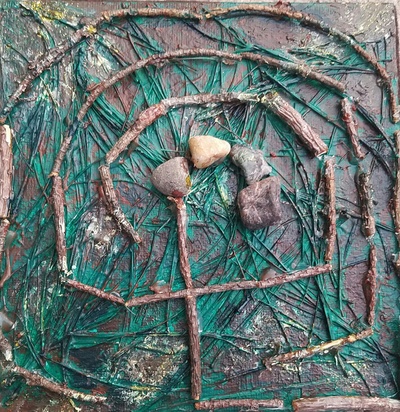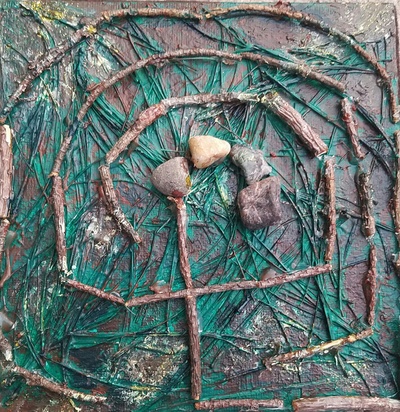 Become part of forming a heart-centered community of people who seek to walk their paths with curiosity, creativity and authenticity. 

Enjoy access to my weekly patron-exclusive posts, including:

* Digital images of my labyrinth designs to walk with your finger
* Reflections (written; video; audio) to walk with on your path
* Journal prompts
* Coloring pages for meditative creativity
* Seasonal bonuses (music, videos, artwork, poems, etc.)
* Original music for your labyrinth walk meditations
* Behind-the-scenes peeks of my creative process when I'm working on a special project.
* Public recognition for being a Patron
* Belonging to a Community of wonderful labyrinth walkers

Group Life Transformation Fellowship
Limited (10 of 10 remaining)
Join a fellowship of humans engaged in ongoing transformation. Come form a community of pilgrims and storytellers, bards and troubadours, wizards of creating beauty of all kinds.  You are welcome among us wherever you are on your life's journey!   

Meet weekly with a group of fellow explorers on life's journey.  Share your story and the ways in which you want to shift your life toward greater joy every day, by spending more time doing what you love.  Fall in with a creative community who will offer our strength, wisdom and some tools along the way, and who will hold space for you if you lose your way and need extra TLC.  If you have a specific dream, bring it to us.  If you want strength to make changes that bring you to your happy place but are afraid that will disappoint those closest to you, this is the place to explore the ways you can be true to yourself.  We're here for you!

Enjoy a rich and colorful community experience that includes handheld labyrinth walks and creative expression in the company of kindred spirits! 

The purpose of this group coaching experience is for you to connect with your intuition and increase the colorful richness and magic in your world, with the support of a caring community. You will gather the strength to step boldly forward into your new beautiful life, one you've mapped out with an open heart, while enjoying the support of a warm and caring fellowship.

* Our first gathering will be a workshop for you to create your own handheld labyrinth path meditation tool.

Each week we will:
* Gather online with opening greetings and check-in
* A story, poem, or reflection will be read aloud
* Spend fifteen minutes of finger labyrinth meditation time accompanied by meditative music
*Time for creative expression through a meditative art project
* Time for sharing experiences on the path and how that time influenced your creative expression (e.g. inspirations, shifts in perspective, etc.)
*Ongoing support from a small cadre of fellow seekers

Plus:

* Between-session contact through exchanging personal messages in the comment section below

* Public recognition for being a Patron

* Occasional surprise treats if you give me your address

* Belonging to a wider Fellowship of wonderful labyrinth walkers

* Involvement with a Life Transformation Fellowship will make you feel...
The Warmth of Belonging
Freedom
Rejuvenation
Regeneration
Inspiration
Connection to yourself and others
Greater clarity of Intention
Joyful
Energetic
Happy
Hopeful



Sticker of my Zentangle labyrinth path drawing.
On the Path to Regeneration
Limited (1 of 1 remaining)
For those of you who want some individual attention for a while. we will work on ways for you to empower yourself by spending time considering the unique life you want to live and creating your own map for your journey to that place!  You are the author of your life and you deserve to live your life in a way that brings you joy.  In living joy, you bring others joy.

Such shifts take time and I am here to hold space for your process.  You don't have to do this work alone.  I am here to walk with you, step by step!

Benefit from individual Coaching Sessions with Karen on the Labyrinth Path:

* Weekly personalized 1:1 coaching sessions: in person (wearing face masks, if desired), by phone or using a video call platform ~ monthly. 

Each session will involve:

1. Check-in: What does your life look like in the moment and is there a change that'll bring you closer to where you want to be?  What are the blocks you face to creating the joy-filled life you desire?  What extra help do you need to remove those blocks?

2. A Labyrinth walk meditation together to set your Intention and connect to your Intuition. We can create a ritual around your releasing those blocks. Learn to trust yourself more with each decision you make based on what you truly want for your life.

3. Connect your discoveries on the labyrinth path to the next steps on your journey and begin feeling the Magic of inspiration from your Muse, who lives deep in your Intuition and waits patiently for your loving attention.

4. Write and/or Draw about your experience in your journal. Each week you'll add an entry so that it becomes your personal Transformation log, your new colorful life story.

5. Begin your new Adventure with lots of encouragement and support! Be patient with yourself.  Love yourself enough to give yourself the time to explore who you are and who you want to be.

* A "Magic Word" Art Magnet for your fridge or to display on a wall you look at every day, to remind you of what you are working to manifest.

Plus:

* Between-session contact through messages exchanged in the comment section below.

* Public recognition for being a Patron

* Belonging to a Fellowship of lovely labyrinth walkers

Sticker of my Zentangle labyrinth path drawing.
About Walk, Love, Sparkle
Journey Within
Step by step, turn by turn,
Cast all cares aside
As you walk the path of wonder.
Meet the beauty surrounding you
Like an old friend.

Step by step, turn by turn,
Look closely and listen carefully
To the life moving about you as you walk along.
Hear this place sing to you
Its welcome song.

Step by step, turn by turn,
Meet yourself with a new perspective ~
A you that seems like a shadow
In the glare of modern demands and distractions.
This is the real you.
With love, you move
From the shadows
Into the light.

Step by step, turn by turn,
Smile at yourself.
Your thoughts,
Both familiar and new,
Begin to dance gracefully together.
You feel fresh energy swirling
Playfully around you
As you keep walking with perfect trust
The spiral path stretching before you.

Step by step, turn by turn,
You reach the spacious center.
The music of the moment
Lightens your heart.
You meet the spirit of Wisdom.
With her there is peace, maybe joy.

Step by step, turn by turn,
You walk around the center,
Then choose a place to be still a moment.
You linger, soaking up this chance meeting
With a vibrant, colorful, sparkling world
You've forgotten existed.

Step by step, turn by turn,
You feel younger, as you step
Out of the center.
You step back onto the path,
Which will lead you on a journey
To the world you left behind,
A world waiting for you to manifest
Your unique Wisdom and Magic.



Meet Magic on the Path



Walking a labyrinth path is an ancient form of walking meditation.  When you walk the labyrinth path, you meet your own magic at the center because it mirrors YOUR center.  Walking the path, we take the time to rest and be with ourselves.  We step over the threshold of the doorway to the world of our intuition and listen to what our heart and soul want to tell us.

Walking the labyrinth path integrates body, mind and spirit.  When we step onto the path, we let go of the everyday world and walk into a sacred dimension of time and space where just being is what we are called to do.  We learn that we are enough. We observe closely the world we find ourselves in, notice its essence.  We appreciate our own natural Wisdom.  We love, heal and regenerate.

As we walk we make friends with our Shadow, the part of ourselves that is often hidden in our unconscious memories, buried deep down, unseen through the distractions of our everyday lives.  Our Shadow carries great Wisdom alongside our human imperfections, and often speaks to us through our dreams.  In this remembering there is healing and empowerment.  We take time to learn from our Shadow.

 When we return to the world, we bring fresh energy and a new perspective that feeds positive change in our lives, and maybe others' lives as well.

The Divine Gift of Sacred Geometry



Labyrinths have been around for thousands of years.  Their designs are a form of sacred geometry. They are gifts that call us back to ourselves and our origins.  They call us to keep in touch with the ancient Wisdom we carry within us on our journey.  The labyrinth path carries connective energy that supports both individual and community healing.  Walking the path regularly increases both individual and group resilience in the face of challenging times, like the Covid - 19 pandemic we've been experiencing.  On the labyrinth path we are understood, encouraged, held with love.  We learn to see and hold ourselves with love.





Walk

,

Love

,

Sparkle




A Threefold Journey



Are you ready for the adventure of a lifetime?  Grab your staff and travel sack because you'll be encountering some exciting new turns in the road and meeting new companions among the community of pilgrim travelers that is forming here. 

Below I share my personal three-fold message to you, the foundation of the work I do as a Life Transformation Coach, and the inspiration for all that I'll be sharing with you in my posts.

1. Walk Your Path
Walking the labyrinth path leads you to walking your own life path with authenticity.  The labyrinth path, as a form of reflection or meditation, leads you inward, turn by turn, to your most authentic self.  At the center of the labyrinth you meet your own center, the core of who you are.  You reacquaint yourself with your own intuition and listen carefully to what your intuition has to tell you.  You pay attention to your dreams. You welcome and embrace inspiration from your Muse.  In time, you learn to trust your own Wisdom, and know that this inner guide will lead you to take important steps toward your best self, and toward living the life you've always dreamed of living.
At the center of the labyrinth, you'll find answers within to some important questions:
What do I value most?
Do my chosen values inform my work?
Does my lifestyle match my chosen values?
What steps have I taken to live my chosen values?
What steps have I taken to achieve my goals in my life and work?
Do the people around me support who I truly am?
Do I show up in my relationships as who I truly am?
What steps have I taken to realize my biggest dreams?
What dreams are seeking me?
What do I need to know right now?
What's my next step?
As a Life Transformation Coach, I invite you to walk the labyrinth path with the intention of liberating and empowering yourself to live a balanced, happy life, a life that nourishes you, and that's successful by
your own
intentional definition of success.  As a companion to walking the labyrinth, you will have the chance to explore these questions at your own pace, through journal writing and engagement with a Fellowship of fellow humans who will walk with you, step by step.
2. Love Yourself
Love yourself enough to give yourself the gift of time.  We give our time to so many other people and endeavors.  We deserve the gift of our own time. 
Looking so closely at our lives requires bravery, and that bravery requires Love, most particularly self-love.  What has your journey with Love been like?  Has fear been a barrier to your experiencing healthy, vibrant relationships with yourself and others?  In what ways do you give yourself the love you deserve?  Are you kind to your Inner Child?  In order to love others you must accept and love yourself first, right here and right now.  Your presence here in this lifetime is a gift to the world.  The world needs your Vision!  You are a beautiful person who's worthy of
your
love!
Part of Transformation is releasing the past, along with any destructive toxic messages you have carried with you, in order to step boldly into the life you are meant to live. You must replace those harmful messages with messages of love.
Sometimes we don't give ourselves credit for the good we've done.  Is there anything you've done that has brought you closer to living your dreams?  If so, celebrate that.  You deserve to celebrate
you
! 
We all have gifts meant for sharing on this journey, yet we are often unclear about what our gifts are, or how to manifest them.  Loving ourselves is the first step toward knowing the gifts we have to share and how we want to share them.  Our purpose is guided by Love.  Our hearts lead the way by loving who and what we love. I am here to support your journey of letting go of the past and growing forward with confidence, in empowering yourself to own and manifest your gifts, and in your working toward your biggest dreams. You are not meant to do such work alone.  I am here for you, and so is a Fellowship of fellow seekers.
3. Make Your Life Sparkle
While you are walking your path with love for yourself, you cannot help but add sparkle to your life, and to the lives of others.  When you are awake to your own evolving sense of purpose, the world will feel more magical because you're allowing your own light to shine more brightly.  With my coaching as a staff of support for your journey, you will map out the steps you'll want to take toward making your life sparkle.  You will begin with small steps, simple ways to make changes that make your life a little simpler, a little breezier, a little happier.  You'll lay the foundation for the more challenging work that will follow, and roll up your sleeves to do the hard work that awaits you.  You'll be using the labyrinth as a tool for staying grounded in your values and your process, and for strengthening your conscious bond with your Intuition.  You'll have your Fellowship to listen to you and offer the Wisdom you are ready to receive.
When you walk your path, love yourself and make your life sparkle, you become unstoppable. Take that blessed first step today!
My Posts
My weekly posts are exclusively for
you
, my
Patrons
.  Their content will include reflections around how you can walk labyrinths to enhance your creative process and to create the shifts in your life that'll bring you closer to your dreams. In them I will share some of the changes I make in my life, and the blessings those changes manifest.
My posts will be as diverse as you all are and as colorful as my own personality!  They will take the form of reflections, journal prompts, coloring pages, poetry, music, creative activities, and sharing the projects that fill my heart and reawaken my spirit each morning.  I'll also be sharing glimpses of my process behind those projects with sprinklings of photos via the "Lens" feature on the
Patreon
mobile app.  They'll all be there to encourage you to explore, discover and express your unique creative genius throughout the week.  Come aboard and join me on my ship headed for Adventure; I'm looking forward to journeying with you!
Love,
Karen xo
When my work reaches 100 patrons, I will paint an original labyrinth path design on a 36' canvas to bring with me when:

* I conduct in-person Life Path Transformation coaching sessions.

* I facilitate group labyrinth walks that take place inside.

When I finish painting my labyrinth path on canvas I will hold an inaugural party for you all to enjoy the first group walk on the path.

*** Important Note: Your ongoing support will allow me to hold gatherings when it is safe to meet in groups again.

1 of 3
Become a patron to
Unlock 95 exclusive posts
Connect via private message
Recent posts by Walk, Love, Sparkle
How it works
Get started in 2 minutes