The World Around Ewe
is creating Bad Taxidermy
Select a membership level
It's like buying me a can of coke!
You just fancy throwing me a dollar, with this though you should get access to a digital copy of 'Uneducated Guesses' from my profile... you may have to scroll!
It's like taking me for a pint!
- You enter a dark alley
   - You feel generous
       -You throw $3.50 at the taxidermist
You will get access to a digital copy of 'Uneducated Guesses'
It's like we're going out for dinner!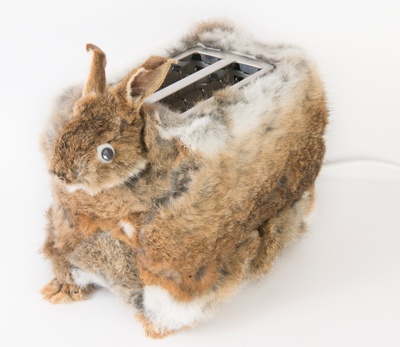 A wild Taxidermist appears
You use $25
It's Super Effective.
-----------------------------
You get access to a digital copy of 'Uneducated Guesses' via Patreon.
About
I like to make things out of dead animals. If you want to see things inserted into animals or you really need a pencil case made out of a rat with a useful insert in its arsehole then look no further.
I dabble in writing too, but in all honesty I don't really know how to go about it. I've self published a book called 'Uneducated Guesses' and I would love to write more as people seem to really enjoy it.
I'm always up for making something new, at the minute I am starting to make what I have called 'Animalgamations', but sometimes it's really nice to just think "fuck it" and make something totally new. That's how the Rabbit Toaster came about.
At the end of the day I just wanna make people laugh, selling my stuff is a by product of that - although currently my only source of income... I have had a few news stories written about me and now it is kinda tricky to get a real job because if you google my name you get tonnes of pages about me cutting up rats and rabbits. I'll add links to these on my page because I am pretty proud of them.
This all started around summer 2016 when I did my first mouse by candlelight in my back garden. I just wanted to see if I could do it because I have always enjoyed looking at weird taxidermy online. I never expected to turn this into a business but after a university project went wrong (or very right!) I went viral with my rat pencil case idea and haven't looked back since.
I never knew Patreon existed, but after sharing my creations on a few Facebook groups I learnt about it from other creators and thought "sod it, why not?" so here I am standing in the edge of that back alley of the internet with my upturned hat dancing for money. You don't have to donate to me, but you probably should because I clearly have a knife.
Here's a couple links to articles about my work:
https://www.plymouthherald.co.uk/news/plymouth-new...
<--- Where it all started!
https://www.bbc.co.uk/news/av/uk-england-devon-43635563/toaster-made-from-a-dead-rabbit-in-plymouth
<--- The BBC when I made my Rabbit Toaster
https://www.plymouthherald.co.uk/news/plymouth-new...
<--- Rat Scrotum Pendants!
Here's a link to my website so you can see whats available right now!
https://worldaroundewe.com/
It would just be nice to know 10 people care enough about what I do to support my [pschosis??]
1 of 2
By becoming a patron, you'll instantly unlock access to 15 exclusive posts
By becoming a patron, you'll instantly unlock access to 15 exclusive posts
Recent posts by The World Around Ewe