Wyrd Leather and Mead
is creating handmade leather goods, mead making exclusives, and more!
Select a membership level
Heeding the Call
By pledging just a single dollar a month to us, you are directly supporting the shop. $1 might not seem like much overall, but if 100, or 200, or even 700 Warriors of Wyrd all band together that all adds up and seriously helps support the shop. The more Warriors of Wyrd backing us, the faster we can get things into production. 
Heed our call. Join us!
The Inside Scoop!
By backing this tier you will receive a monthly email about how our meads are going and get a behind the scenes look at our process and flavors we are working on. May include a variety of unshared photos and videos of our process such as racking and bottling.
All backers of this tier and onward will also receive access to any exclusive bonus episodes that our podcast releases!
Discord access is granted with this tier as well!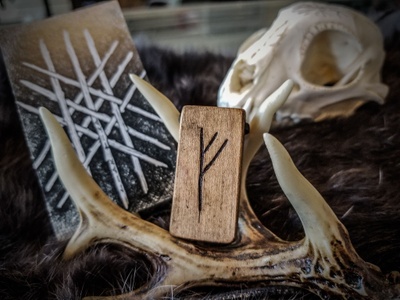 Hand Carved Wooden Futhark Rune Pendant
By backing this tier, you will receive a hand carved wooden pendant bearing a random rune from the Futhark alphabet. Each rune bears a special meaning, and we will include a description with each package. 
We may even do a bindrune! 
This ships every month, so expect a special pendant every month! 
Pendant size: 1.75 inches x 3/4 inches roughly
About Wyrd Leather and Mead
We are a new start up company in Portland, Oregon and are trying to turn a hobby into a business we are passionate about. We have a storefront and we are officially brewing mead at the shop as well!

We specialize in a variety of leather goods that range anywhere from medieval armor to your every day belt or wallet. 

Our mead is made with local honey from a company called Bee Local and home brewed by us! We are working on getting our physical shop space fully up and running so we can legally sell our meads!

By pledging to us on Patreon, you will receive exclusive news about how our shop is going, gain access to batches of mead first, and gain cool items monthly all handmade by us!

Thank you! You are a part of the Wyrd Army now!

When we reach $700 per month you will be assisting in the funding of roughly 1/3 of our shop space rent which would be fantastic news as a small start up business! 
If we hit this goal, we will give all our patreon backers the option of getting their name down first on a batch of mead of their choice. Please note that the mead will not be a perk reward due to legal reasons. This just ensures you have a first come first serve slot at purchasing a particular batch. 
It may be a while before we are legally allowed to ship. This extra perk may be only available at our physical shop space. Hope you understand!

1 of 1
Recent posts by Wyrd Leather and Mead