Xagrim's Gameforge
is creating Erotic Games and more
Select a membership level
Feel the power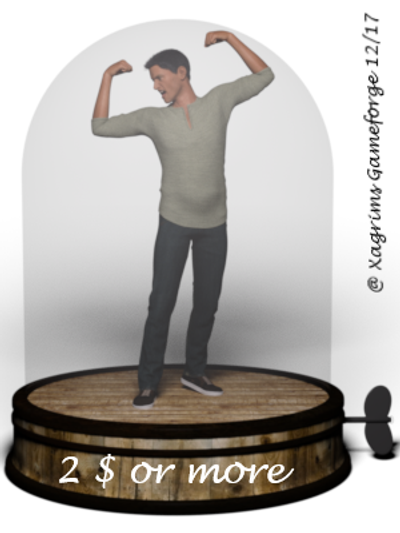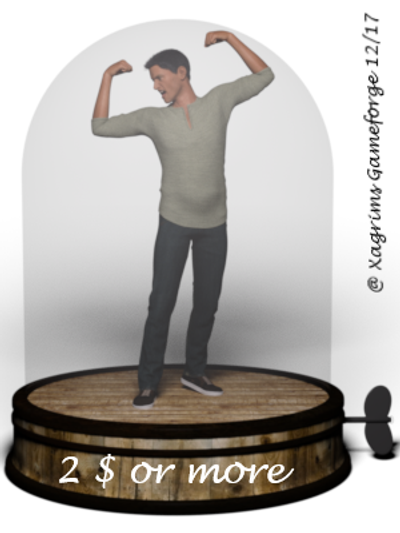 Get access to the Patron-only posts and secluded information
Receive access to the Patron-area on my personal communitypage
You can play the major update of "The Promise" one week after it has been released for 5 $ Patrons
Give your opinion and help build the story by accessing polls ( 1 voice per vote)
Access to the last Patron version which is in your category released as you joined 
See your name added to the credits after 20 months of membership in this category 
And of course I will be ever so grateful
Includes Discord benefits
The night is dark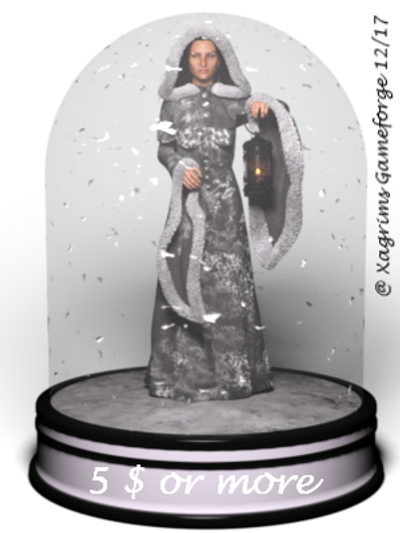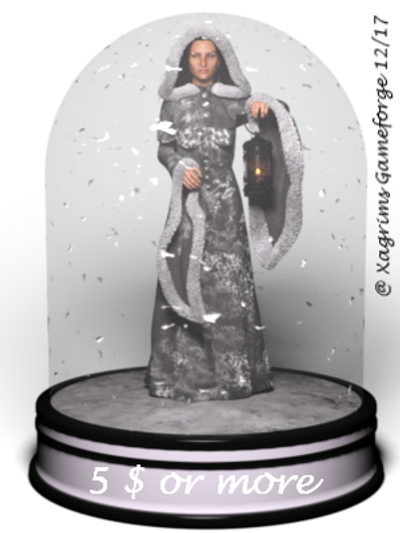 All previous rewards
Get access to more scene previews of upcoming releases 
 You can play the major update of "The Promise" one week after it has been released for 10 $ Patrons
+ 1 voice more per vote in the polls (2)
See your name added to the credits after 8 months of membership in this category
Support this category for 24 months and you will be mentioned under "Special Thanks for faithful Patrons" at the top of the credits (in order of your pledges).
Includes Discord benefits
The night is dark and cold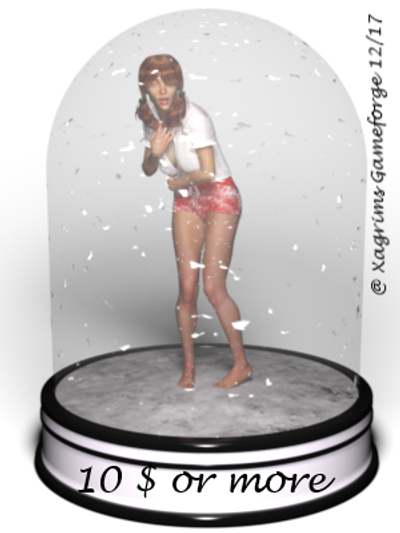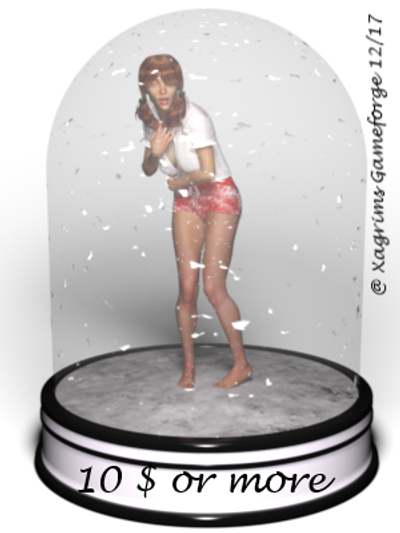 All previous rewards 
You can play the major update of "The Promise" as soon it has been released 
A total of 3 voices per vote in the polls  
See your name added to the credits after 4 months of membership in this category 
Support this category for 12 months and you will be mentioned under "Special Thanks for faithful Patrons" at the top of the credits (in order of your pledges)
Includes Discord benefits
About Xagrim's Gameforge
Features planned for the "The Promise" Trilogy (not final):
A sandbox VN (open world like) where your decisions impact the world
Many optionally side places
An individual main story with some side stories over all three parts of the Trilogy
A global story over all three parts of the Trilogy, but if you are not interested, you don't have to follow it
As long as the levels are different no playthrough will be the same
Different endings and story routes dependent on your choices
Different situations and events dependent on your stats and choices
Three jobs in the first part (farmer, miner and waste collector) with unique events and side events
In the other parts many jobs like office worker, photograph, detective and many more
Optimized for 1920 X 1080 (HD)
Many sounds, music, images and animations (for unique and important situations)
Different characters and fetishes (see the tags)
A stats system
A "Scene Planner" where you can replay some situations and find hints for other possibilities
Current Tags:
3DCG, Life Simulation, Sandbox, Animated, Anal Sex, Big Tits, Blowjob, Cheating, Corruption, Cosplay, Exhibitionism, Footjob, GILF, Hairy Pussy, Handjob, Interracial, Male Protagonist, Masturbation, MILF, Prostitution, Role Play, RPG, Romance, Sharing fantasy(avoidable), Seduction, Small Tits, Titjob, Trimmed Pussy, Urination (avoidable), Vaginal Sex, Voyeurism
Planned Tags:
BDSM(avoidable), Blackmail, Golden Shower(avoidable), Group Sex, Hotwife(avoidable), Impregnation, Lesbian, Public Sex, Shaved Pussy, Shemale, Swinger (avoidable), Tan lines, Tattoos, Threesome
Visit my own community and talk in the forums:
Xagrim's Gameforge
If you are wondering about something or want more information, please read the
FAQ
first.
Or have a look at the
Roughly Roadmap
.
Here
can you find some music of MaffinMusicMan a composer of some of the soundtracks from -The Promise-.
Screenshots: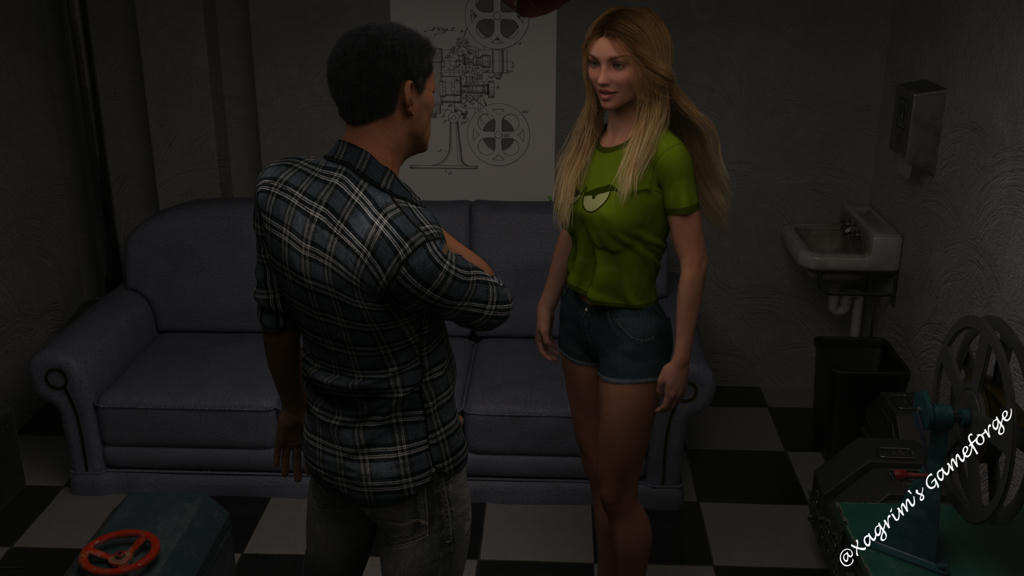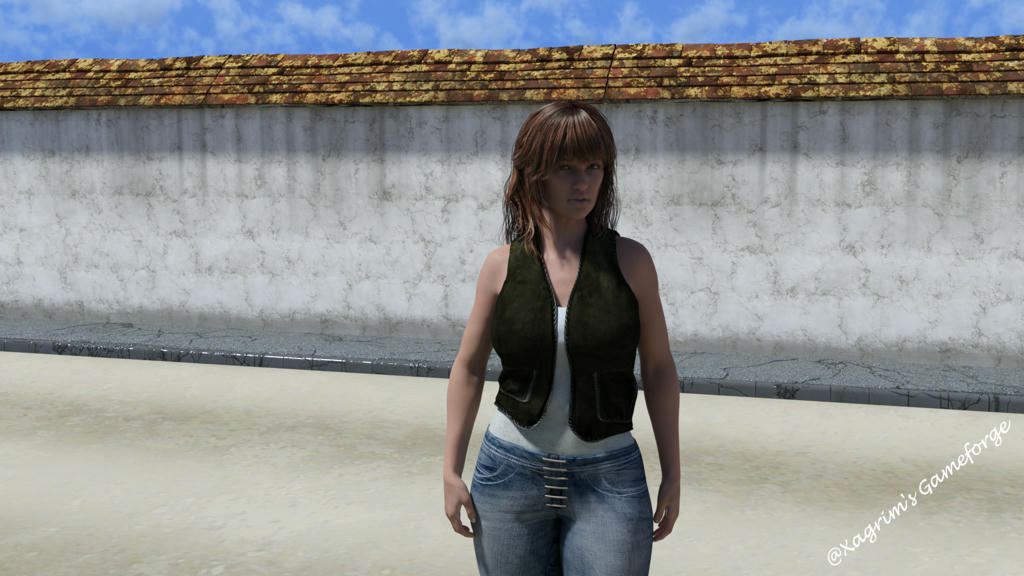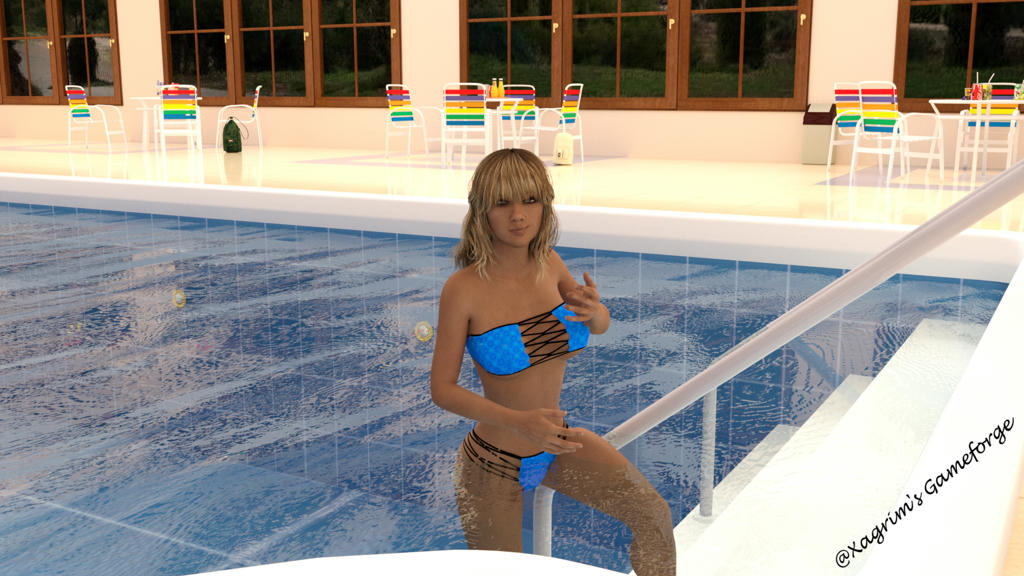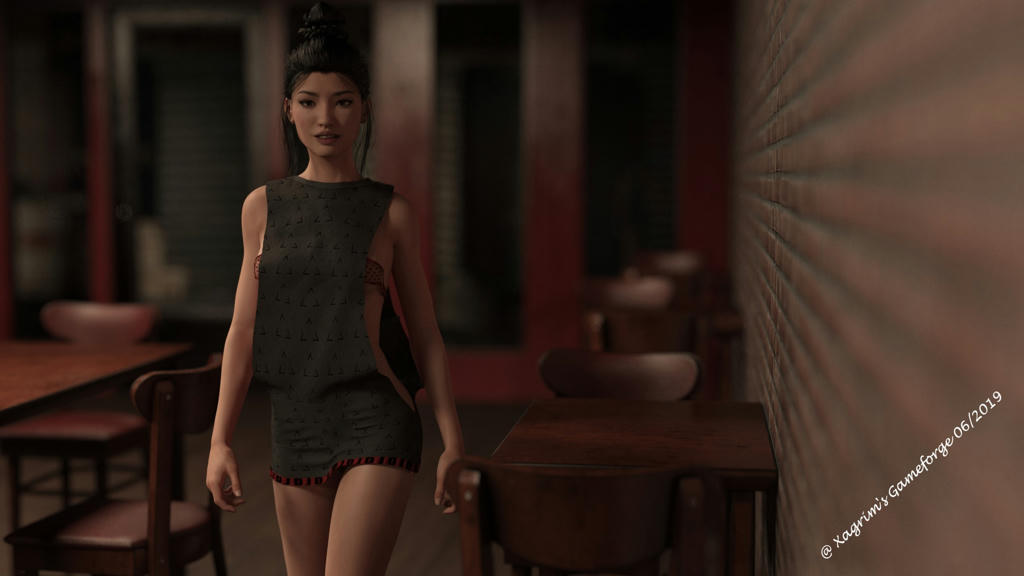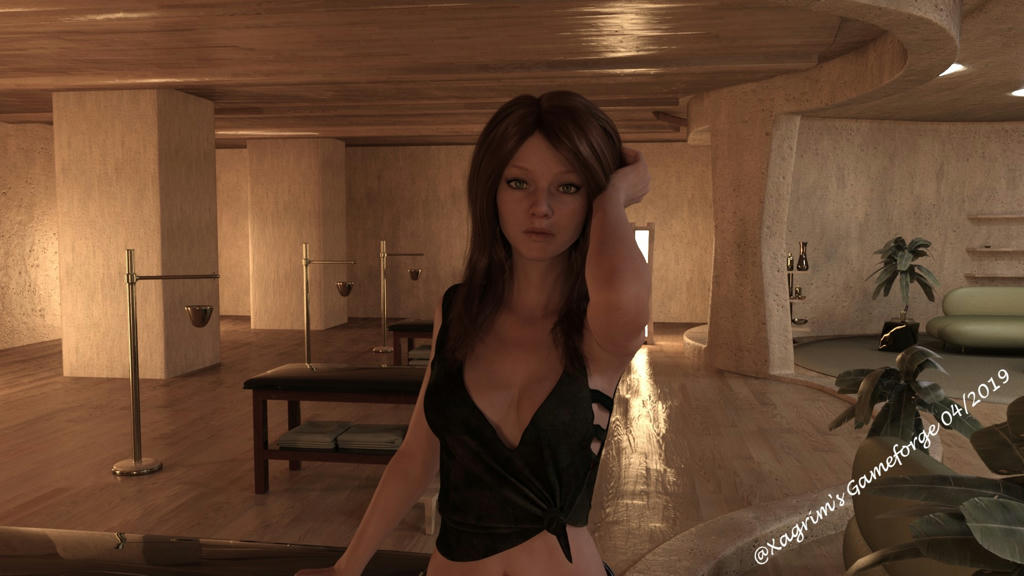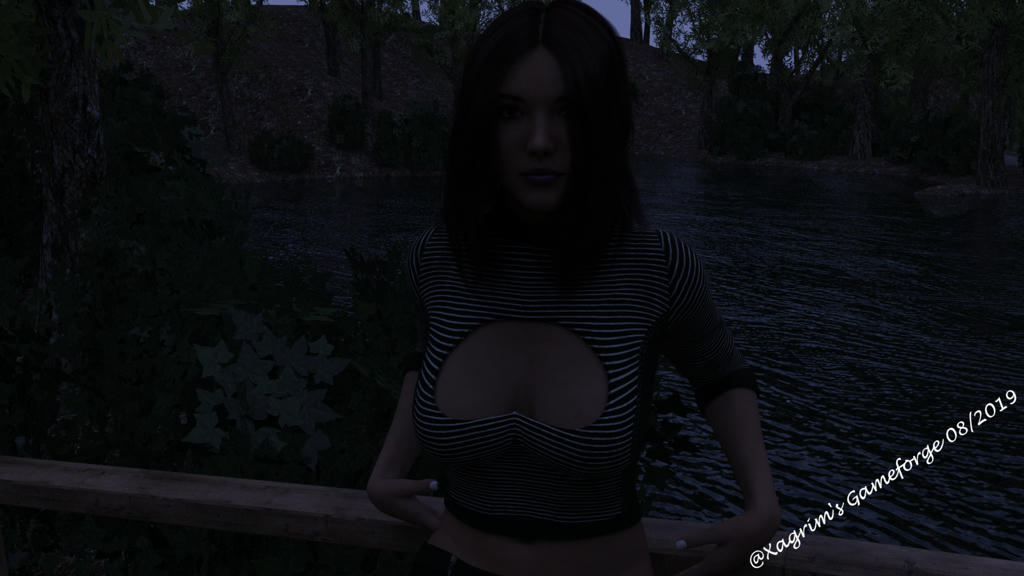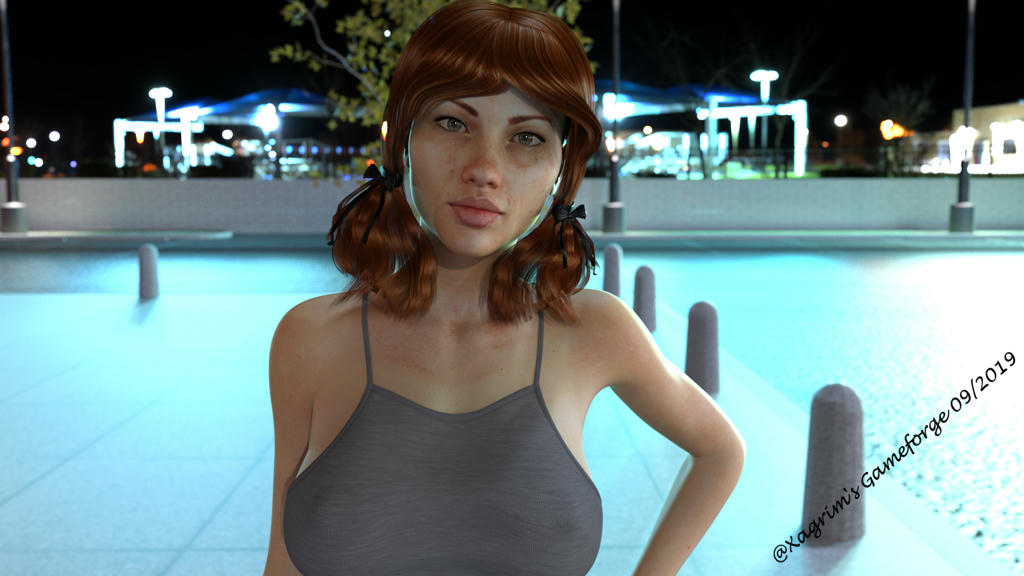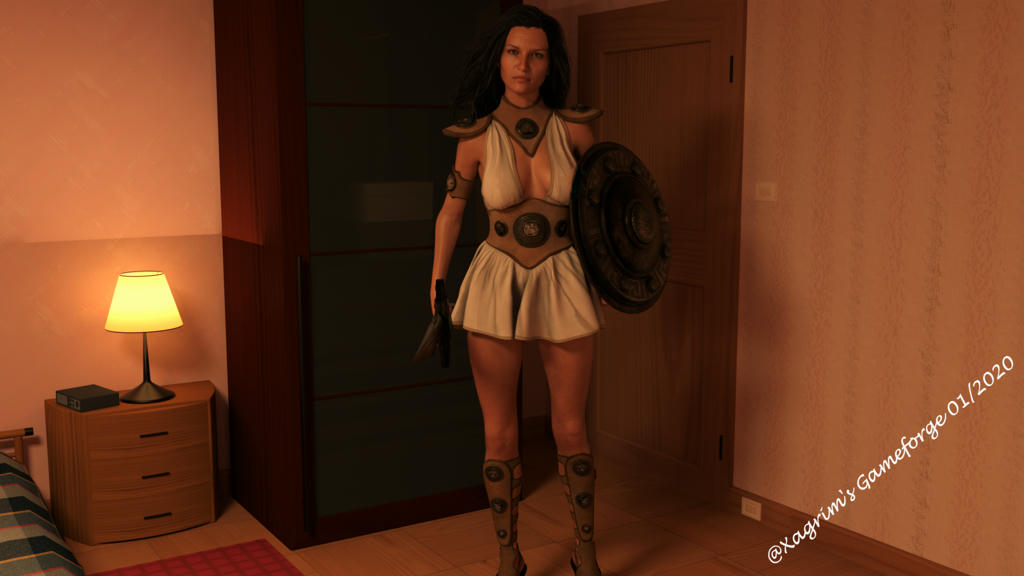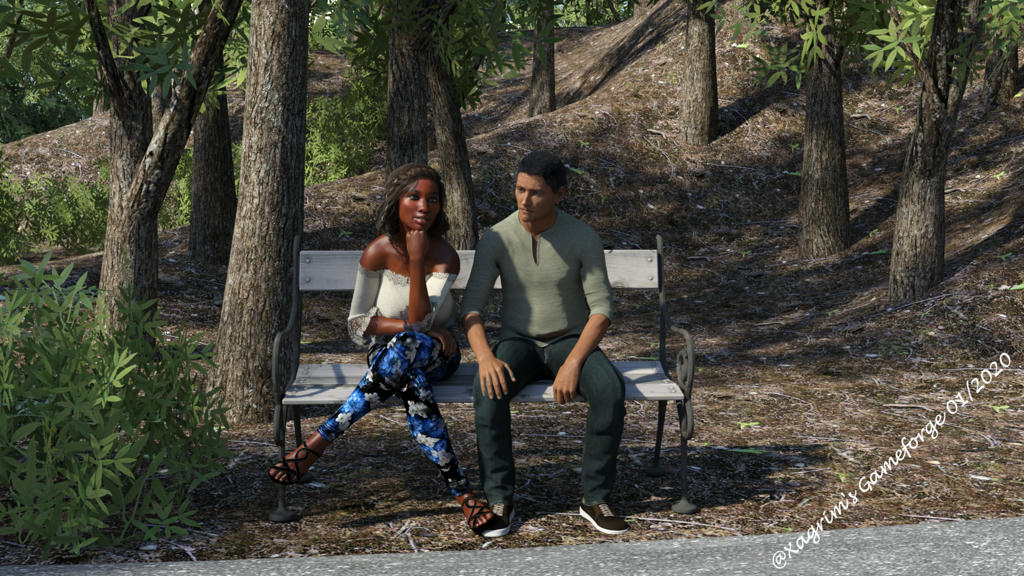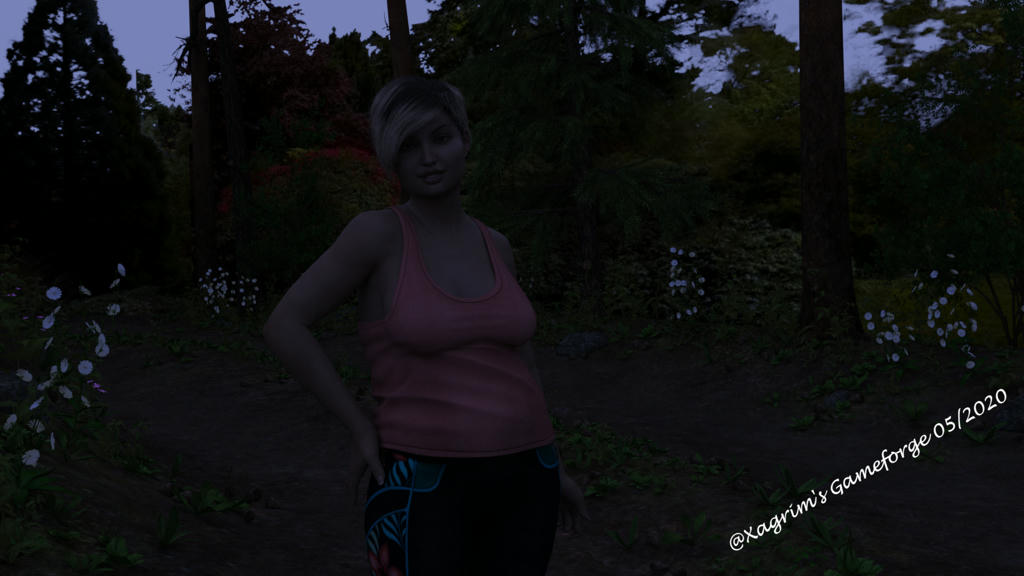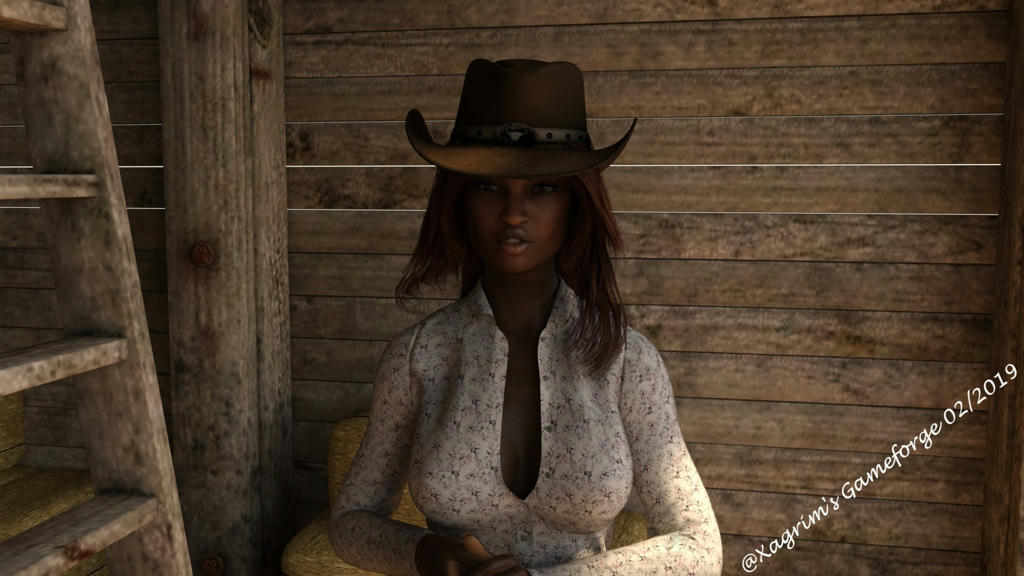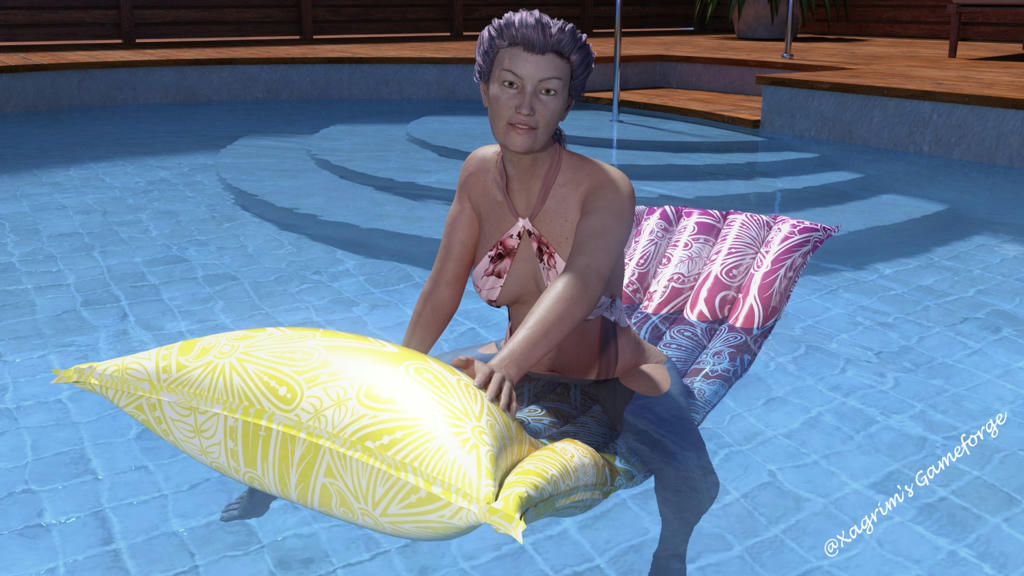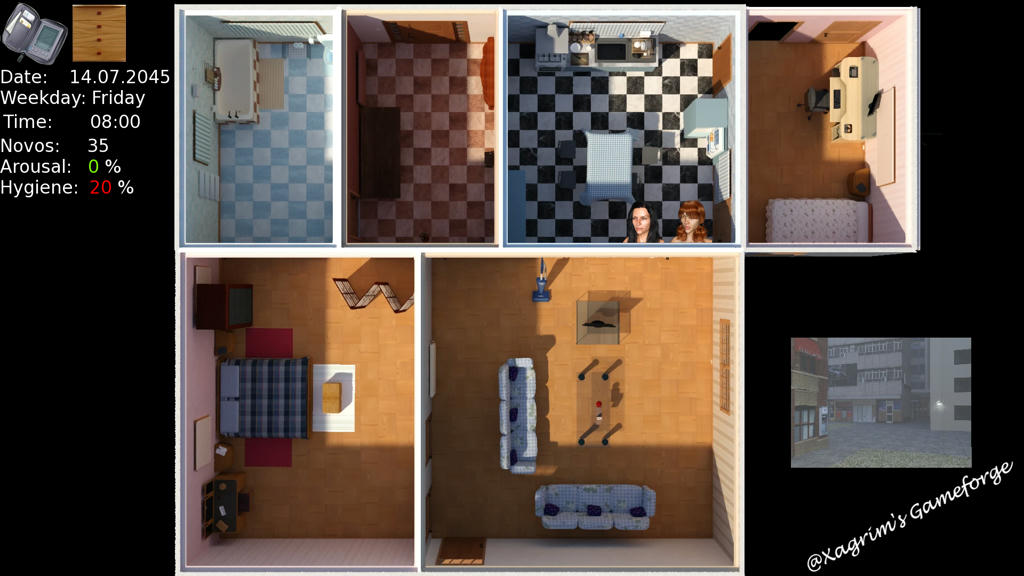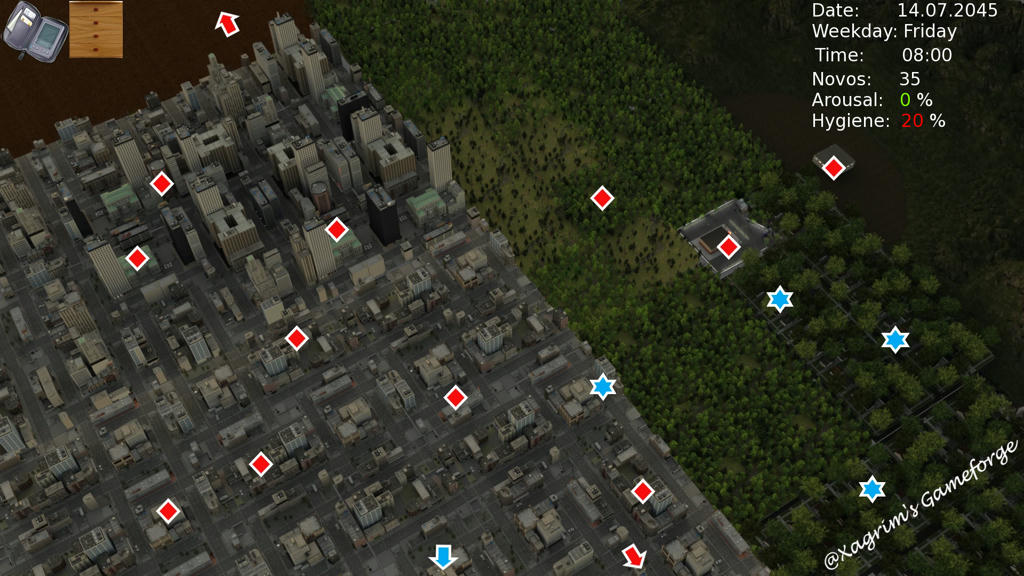 Downloads:
You can find links on Reddit or on my Discord.
You have feedback or questions about the game or the site?

Feel free to
contact me
.
Current public version: 0.76
One week after the 2 $ Patrons have got access to their release version

Current patreon version: 0.77
Over 8.500 images
Over 350.000 words completly proofread by SDevil
Animations for some situations
Two jobs (Waste Collector, Farmer) with unique events, the outcome depends on your decisions and small side events.
Some locations to explore : A city with townhall, shop, bar, clothing store, cinema, public pool, farm, park and landfill
Depended on your interests and gameplay some hours of playtime
The first project: "The Promise"
You play as a man in his mid forties who has given his family a lot of promises. And now it's time to follow up on them. You must work hard and make many decisions for your life. And those will have influence on others, as well.
The game is created with Ren'Py and features 3D renders and animations made in DAZ Studio 3D. The game has an individual main story (The Promise) and a global main story. (But you don't have to follow it, if you don't like it). There are many side stories and smaller events, based on your decisions. It is possible that you close a route or get a different outcome.
There are some hidden stats for triggering certain situations and stats showing per example the corruption of your wife. You will have to raise corruption and the relationships with your family to get certain events and more.
The game will have different endings for each character. Many things will be influenced by what you do. Many things are possible. You can have an affair, cheat, or live in absolute love with your wife. You can make her more open for other things and more. But be careful with your decisions - it is possible that the situation gets out of control. The game will be a combination of grinding and on time and choices depending situations.
I will release some major updates every 1-2 months, regularly small updates and some other stuff for patrons.

"The Promise" is planned as a Trilogy:
In the first part (The Beginning) your main goal is to earn money to get entry to the capital. The city in which you start is not the city of the rich people. The interior and other things are not looking very good.

In the second part you live in the capital and your goal is to get a good position and one of the few places in the exclusive residential area. The world will be influenced by your choices in the first part. It is possible to meet chars from the first part.

In the third part you live uptown in the exclusive residential area and it lies in your hands if it ends in a good or a bad way. The world will be influenced by your choices in the first and the second part. It is possible to meet chars from the first and second part.

About me and my plans:
Greetings visitors and Patrons, thanks for visiting my project page. This is my first step into developing games, but I'll give my very best to offer you a good game experience.
I'm a 40 years old man living in Germany, so I'm not a native English speaker. I play a lot of good adult games and I know there are a lot of games with similar ideas. But ever since I was a young man, I have dreamedof creating a computer game. I used RPG Maker MV at first, but now Iwork with Ren'Py and with DAZ 3D I make this dream come true at last. What is most different about my game is that while in most adult games you play a female or a young man, in my first project you play a married man aged forty.

All projects are made for Windows, Mac, Linux and Android.

Hope you enjoy it.

Why i chose to go with Patreon:
Because I have never created a computer game before and I do it all by myself. I create the artwork with DAZ 3D and the core with Ren'Py. My goal is to be able to hire proofreaders, artists, voice actors and others, as well as to buy more stuff and hardware. For all this you get access to exclusive content and the community of my projects (For more, see your rewards on the right). 

SDevils thoughts about the project:
First of all I'd like to thank everyone for your support on this game. Xagrim has taken a big risk not only by creating a completely new environment and world in a year that has yet to come. With not everyday characters but people you might actually walk into on the street. But making it an open world as well with many options of gameplay to explore. However to fill that kind of sandbox stories with interesting happenings takes time. So yes, currently there will be many moments where not much happens as it stands. But he is trying to to make it a great experience and is always open for your suggestions. Before stepping into this project as an editor myself I saw the potential as well as the raw edges The Promise has got. But during late brainstorm sessions I figured out where this developer was trying to take this game. Basically he is having the mc suffer a bit starting down in the basement to slowly get a grip of his life Climbing the ladder to success. It wouldn't be much of a challenge if the character started living his ''La Dolce Vita" now would it? And with a wife who will bit by bit get her looks back that is something I have never seen in any other game before myself. So therefore I want to request you guys to keep supporting Xagrim and sending your feedback and I can promise you that I will do my best, with dialogues, to make this a very special experience for all of you.
Hire more people for help like artists, voice actors or storyteller.
4 of 9
Become a patron to
Unlock 374 exclusive posts
Connect via private message
Recent posts by Xagrim's Gameforge
How it works
Get started in 2 minutes