Will Sutton—Zandoria Studios
is creating 3D Printable Models & Miniatures, Comics and Animation!
Select a membership level
Fan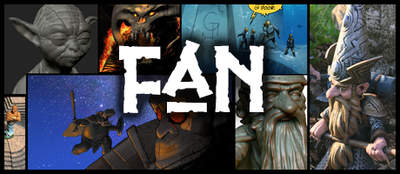 You are a Fan of my work, and I appreciate you!
You have access to polls, videos, tutorials, comics, work-in-progress and other behind-the-scenes!

ComiX Supporter
ComiX Supporters have Access to the Comix folder on Dropbox! The finished parts of my Graphic Novel, my Sketchbook, and other 2D printed works are available as downloadable .PDF files.
You will have access to posts, videos, polls, behind-the scenes and works-in-progress and my gratitude for making all of this possible.

Animator
I've been using Animation:Master for computer animation since 1999. You may know me from the A:M forums, as Zandoria Studios. I am one of the Hash Fellows, and was a part of the Tin Woodsman of Oz movie project, and other things.
I am putting up a lot of my ready-to-animate models into an Animation Library on Dropbox. As a patron at the Animator Tier, you will have access to this folder, so that you can use my models for your animation practice, to dissect them for study, and you can message me for tips or feedback on your own animation!


About
Why does Patreon exist? Why does
THIS
Patreon exist? I'm hoping that if you have found your way here, it is because you are a fan of my art.
Maybe you remember the black & white comics boom of the '80s, and read some of my early comic book efforts....Or maybe you have been a part of the Animation:Master community and know my work from the A:M forums, the Tin Woodsman of Oz project, or TAR of Zandoria...You may have seen my 3dprintable miniatures or PuzzleLock terrain on some of the Facebook groups related to tabletop games....
Patreon is a way that you can support what I am doing (even though you may not be a millionaire philanthropist). By pledging a small amount, fans join together to fund the artists that they like. That is basically all Patreon is.
When you join the Patreon, you will have behind-the-scenes access to what I am working on, and will be a part of a small community of fans who together are helping me to create my art. Whatever I'm working on, I usually post to the Patreon page, so that you can give input and take part in the creative process.
There are a few different Tiers, and they offer different rewards for your support:
If you are a
ComiX
fan, I have put .PDFs of some of my older work and my work-in-progress graphic novel, The Scroll of TAR, into a Dropbox folder that I will share with you.
If you have a 3dprinter, you may like the
Adventurer
Tier. I share copies of the 3dprintable miniatures that I'm designing into a Monthly Dropbox folder, where you can try them out on your own printer! This isn't a store (I know a lot of miniature companies have started using Patreon as a subscription service...), and I can't even guarantee that there will be new models every month...but you will have it before anyone else.
If you are an
Animator
, you might like access to a Library of rigged ready-to-animate models (in Animation:Master format). I still use A:M, and I am available to answer any questions and help you in any way I can.
There is also a
Merchant
Tier, which allows commercial sales of miniatures, figurines, and 3dprintable terrain. This is simpler than trying to keep up with % commissions for selling prints. In addition, Merchants have access to the entire back catalog of 3dprintable models, for their Etsy shop or game shop.
These Tiers aren't the limit of what you can pledge—if you happen to be a millionaire philanthropist, please consider increasing it!
Thank you for all of your support!
Will
Below are some examples of previous models for the 3dprintable
Adventurer
Tier:
Below is a
Gallery
image of some of the past models (STL files). These are available at the
Merchant Tier
and above. You can download any of them from the
Back Catalog
Dropbox Folder. The link expires at the end of the each month.
copyright ©2019 William Sutton.
For personal 3D printer use only. Files may not be shared, remixed, or redistributed.
May not be reproduced by other means such as molding and casting without written license. All rights reserved.

I would like to reach 100 true fans, which would enable me to create full-time!

1 of 1
By becoming a patron, you'll instantly unlock access to 48 exclusive posts
By becoming a patron, you'll instantly unlock access to 48 exclusive posts
Recent posts by Will Sutton—Zandoria Studios
How it works
Get started in 2 minutes