Arsenijs Pičugins
is creating ZeroPhone - open-source $50-in-BoM Linux smartphone
Select a membership level
1: Early posts and mentions
Your Patreon name listed in an app in ZPUI
Real-time updates before they are posted on Twitter
Hackaday.io and other blog posts before they're published
In addition to getting stickers, you'll also be getting a personalized gift package in the mail, each two months! This might include chocolate, a postcard with a handwritten message, a small but useful modboard for your Pi or ZeroPhone, a random interesting thing I got on Taobao and bought 10pcs of, or a combination of these + anything else that I might find interesting.
Shipping by regular mail with a tracking number from Latvia - just make sure you have the correct shipping address, and let me know if you want  to arrange some other shipping method.
About
Hi! I'm
Arsenijs
, and I'm working on
ZeroPhone
.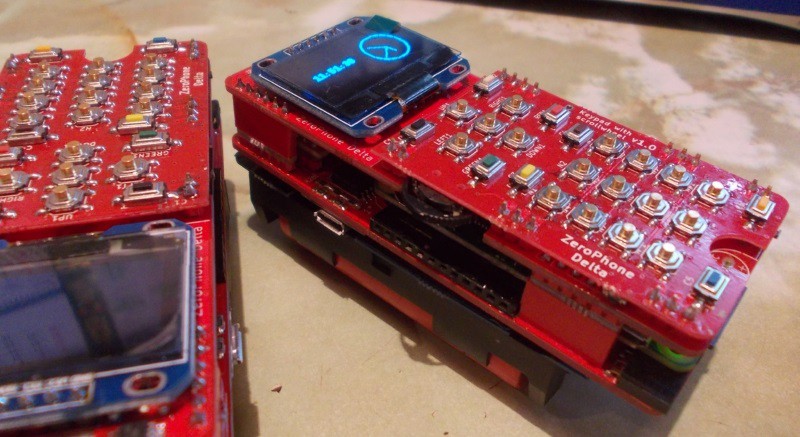 The 
ZeroPhone
is a smartphone that you can assemble all by yourself, getting parts from places like eBay and Aliexpress (as well as from this project's community). All the hardware is open-source (save for the GSM modem and Pi Zero) and the BoM is published; you can order all the components by yourself using our sourcing guidelines, then assemble it using instructions, photos and other materials that our community provides. All the parts from the BoM will cost you about $50 when ordering yourself - possibly a little more, but there are ways to order smarter. The assembly is designed to be doable with a soldering iron, solder wick and a pair of sharp tweezers, no hot air gun or reflow oven required. After you complete the assembly, flash our SD card image on an SD card to get yourself a Linux smartphone! At any point during sourcing or assembly, you can get help from our community (or me personally) using 
IRC
, 
Matrix
, 
Reddit
, 
email
, or joining our 
Hackaday.io project
.
Why?
I'm mainly working on ZeroPhone because I like to have a hacker-friendly phone which I control, use for all sorts of unintended purposes, and hack it so that it assists me in my hardware hacking endeavours. I'm also doing it because I believe we need more control over smartphones that we've come to rely on, over our personal data that we give out, and over our purchasing choices - so that we're not pretty much forced to support vendors that make unethical decisions. To try and change the current situation, I'm making an open, hacker-friendly phone that wil give you full control over its hardware and software. It's a long way, though, and I'm trying to dedicate as much time as possible to this project, since I see the field of mobile phones as one where we can actually make a change, working together, and fix all the mistakes we've allowed the phone makers to make over all this time.
What do I offer to patrons?
Your support isn't going to remain unrequited. First and foremost, for as low as
$1 (Tier 1)
you get realtime (and sometimes, exclusive) project updates as I'm working on it - I take pictures and screenshots as I do my work, and you'll be getting instant access to those as they're made. I considered using Twitter for realtime updates, but learnt that tweets not posted on the USA schedule (which is different from mine) are limited in their reach, so there's naturally going to be a time delay between me taking a picture of some new hardware, and me posting it in a way that others can see it. So, I made a scheduler tool that eventually posts most of the Patreon updates on twitter - but before a post is scheduled on Twitter, you'll be able to see it here, sometimes even a couple of days before! After some work on the Patreon API, I now have a ZeroPhone-hosted always-with-me tool that does just that. (I'm also going to make a mailing list of sorts, so that people that donate or have donated through PayPal/Liberapay can get in on the fun)
If you want to support me at
Tier 2
(
$10)
and up, you will get some ZeroPhone stickers mailed to you! I currently am working on getting a batch made - we have one design by 
Morning.Star
, and we might just get another one based on his work. This also includes the mentions, realtime&exclusive updates and whatever else I might add to Tier 1 later on.
If you want to up your support from there, at
Tier 3 ($30)
you'll get a personal gift once every two months - typically some Latvian chocolate, maybe a postcard with a personal note, plus some interesting hardware bits&pieces I find on TaoBao from time to time - or some useful small Raspberry Pi and ZeroPhone-compatible boards from those that I develop. I can also
send
some ZeroPhone parts
 in case you're doing self-assembly! Of course, you will get stickers, updates, mentions and whatever else I might add to 1 and 2 Tiers later on.
Last but not least, at
Tier 4 ($60)
and up you'll be able to assign 4 hours of my monthly development time on a ZeroPhone-related idea or issue of yours - either something of your own or something on the roadmap (which will be posted here), the conditions are pretty much as follows: 1) it has to be ZeroPhone-related 2) the resulting code / HW designs have to be open-source. This includes the gift bag, stickers, updates, mentions and whatever else tiers 1-3 might have later on.
Why Patreon?
One of prominent problems for me is that I don't have any kind of passive income. There's going to be
crowdfunding
*really soon*, but I have plenty of things to do before I can launch it, and I'd rather not spend crowdfunding money on funding my own day-to-day expenses (even if it counts as paying a wage to myself), since I'd like to make sure the crowdfunding has as much of an impact as possible. I accept freelance jobs here and there, but they take time that I'd rather spend working on ZeroPhone. Furthermore, I have to do hardware prototyping, where testing solutions to problems and experimenting means having to spend extra money on a regular basis - and taking up a place in our hackerspace doesn't come free either (currently, it does for me, but I want to change the situation since our hackerspace is underfunded).
-=-=-=-=-=-=-=-=-=-=-=-=-=-=-=-=-=-=-=-=-=-=-=-=-=-=-=-=-
If you like what I'm doing, support me here - so you can help me and other people that work on ZeroPhone. Together, we can make a difference when it comes to smartphones and how we use them. 
This covers some of the small expenses - building new prototypes, iterating on board designs, replacing broken parts and making emergency hardware bugfixes - as well as hosting for the ZeroPhone wiki and other resources. Also, I can occasionally order new modules to experiment with, to make sure more hardware works with ZeroPhone out-of-the-box!
1 of 4
By becoming a patron, you'll instantly unlock access to 53 exclusive posts
By becoming a patron, you'll instantly unlock access to 53 exclusive posts
Recent posts by Arsenijs Pičugins