A Science Enthusiast
is creating a more scientifically-minded world!
Select a membership level
Let's be BFFs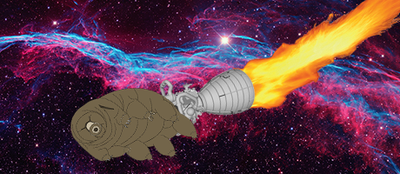 - Access to the patron-only feed! 
- We'll be BFFs because I'll send you a personalized postcard!
Better than most
- All previous reward tier rewards!
- Plus I'll send you an 'A Science Enthusiast' sticker!


About
Who I am:
I'm Dan Broadbent, and at the beginning of 2015, I made a public blog on Facebook called
A Science Enthusiast
. Later that year, I made the website,
aScienceEnthusiast.com
, but before that, I made a group called
The Science Enthusiasts
. I made these to share my love of science, spread rational thought, post the dankest of memes, and most importantly, create a community for skeptics to gather and make new, like-minded friends. It's important for fellow science-minded atheists to have a fun, friendly, and supportive community so they know that they are not alone in a world that feels dominated by religion. As of today, I have well over a million fans on Facebook, and nearly 50,000 members of our discussion group!
Multi-platform drifting following:
My personal Facebook -
@aSciEnthusiast
Twitter -
@aSciEnthusiast
Instagram -
@aSciEnthusiast
The websites:
aScienceEnthusiast.com
- My main blog website!
SkepticalKitten.com
- A cat/pet themed website with some science/skepticism content, too!
Alternative-Science.com
- A satire website covering things from science, pop culture, and politics
... And more to come in the future!
If that's not enough, I have quite a few other projects on the Facebook, totaling over 3 million followers!
My other pages:
We Believe in Nihilism
- a casual pop-culture nihilism page that we take extremely seriously.
We Believed in Nihlism
- the former backup for WBiN after it got deleted by Facebook (twice)
Alternative Science
- a satire page, the bizzaro Science Enthusiast.
Skeptical Kitten
- a cat page with a skeptical/secular twist, we post cat memes and sprinkle in some science/skepticism/atheism content now and then.
Cute Nopes
- a page dedicated to all things that are cute but also make you say NOPE
Cats in Space Quoting Scientists
- a page where Matthew (Credible Hulk) and I post pictures of cats, in space, who are quoting scientists.
... And others!
Why support me?
Because you're awesome! You can help me continue posting unique, fun, and entertaining content across all these platforms. You'll help me to continue to devote 100% of my "work" time to creating/curating content, as well as expanding the 'aSE' network. You'll also help me to hire writers and other content creators, financially supporting their craft, as well as helping us post even more high quality content!
One-time donation?
If you'd rather make a one-time donation (and not have Patreon take a big chunk of it before I even get it),
you can do so via PayPal
!
Thank you so much for your support!
-Dan
When I reach 100 patrons, I'll do a live Google hangout only for patrons!

1 of 1
By becoming a patron, you'll instantly unlock access to 78 exclusive posts
By becoming a patron, you'll instantly unlock access to 78 exclusive posts
Recent posts by A Science Enthusiast