Freya Holmér
is creating video games & media
Select a membership level
About Freya Holmér
Hey, I'm Freya!
I make educational
math visualizations
,
live game development
,
videos
and
Unity tools
!
I've been in the games industry for about 10 years, some of my most known previous work is
Shader Forge
, a node-based shader editor for Unity, and
Budget Cuts
, a VR stealth game that we made at Neat Corp!
I create
Unity tools
that I occasionally release here!
I just released
Shapes
, a vector graphics library for Unity!
It's
now available on the asset store
<3 it's what I've been using to make all these math animations, and art pieces like this one, feel free to
check it out
! 💗💜💙
I'm also a little obsessed with making
math animations
, to the point of
considering writing
a modern, visual, online book for some of the most useful mathematical concepts, with game development as its practical backdrop of use cases!
I've always found math to be so beautiful and useful at the same time, and yet almost all educational math is so
painfully
dry, boring, and bogged down in technical details you don't need to know about - I'd like to be a part of changing that!
I do
live game development
over at
Twitch
every week, with a strong educational focus where I'm always open to questions! I frequently talk about the games industry, more technical stuff I'm working on, and sometimes we get off track and talk LGBT topics, philosophy, politics and recent events 👀 but! I'm mostly working on Flowstorm - a platformer/racing game hybrid with a neat little level editor, currently in its alpha stages of development 🚀 It's on steam, and if you're a $10 patrons you'll get a steam key for the alpha version if you want!
I make
videos
, usually tutorials or clips from my stream on
YouTube
! it's generally focused on game development, though sometimes we talk about other topics too! so if you want an introduction to procedural geometry or shader coding in Unity, or anything else I cover, feel free to visit! I've also been very curious to make video essays on games and game dev, with quite a few ideas and some scripts lying around, yet to be recorded and edited. I unfortunately don't have much time to make prerecorded videos, which is partially why this page exists, to change that~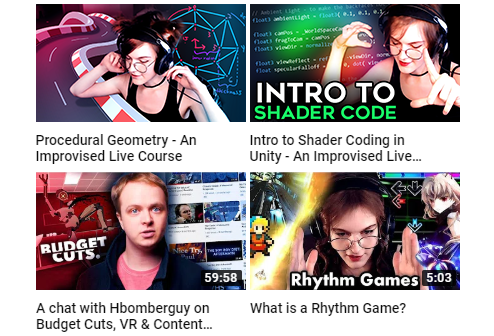 I also made a procedural bézier curve road tool! its source code is available
here
for patrons!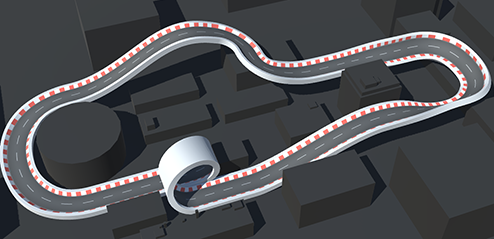 finally, all of my work has created a lovely
game dev & LGBT community on Discord
- you are very welcome to
join
and hang out with us! also, you don't have to be in either of those two groups, everyone is welcome! (unless you're like, a nazi. we ban nazis. what a concept!)
the only problem these days is that it's hard to find time to dedicate to all of these projects, as I need to spend a lo
t of it on, well, making sure I have enough money to get by. I really wish I could do all of my work for free, but right now I'm feeling stuck, unable to do so out of a constant fear of not being able to make a living doing it
so if you somehow think my chaotic inconsistent content output is worth something, becoming a patron would be an immensely nice thing of you - any amount of support is greatly appreciated 💖
thank you so much for stopping by and giving this a read!!
// Freya
the magic threshold of being able to do this full-time 💖
1 of 1
Become a patron to
Connect via private message
Recent posts by Freya Holmér
How it works
Get started in 2 minutes