Adam Sōmu Wojciński
is creating translations of the formative texts of chanoyu (tea ceremony)
Select a membership level
1. Shin 真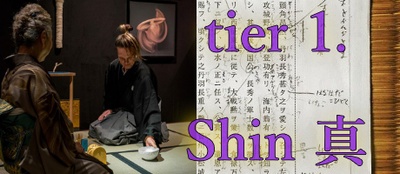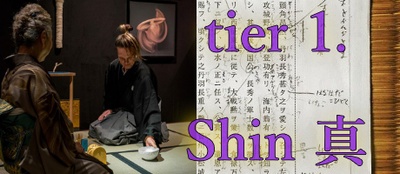 Monthly:
Receive 3 waka-style poems of the '100 Poems of Chanoyu' (a.k.a Rikyu Hyakushu) ***The original Japanese poems were intended to be mnemonic devices composed of 5, 7, 5, 7, 7 syllables per line. My translations are the first mnemonic translations in English*** 
Participate in bringing chanoyu history to the English-speaking world
Get a patron-only perspective on my work
See emerging translations
Be the first to see the poems I translate related to my work
Musings on chanoyu inspired by the source material of my translations
2. Gyō 行
Monthly:
Receive 5 lines (or more) of 'Oribe's 100 Lines of Chanoyu' with commentary (there are three versions to be translated)
Plus all previous rewards
3. Sō 草
Monthly:
Receive 1 section of the "An Audience with Furuta Oribe - notes from a student of chanoyu in the early Edo Period" manuscript with commentary
Plus all previous rewards
About Adam Sōmu Wojciński
Sincere thanks to you for visiting my page.
In a nutshell, I am:
Creating translations of the formative texts of chanoyu (Japanese tea ceremony)
Delivering you a monthly serve of polished work with commentary
Focusing on Furuta Oribe, his peers and the genre of warrior tea 
Writing academic papers and research articles on chanoyu
Sharing inside details of my personal tea gatherings 'Sōmu Chanoyu'
Posting discoveries, musings and related information about my work exclusively to patrons
Seeking publication for all finished texts 
Here's some further background and details about my work:
Some years ago, Ueda Sōkei, the 16th Grandmaster of the Ueda Sōko Tradition of Chanoyu, gave me a piece of advice. He said:
'Authenticity is born from understanding the old texts of chanoyu.'
He was right. These texts have profoundly influenced my understanding, practice and teaching of chanoyu. They are composed of aesthetic, spiritual and cultural beauty that is of intrinsic value to the practice and study of chanoyu. My sincere wish is to translate these manuscripts, poems, and musings into English to make them available to any and all chanoyu practitioners, researchers and artists around the world. 
I believe this old wisdom should be given new dawn, as we interpret the art of chanoyu relevant to our time and place.
It is with this thought that I offer you, my potential patron, my translations and related work.
Thank you very much for considering supporting my work.
In return for your support, I'll provide you with a steady flow of translated manuscripts, poems and instructions on chanoyu from the early 1600s to mid 1800s, concentrating on
warrior class chanoyu
and the manuscripts associated with the founders of this genre,
Furuta Oribe
(1543-1615) and
Ueda Sōko
(1563-1650). These texts have not been translated into English before.
I will bring the translations to life by providing commentary and translator's notes. This work will give a window into the chanoyu of the 1500s and early 1600s while relating it to modern practice and informing the future practice of the art. I am translating the following manuscripts in the first phase of this project:
1. An Audience with Furuta Oribe - notes from a student of chanoyu in the early Edo Period
(Japanese: 茶道長問織答抄 Sadō Chōmon Shokutō Shō)
2. The 100 Poems of Chanoyu - English waka version
(Japanese: 茶湯百首 Chayu Hyakushu, also known as 利休百首 Rikyū Hyakushu)
3. Furuta Oribe's 100 Lines of Chanoyu
(Japanese: 織部百ヶ条 Oribe Hyakkajyō)
Through your Patronage, you enable me to contribute to the global tea community by:
1. Enabling access to the formative texts of the Japanese tea ceremony (for people who do not read archaic Japanese)
2. Producing researched translations of the texts and relating them to modern practice. This deepens our understanding of the art we create in tea room, irrespective of school affiliation
3. Giving a window into the ideas that shaped the genre of warrior class chanoyu
4. Painting a picture of the enigmatic figure of Furuta Oribe, based on his own writings and teachings
5. Adding to the knowledge about the central figures of chanoyu, namely Sen Rikyu, Takeno Jōō, Murata Shukō and others whose practices and anecdotes appear in the texts I am translating.
6. Producing material for a researchers of the Japanese tea ceremony.
7. Enabling chanoyu practitioners worldwide to deepen their practice through an intimate historical knowledge of their art.
The support of my patrons finance:
1. This translation work. With funding, I can devote precious time to this project and still make a living.
2. The preparation of manuscripts into publishable formats. This requires skilled labour.
3. Unique artwork and photography to accompany the English manuscripts. This is dependent on the level of patronage.
You can support by:
1. Choosing one of the rewards on this Patreon site.
2. Informing other, potentially interested people of my work.
3. Introducing me to Universities or like institutions who would be interested in my work.
A list of FAQs are available via this link:
www.uedasokochanoyu.com/translation-project/faqs/
If you have any further questions about my translation project, I welcome your enquiry to:
[email protected]Examples of rewards:Tier 1. Shin 真
https://www.patreon.com/posts/example-of-tier-19023776
Tier 2. Gyō 行
https://www.patreon.com/posts/example-of-tier-19023776
Tier 3. Sō 草
https://www.patreon.com/posts/example-of-tier-19023776
Thank you very much, once again, for considering to support this deep dive into the practice and history of chanoyu. 
I dive down into the depth of the ocean of forms, hoping to gain the perfect pearl of the formless.
- Tagore, Rabindranath, Poem 100,
Gitanjali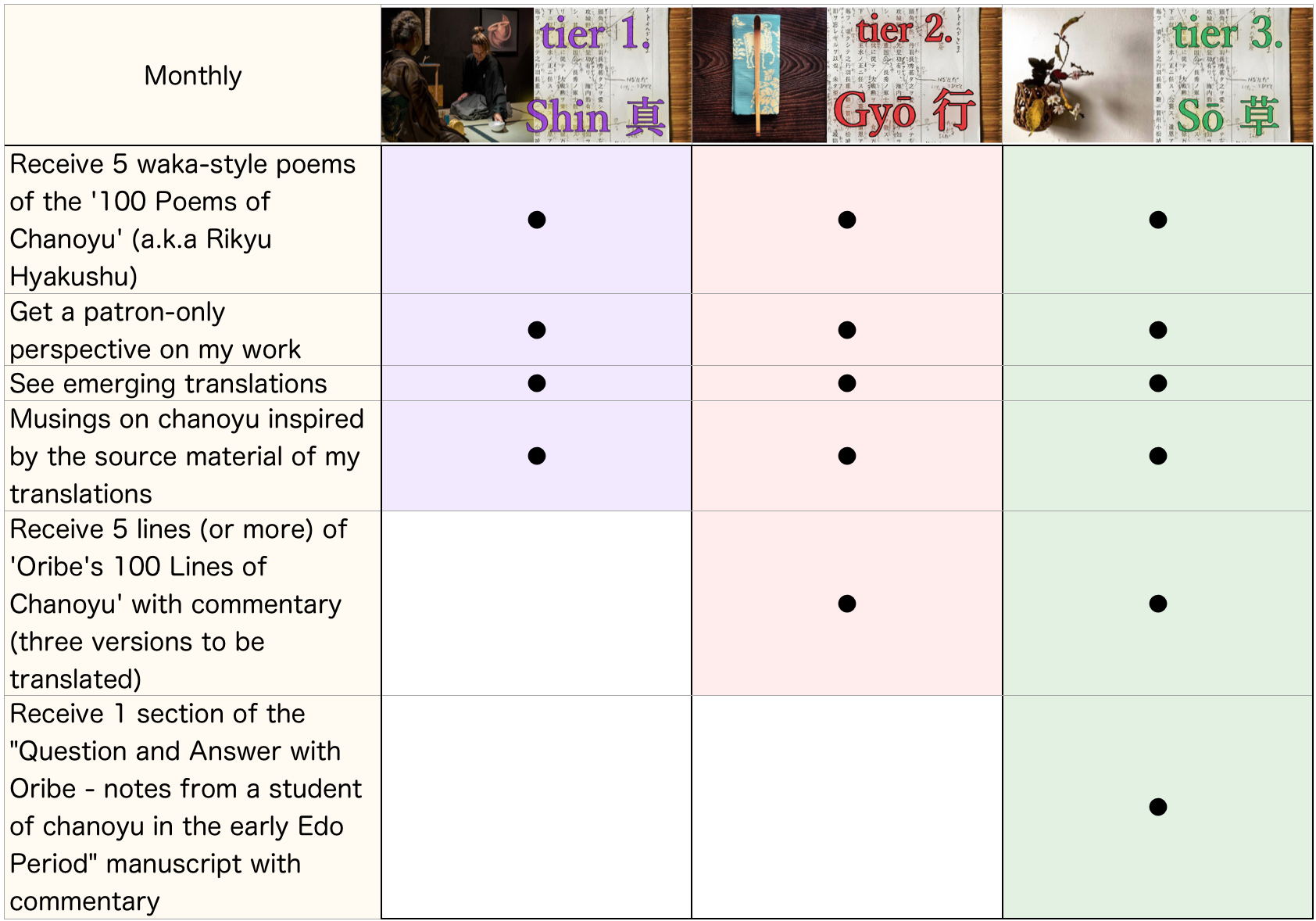 When I reach Goal #3, I'll start creating hand-written, calligraphy versions of certain translated texts. This is how the teachings were originally passed on between practitioners.
3 of 5
By becoming a patron, you'll instantly unlock access to 277 exclusive posts
By becoming a patron, you'll instantly unlock access to 277 exclusive posts
Recent posts by Adam Sōmu Wojciński
How it works
Get started in 2 minutes