Adam Tupper
is creating Art
Select a membership level
High Fives and Handshakes
"How'd you get five bucks? I want five bucks!" - Lisa Simpson
Five dollars is a cup of coffee to most people (thanks Starbucks...) but I don't really drink coffee. To me it's probably a brand-new Faber-Castell pen (they're not cheap) or some paint. Donate $5 and you'll get a personalized shoutout over on my twitter page (@adamajtupper - I have over 800 followers now!).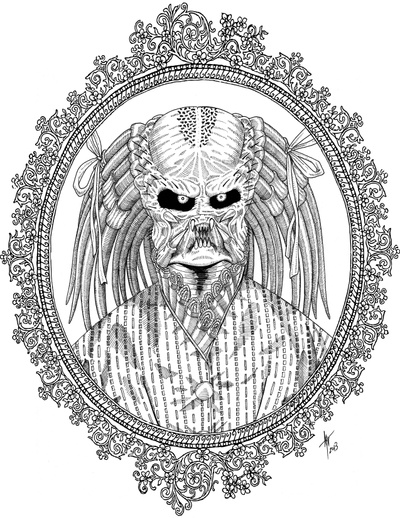 Hellooooo Print!
"You get a print! And YOU get a print! EVERYONE GETS A PRINT!"
Have you seen something I've done and thought to yourself "Man, I need that in my life". Well now you can have all of the things! Donate $15 to the cause and I will send YOU any piece of art I've done on 8.5x11 glossy card stock. You just have to pile through the extensive database of work I have contained on such sites as DeviantArt (www.adamtupper.deviantart.com FYI) or tumblr (saydotdotdothello.tumblr.com) and pick your favourite piece! 
The BIG Print
"We're Gonna Need a Bigger Print..."
It's exactly the same as the $15 reward except instead of 8.5x11 sized, it's 11x17 sized. Bigger IS better...*

*actually all of the work is sized large in scanning so it looks spectacular in 11x17, even if the original drawing is only done in 8x10. I'm all about quality and detail. Says so on my birth certificate

About Adam Tupper
I've been involved in creating art for the past 30 years (I'm not that old, I've just been doing it since I was very young). Since 2010 I've been completely self-employed with various projects, my own art being the main focus. I'm a pencil/paint artist primarily and occasionally dabble in graphic design. I've been selling my work online since 2008, at local art shows in Ottawa since 2009 and travelling to comic conventions since 2010.

Being a self-employed artist is extremely difficult. There are no days off, no real vacation, no health benefits, long hours, an often fickle marketplace and the very real risk that at the end of the month, there just isn't enough money to pay bills and rent. Make no mistake, I would not trade places with anyone else as I love my career more than anything. However it is important to stress just how difficult it can be living as an artist.

This is where you come in. Assisting me in my financial stability will help to ensure I am able to continue to create 24/7, 365. Your contribution helps me to purchase materials for existing and upcoming projects, hotel and travel expenses as I travel to different national and international shows and conventions, shipping and handling to more remote areas, booking events that otherwise would be unavailable given my existing financials, and perhaps most importantly, day to day living expenses such as food, bills and rent. 

The more money that is contributed, the more I'm able to share my work with the world at large. This also translates into perks and exclusive pieces that only Patreon patrons are able to access. The goal is not so much to accept funds from angel investors, but showcase the work being done in a much larger scale and reward those who have helped to make any successes occur.

Artists should always respect and love those who make their lives better. I am no different. Without support from persons such as yourselves, I would still be working for a major bank and would be quite miserable. Thank you in advance for considering giving your hard-earned funds to a simple creator like me.

-AT
Do you like my work? Do you want to see more and more of it? Well here you go! Donate! $1...$2 (aka one of your Tim Horton coffee purchases for the month)...$3...maybe even $3.50 (this is a popular choice amongst Loch Ness Monsters)...break the bank and donate $20, or more...you can donate whatever amount you wish. You'll have access to exclusive content like progress shots of drawings, watercolour and paintings. I may even do Patreon-exclusive prints and art (if the demand is there).
Let's do this thing! 
1 of 1
Recent posts by Adam Tupper
By becoming a patron, you'll instantly unlock access to 57 exclusive posts
By becoming a patron, you'll instantly unlock access to 57 exclusive posts