Select a membership level
Friends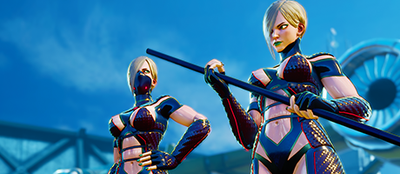 - Thank you for validating my life's choices.
- One week of mod exclusivity (does not include fetish or NSFW mods)
- Early look at sneak peak and WIP pictures
- Extra in-game HD screenshots posted only on Patreon
- Special discord role on my discord ADDYSUN AND FRIENDS ASSEMBLE!
Includes Discord benefits
Kinky Friends
All Benefits in the previous tiers, plus:
- Two weeks exclusivity of non-nude fetish mods
 - Two weeks exclusivity of mods that include nudity (fetish or normie) 
Includes Discord benefits
About
Hello there! I'm Addysun and I make mods for Street Fighter V, and take in-game pictures. You may have seen my work on DeviantArt, Twitter, or watching me play on Twitch.  I primarily make mods for myself, from artwork that I find appealing or interesting. I also make adult-based fetish mods. Some of my content won't be for everyone, but I try to appeal to a broad audience!

This Patreon page allows fans of my work to support me financially so that I can continue to make more mods! My mod content is currently, and will remain free, on my deviantart page. I want to use Patreon as a method to provide a more personalized community for my fans to interact with me.
Patrons gain access to my discord with Patreon perks.
Patrons gain early access to my mods.
As a reward for supporting me, patrons get access to my mods first!
Patrons can request mini-commissions, where you can personalize one of my existing mods with a unique touch.

Whether that's color palates designed for you only, or adding unique decals or clothing pieces just for you, or requests for specific variants of my mods.
Patrons will now be able to request full commissions from me!

We'll have a discussion about what you want and how feasible the idea is.
Thank you for considering my Patreon! Your support means the world to me, and helps me make higher-quality mods and to continue mastering my hobby. If you have any questions feel free to message me or leave a post on the page. I would be honored if you joined my community and became a patron!
Become a patron to
Unlock 32 exclusive posts
Connect via private message