Nora
is creating adventure motorcycle rides around the world
Select a membership level
Pay what you can
With as little as $1 a month you'll get access to some awesome Patreon only content! Blooper videos, questions, polls and recordings of live presentations. All exclusively available for you!
Adventurism stickers
INSTANT REWARD
Adventurism wallpapers download
2 MONTH MARK
I will send a set of stickers to your address.
+ access to the Patrons only content
+ blooper videos
+ wallpaper downloads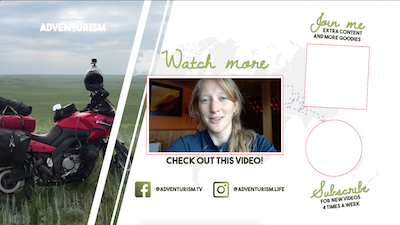 Your name in the credits
After every video I will thank you and say your name. So don't make any spelling mistakes and don't forget to laugh when I pronounce your name funny. 
+ access to the Patrons only content
+ blooper videos
+ wallpaper downloads
About Nora
 WHO AM I?
My name is Nora and I am a motorcycle adventurer. I completed my first solo ride from Amsterdam to Bali and am I am on my next adventure riding from the North Cape in Norway to the South Cape in South Africa. On YouTube I document my triumphs and challenges and share it with the world. 
 WHAT IS PATREON?
Patreon is a crowdfunding website where you can financially support your favorite creators. In return for your dollars you receive a reward. On the right you can find the different reward levels, browse through them and if you have any questions please ask! There is also an option to not receive any reward, although you will receive my thankfulness and all the Patreon only content. 
 WHY I AM ON PATREON
Making videos is like a fulltime job, making daily videos while on the road is hard work. Still, I love making them to show why I love this way of traveling. I am so grateful that there are people out there that want to support my journey financially here on Patreon. I don't say it enough, so let me say it now... THANK YOU! 
My Patreon supporters allowed me to buy new video gear when it was broken and give me the confidence to invest in a drone that took the videos to the next level. I will always reinvest the money from Patreon into my filmmaking like that time when I bought a drone. 
I would love to make this adventure traveling into a career, but I am in an in between phase where I don't make enough money with YouTube or sponsorships. I will keep creating for you guys, so if you enjoy my work, consider supporting me. Even if it is only for 1 month and with $1,-
I am grateful for every Penny, Euro, Rial and Rupee. 
Lots of love,
Nora
$100
– reached!
per month
I am getting ready for a next trip and it is essential to staying sane. Africa, here we come!!! Now that I have done my first trip, I have higher standards and expectations for the next one. 

I want to expand my video capabilities and improve my film making skills. 

I need your support to raise the level of this next trip to unexpected heights. 

2 of 2