Advance Pro Basketball
is creating hoops analysis
Select a membership level
Request a special player profile
With this tier you can request 1x a special player profile that will be posted with your name mentioned on http://advprobball.com
The player must be selected from the following leagues
- The Euroleague, BCL, FIBA Europe Cup, DBL or Turkish BSL
The profile will include: 
- 1x offensive highlight video 
- 1x defensive highlight video 
- 1x player comparison chart
- 1x player stats line based on as many games as well can find
- İnsight reporting on the play style and analytics based on scoring vs. preassure on a possession basis
What we need from you? 
-Reason for selecting the player
-To whom you'd like to see the comparion against
Behind the back pass (APB)
The go between APB tier that allows you to get access one game a week we compile across the Euroleague, BCL, FIBA Euope Cup, Dutch Basketball League (DBL) or Turkish Basketball Super League (BSL).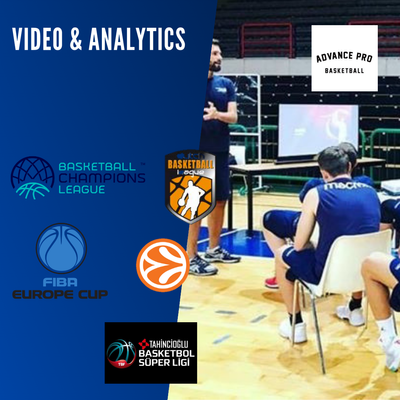 5x Game breakdown a across all leagues
When the 2019 - 2020 season begins we will be creating custom Insight videos on the game of the week for the following league: 1x Euroleague, 1x BCL, 1x FIBA Europe Cup, 1x DBL and 1x Turkish BSL (5 total games a week)
- Breakdown include video of games offensive and defensively, Lineup analysis of both teams as PDF file (that can be downloaded), Advanced Shot Chart of both teams and a special player profile of the game MVP including a highlight reel.
About Advance Pro Basketball
As Advance Pro Basketball we decided to create a Patreon page for followers that would like to support us.

Our public basketball analysis website has been active since April 2014 and we have consistently been creating insight through friends and contributors of our cause to bring new insight to the international basketball community.

We would like to already thank you upfront for even just having a look and checking us out.

We'd appreciate it more of course if you would consider supporting our public efforts to bring basketball analysis of a different kind to the international basketball community.


Our first goal is to get 50 patrons that will constantly support our strive to bring out of the ordinary basketball analysis insight through our public work.
1 of 1
Recent posts by Advance Pro Basketball
By becoming a patron, you'll instantly unlock access to 2 exclusive posts
By becoming a patron, you'll instantly unlock access to 2 exclusive posts