Ækashics
RPG Assets for any engine!
Select a membership level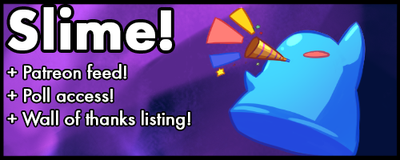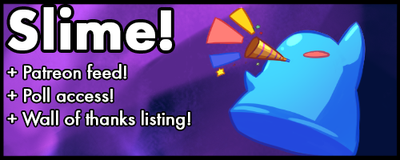 Slime!
Thanks for your support! for $1 per update cycle you will get:

Access to Librarium Base Releases posts! Old and current Librarium Animated, Librarium Bonus and Librarium Static base release posts!
Access to patron choice exclusive polls!
Suggest monster archetypes in the Librarium suggestion box!
 Access to Patreon feed for WIP shots, news and more! 
Your name in the special thanks section in Librarium's website and releases!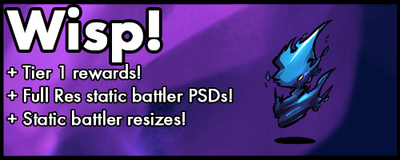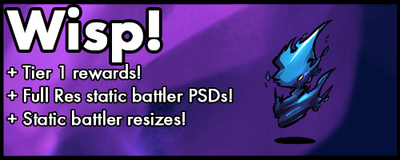 Wisp!

Includes Tier 1 rewards!
Receive the static frame full-resolution PSDs for the featured Librarium Statics releases and for convenience, resizes in three flavors(Small, Medium, Large) for the featured update cycle!
Receiving the PSDs to these files means you guys are free to edit, resize or modify the battlers for your own personal project needs, so long as there's no individual redistribution involved! You're also free to adapt the drawings to be used as avatars in forums, signatures, title screens,etc.  These PSDs can also be used for other projects such as TCGs/Board games!
TL;DR You can use the file for any graphic need, just keep it private please (╯✧▽✧)╯!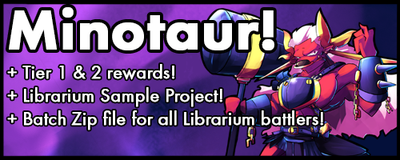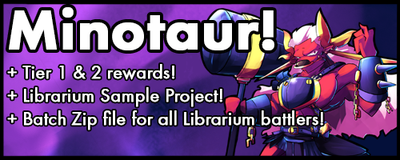 Minotaur!

Includes tier 1 and 2 rewards!
Receive the Librarium Sample Project  with finely tuned RPG Maker MV dragonbones settings, action sequences and even skill animations for featured Librarium Animated releases!
Receive the most up to date batch zip folders for Librarium static and non-static battlers!
Receive the Librarium Tileset Folder! A group of ever evolving tilesets which you are free to use in your own commercial and & non-commercial projects! It currently features a propeller Airship, a Sci-fi cave, a forest temple and more!
About Ækashics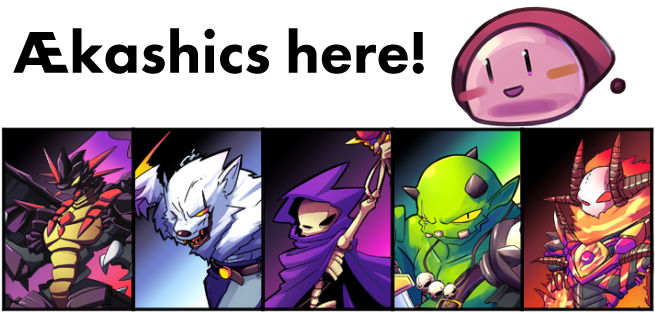 Hey everyoneヾ(o✪‿✪o)シ !
Ækashics
here!
The illustrator slime behind
Ækashics Librarium
!
Welcome to my patreon!
Librarium's
amazing
patreon community provided key support during the development of the massive free library of static and animated battlers you can find on 
www.akashics.moe
!
During that time and through many evolutions both in quality and content, and also with the insight gained through the quest to further reward those who believed in the Librarium project as a whole, Librarium's patreon gradually evolved into more of a service which supplies developers with new and original exclusive character/creature designs and related assets oriented for RPG development such as
4-Direction map sprites
,
bust portraits
and more on a weekly basis, rather than just a few extras delivered on top of the public releases!
Nowadays by joining up on
patreon
you can expect some of the following
benefits
!
Access to Librarium Animated and Librarium Statics base release posts through the month!
Suggest and vote for creatures to animate and archetypes to create!
Access to special extra releases such as bonus map sprites, surprise bust portrait releases based on existing releases and more through the month!
A huge amount of bonus rewards for all creatures designed and released through the running month according to your pledge, at the end of the running month! Some of these include 4-Direction map sprites for all featured releases during that running month, and bust portraits for Librarium animated creatures and other benefits such as free Access to spin off packs to be sold on other platforms, as soon as they are released!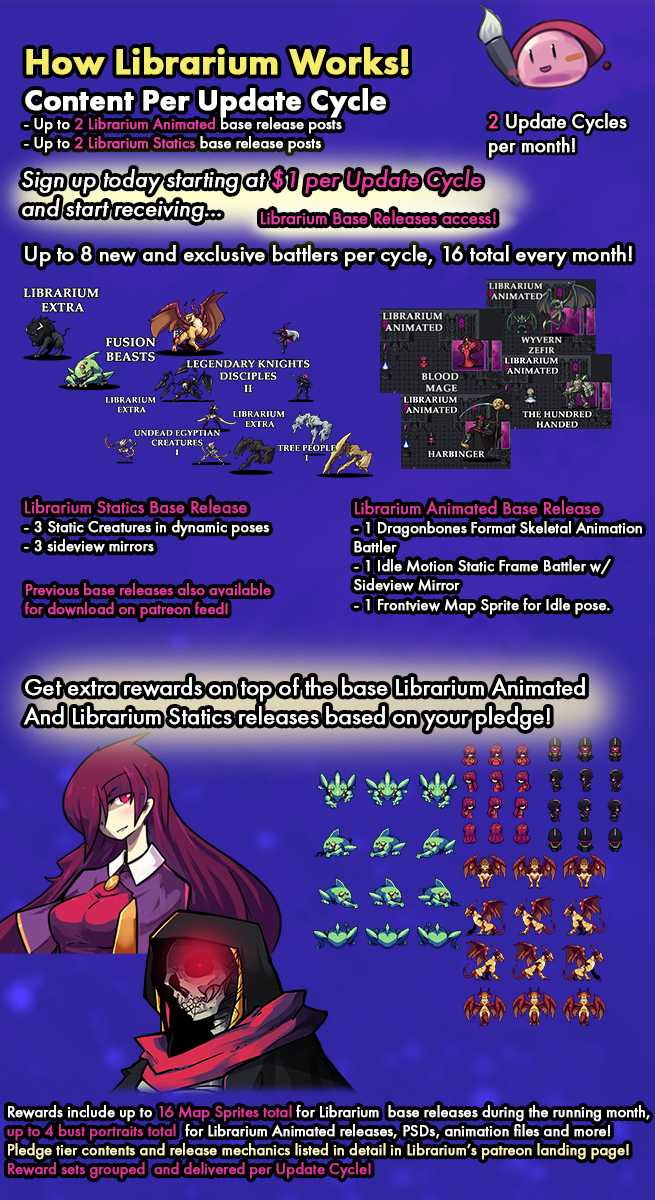 How Does Librarium Work?
Librarium has traditionally worked in
update cycles
,
two
update cycles
per month
, each cycle covering the release of up to 4
Librarium Base release posts
, those release posts split up in up to 
2 Librarium Statics
(Formerly known as Librarium Extra) releases which focus on static creature archetypes, and up to 2
Librarium Animated
releases(releases focused on skeletal animation creatures!). Access to old and current 
release posts
, as well as access to the suggestion box and release polls is available starting with the $1 per update cycle pledge! please keep in mind that would mean $2 per month if you wish to access the potential 16 releases through each month!
Additional useful rewards are available on top of Librarium base releases at higher pledge tiers!
While old
base releases
are available for download at any time through Librarium's patreon feed,
Reward sets are only sent out on a monthly basis to patrons subbed during the featured releases period, for the update cycles they have pledged to
!


How does your pledge work?

At the end of the month, two charged posts(matching the first and second update cycle of the month respectively) are made and the bonus reward sets according to pledge tiers per update cycle are sent out on the 5th of the following month, through your private message inbox, after all pledges have been processed! As Librarium does the charged post per update cycle and we have two per month, it is recommended that you set your
pledge
limit to double the amount of your tier, for example, for
Dragon Tier
, $10 so that you can receive both reward sets for the running month!
How many creatures on average can I expect to have available every month?
Per update cycle -
up to 8 total new designs. 6 Static creatures, 2 animated ones.
As a whole per month
- up to 16 total new designs. 12 Static Creatures, 4 animated ones.
What are the terms of use for releases and the content in rewards?

The same as ever!
What happens if I pause/stop my pledge?
You will still get to use/keep the resources you downloaded from Librarium's patreon during your time as an active patron for your project of course!
I only see access to current and old Librarium release posts, where can I find older reward sets?
All previous reward sets are up on my gumroad
https://gumroad.com/aekashics
and future ones will continue to be uploaded in there as well!
reward sets never go on special sales or bulk discounts, as a sign of good faith and respect to users who supported their original release at the full pledge price, thast why all gumroad packs are at their original release cost!
Thanks for your support! 
Thank you all for the ride so far!
Wowww ヾ(o✪‿✪o)シ !
Upon reaching this point, I will create another Megapack centered around the long time Librarium's favorite group...The legendary Knights!
- 4-Direction Map Sprites for all of them! (Brand new ones if the design already exists)
- Bust Portraits with 8 emotions for all of them!

The release will include the PSDs for all featured designs!
4 of 4
By becoming a patron, you'll instantly unlock access to 1,342 exclusive posts
By becoming a patron, you'll instantly unlock access to 1,342 exclusive posts