Dear future Patron
thank you for clicking on my campaign! My name is Tomas and I'm a student from Belgium. I have a passion for creating videos using new products such as drones. I bought my first drone in February 2013. I bought the DJI Phantom 1 because it was the first true "Ready-to-Fly" quadcopter. All you neede to add was a GoPro camera, which I had luckily laying around. In April 2013 we did a roadtrip in the US and I brought my Phantom with me. We planned to create a nice and stunning video of the breathtaking nature in Utah and Arizona but due to strong winds I was only able to fly twice. Despite the bad weather, I was able to create this video:
DJI Phantom - Incredible Scenery
Quickly it became clear that I needed some sort of stabilization system for my GoPro and a way of seeing what the GoPro was seeing. I searched for such technology and I found it quite fast. It's called "First Person View", you literally see what the GoPro sees. I bought the "FatShark Attitude" system in July 2013 and it truly was a whole new way of filming things! It became much easier to frame my shots - reducing the need to re-shoot certain shots. My first "real" assignment was to film a beach concert in my home town. This is one of the pictures: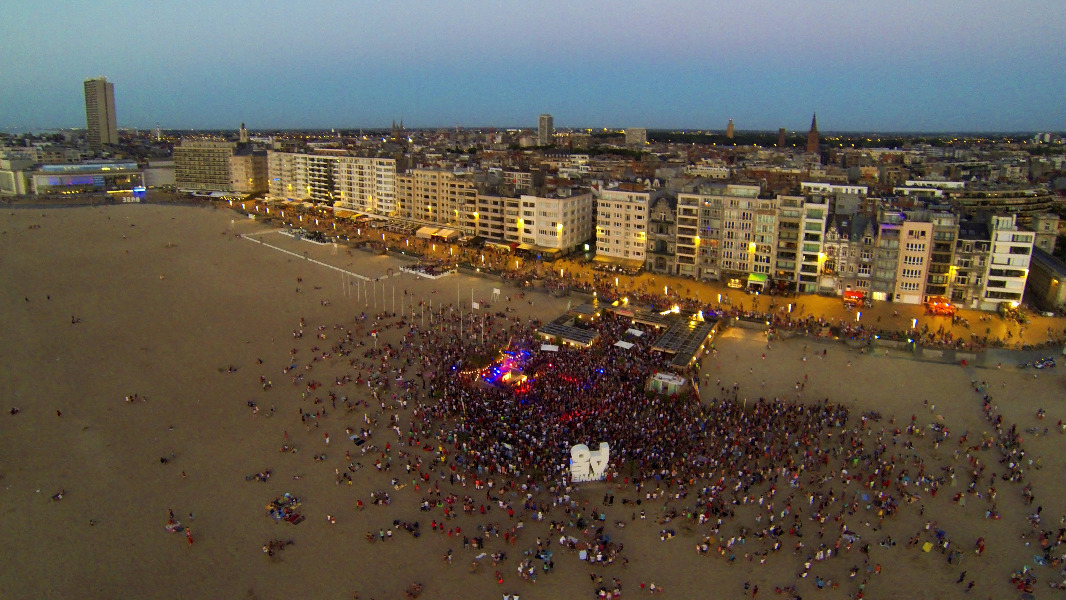 The next upgrade I needed was a gimbal, it stabilizes the camera. This would add a layer of professionalism to my videos. In August 2013 I had enough money to buy such a gimbal.
In December 2013 we went back to the Southwest of the US but this time I was better prepared than in April 2013. We were lucky with the weather, we had clear skies for two weeks and everything was covered with a layer of snow. As a result of these major upgrades I was able to create this video, Wild Utah From Above. GoPro featured it as their "Video of the Day".
Wild Utah From Above
This video even made it to some national news websites in Belgium. I was quite honored by that!
(ps: at that time, flying in a NP was still legal)
Because of the attention the video got, I was encouraged to create a new and better video, so I did. In April 2014 we went back once again but this time I upgraded to the DJI Phantom 2, which came with a gimbal from DJI itself. It proved to be a much better gimbal than the previous I had. I also shot in a higher resolution (2.7k vs 1080p) and used ProTune (raw video setting) to further increase the overall quality of the video. The "sequel" to Wild Utah From Above is called "Aerial Southwest". It was again covered by some national news agencies.
Aerial Southwest
In October 2014 we (my dad and I) decided to create some sort of small business (
www.aerialshots.be
) to increase our exposure. We have done some real estate projects but we're constantly searching for the next big thing. We want to expand our capabilities so we can create even better videos and keep sharing the breathtaking nature that our Earth has to offer.
And that's where you come in.
In order to create better and more professional looking videos we need to invest in better equipment. We plan to upgrade to a DJI Inspire 1, the next generation drone from DJI. It really is a massive upgrade from our Phantom 2. By upgrading to a DJI Inspire 1 we will be able to shoot in 4K resolution, meaning that we can capture up to four times more details as we can with our GoPro HERO3. What this means is that we will be able to capture the wild nature in crystal clear video quality, increasing the immersion and viewing pleasure.
So, if you have some spare money, please take the opportunity to support our project and become our Patron. You will have our eternal gratitude!
Thanks again for reading this campaign (sorry for the long post ;-) )!
- Tomas (student)