A Girl of Many Fandoms
Creating art, web graphics, writing
Select a membership level
THE TIP JAR
If you don't have a lot of cash but you still want to support me, then consider sparing me a dollar a month. Every bit of pocket change that you can spare would really help me out and is deeply appreciated.
Consider it a tip to express your appreciation for all of the extra content I create for my
'Patreon Feed'
which includes:
announcements
convention dates, new projects, etc.

film & television recommendations
cinéma français, girl power!, LGBTQA pride!

short personal anecdotes

web graphics
animated gifs, photo edits, etc.

works in progress (W.I.P.s)
photos/scans of pencil sketches & screen captures of digital art progress. 
AND MORE!
Tier 1: Fandom Apprentice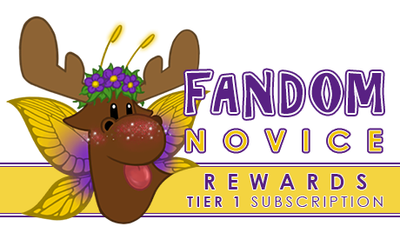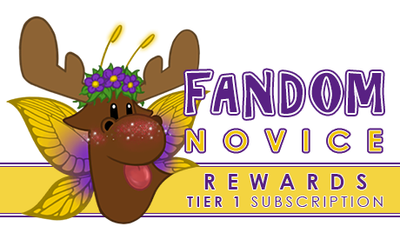 0) ALL THE
TIER 0
REWARDS!
1) Access to ALL
coupon codes
for my
Redbubble Store
.
Flash sales ranging from 20 to 25% off.
2) Link to my weekly
Livestream
session.
Saturdays from 7PM to 9PM MDT/MST
.
3) Access to an
older
artwork with
out
the
watermark
.
*
One will be released monthly.
*abuse of this privilege will result in the immediate retirement of this reward.
About A Girl of Many Fandoms


Who I Am & What I DO
I am a geek culture enthusiast who wishes to do all I can to create a safe space so everyone can enjoy fiction in all of its forms: film, television, comic books, video games, anime and much much more!
I am 
A GIRL OF MANY FANDOMS
!
(but you can call me Mistina)
I DRAW digital art featuring fictional characters or Pop culture icons and I often stylize characters in the 'chibi' art style (but I try not to limit myself to it).
I WRITE a variety of works ranging from random and silly personal thoughts, to (fairly in depth, if I do say so myself) personal observations of media, to detailed accounts of my adventures at geek conventions, to carefully crafted fan fiction.
I GIF but I also I make other assorted web graphics such as web icons, sequential screen captures, silly edits, transformative music videos, and more.
I SHARE my wealth of geek knowledge and I do my best to do so through positivity (by recommending media content I enjoy, by writing my ongoing geek dictionary, by writing 'articles' regarding positive events to spread awareness, etc.).
I SHARE—when I build up the courage—intimate insights to issues which which I struggle. Both for myself and in the hopes that perhaps my own experiences could help others, maybe even help others avoid making the mistakes I've made.
At this point, you're probably forgetting that this is a one woman show!
That's right! I am but a single person with a wide range of interests and creative mediums.
But I can't keep doing this alone.
So, I'm just a
girl
,
standing in front of the internet, asking the users...
"Could you please help me continue to entertain you?"
I know that bad joke is
bad
(and SUPER dated) but I would truly appreciate any and all support in my endeavors. <3
Why Am I Here?
Firstly
, I am here for
FUNDING
(Why does anyone come here?).
I have problems supporting myself, much less my laborious quest to find carve myself a place in the art industry (and in this world in general) so any and all help would be deeply appreciated.
All proceeds I raise via this Patreon account will go towards...
MAINTENANCE of my art supplies, such as my computer, my drawing tablet, digital file storage, web hosting and domain name for my website, etc
COMPENSATION for the many MANY hours I spend on other duties required to share my creative works with the world, such as...

- ADMINISTRATION
  ie. correspondence in person/e-mail/phone/etc, organizing the sale of custom artwork, etc.

- CURATION
  ie. uploading my works, organizing them to make them accessible, etc.

- MARKETING
  ie. formatting every individual work of writing five times—or more—over in order to cross post the material on different social media sites)

- MERCHANDISING
  ie. custom formatting each illustration for each product made available via Redbubble.

- ETC.
Secondly
, I'm here for
FEEDBACK
.
I want to get to meet every one of you. What do you like about my art, what do you think I can do to improve? What themes do you like? What Fandoms do you like? Would you be interested in original work? What does my work say to you (am I getting my message across)?

Ideally, I hope to create a community here. A safe space where so everyone can enjoy fiction in all of its forms: film, television, comic books, video games, anime and much much more!
What do Patreons Get?
Well, this will change over time as I gain experience and refine my skills—of course—but at the moment my Patrons can receive any of the subscription packages located to the right of this post.
-->>
Become a patron to
Unlock 23 exclusive posts
Get discounts to an online store
Connect via private message
Recent posts by A Girl of Many Fandoms
How it works
Get started in 2 minutes