ah.itsart
is creating comics
Select a membership level
Digital Art Pack
Update: Access to a poll, to vote on a monthly digital art pack (wallpapers and avatars) that all patrons will receive. This will include at least 1 phone/laptop background or 2 avatar options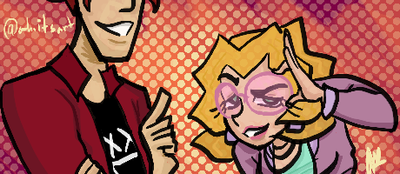 Prints Pack
Physical prints of the art featured in the digital art pack mailed to you!
About ah.itsart
WHO ARE YOU?
My name is Alex ! I dig video essays, dad action movies (ala John Wick), and learning too much about the stars.
I'm feeling 22, because I am :0. Currently based out of Portland but I like to run around the globe so keep an eye out on where I head next ;0
Trying every day to turn art making and telling stories into my day job. Representation matters and I want to give to that all that I can with the stories I have to tell.
WHAT'S A PATREON
Patreon is a platform that allows you, dear reader, to support artists and creators by giving a set amount monthly. By signing up for a tier and giving this support you sign up for monthly rewards and a chance to talk to the artist you're supporting.
WHAT'S A MASON?
Mason
is my weekly webcomic, about the son of death as he tries to figure out life. Well, I guess a Mason is the titular son of death, he's pretty chill for an undead guy
I post the comic weekly on Saturdays (usually). It's fun and my favorite character so far is May because she's tired and isn't that a mood.
The first chapter just finished up and recently I've started the second one, and it's a tough balance but I'm excited to take everyone on the ride as the story unfolds
WHY AM I HERE?
Ah, yes the pitch. My weekly comic is free to read, but by becoming a Patreon you would support my goal to make sure I can dedicate more and more of my time focusing on creating Mason, making more art and merchandise for my audience, and telling the stories that matter. 
Through your support on Patreon I can give you access to behind the scenes looks in my sketchbook and in my notes. And breaking down all of the madness that goes into making a webcomic. Plus, there are fun bonuses for taking the time to support my comic creation like digital/Print art packs and monthly sticker packs!
My ultimate goal is to publish Mason as a graphic novel and to take the time to kick off animating this comic one day! 
Thanks for reading, and feel free to message me anytime if you have any questions !
-Alex
This would allow me to prepare for my Artist Alley debut at Rose City Comic Con this fall. These funds would cover the table fee, display set up, printing costs, etc. I will be arranging early access to this convention merch for select Patrons
1 of 3
Recent posts by ah.itsart
By becoming a patron, you'll instantly unlock access to 24 exclusive posts
By becoming a patron, you'll instantly unlock access to 24 exclusive posts