AI and Games
is creating videos on artificial intelligence in video games.
Select a membership level
Space Invader
 You are supporting AI and Games!  That means you are an awesome person by default.  All patrons get some rewards:

The patron-only feed, where I post updates on goings on and updates to the channel.
The monthly newsletter where I look back on recent video releases, discuss progress on upcoming ones, interesting videos and write-ups from elsewhere on the internet and more.
You'll be invited to the AI and Games discord server and can hang out with fellow patrons and chat about any and all things AI and Games related.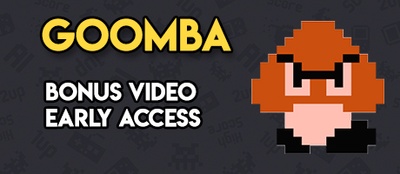 Goomba
You're even smarter and more deadly than before and with that comes new rewards!
Every month patrons get a new episode of the exclusive bonus show 'Smoke and Mirrors' where Tommy talks about games he's playing, the interesting systems underneath and games you might have missed.
In addition, patrons get a minimum of 24 hours early access to all episodes of AI and Games, Design Dive and AI 101.
Plus all Space Invader rewards.
Ghost
In addition to all of the previous rewards at
Space Invader
and
Goomba
tier, you also receive:
Patrons names will appear in the credits at the end of every episode of the show for as long as you pledge support.
In addition, patrons will be able to vote on new video topics for the case study and AI 101 series.
Patrons receive the script and any compiled notes from all case study, design dive and AI 101 videos that I produce.
About AI and Games
Hello, I'm Tommy Thompson and I'm the creator of
AI and Games
:
 a YouTube series on research and applications of artificial intelligence (AI) in video games.
This patreon enables the continued development of the show to be a reality. 
Each episode of the show is carefully researched and prepared based on interviews, developer presentations, research papers, technical reports, textbooks and - in some instances - from interviews with developers themselves.  This is a long and time consuming process once you add in scripting, recording of the game itself and editing, with
a typical episode of the main show taking over one working week to prepare
and this naturally has a lot of running costs. 
I want to do more
and I believe in the value that
AI and Games
offers to so many people, but without the support of my audience, it's not sustainable.  In addition, while
AI and Games
receives a portion of revenue from adveriting on YouTube every month, it's a fraction of what my Patreon supporters provide and it a lot less consistent. Hence
this Patreon is the main revenue stream
of the channel.
While I respect how unreliable YouTube is as a platform, I hope that you - my audience - would like to support the work.  Naturally, if you can't or don't support the show, that's absolutely fine!  I don't expect it of you all.  However, I do reward my supporters with extra goodies which I detail further down this page.
----
Why AI and games?

Artificial intelligence is a big talking point these days and I use this video series to talk about it in the context of games. I run a series of videos that address this topic in different ways:
Case Studies

How artificial intelligence is applied in commercial video games.
How AI research in games is used to enhance our understanding of the field.

AI 101

Explaining core AI tech in the games industry, how it works and clever ways it is used in games.

Design Dive

How AI applications in games influence game design.
I have an almost endless supply of new topics to cover and videos to make - and I need you to help make that a reality.
Patreon - where we are right now - is a service where you can pledge support to a creator (in this case me) so they can support their work and continue to make it a reality.  Patreon is great for creators such as myself given I can remove any need for sponsorship and instead focus on creating content that my viewers are excited about.  
----
How Do Payment and Rewards Work?
Patrons are charged monthly by patreon and I strive to put out one main episode a month.  As detailed in the rewards tab, patrons who sponsor at varying tiers are offered a variety of rewards, including access to the
patron-feed
here on Patreon, a
monthly newsletter
, an invite to the AI and Games
Discord Server
with higher tiers offering the opportunity to
vote on new topics
, get
early-access
to new videos, bonus videos such as the
Smoke and Mirrors
series, plus other behind-the-scenes content such as my
research notes
and
code from demos and examples
. 
----

Any Other Disclaimers?
In some instances, the authors of the work I am discussing in videos are people who I have an established professional relationship with either in the academic or game development community.  In the event this occurs, this will be disclosed in the video description.
More Episodes, More Often
At least two episodes of either Design Dive, AI 101 or the main show. Guaranteed.

3 of 5
Recent posts by AI and Games
By becoming a patron, you'll instantly unlock access to 280 exclusive posts
By becoming a patron, you'll instantly unlock access to 280 exclusive posts