The plane of Aikonia is held in a delicate balance; only the
Veil
separates
Magicka
(the world of magic) from
Aikonia
(the world of man) and its power is growing ever weaker. Those responsible for protecting the realm sit upon the Council of Mages. From within the Institute, the Council seeks to teach the science of magic to those born with the Gift and to control those who would wield magic against the kingdom. But the Council members are mere mortals, subject to the same temptations as all humans, and the promise of power can sway even the most noble of heart...
Aikonia is an ongoing, fantasy webcomic filled with magic, suspense, and political intrigue. 
We posted the first page on August 16th, 2010 and we've been posting a new page every Monday (with some breaks) ever since!

Our current team is comprised of Andrew-David Jahchan, David Baron, and Allie Smith.


Andrew-David
is the original creator of Aikonia and has been working on the webcomic as editor since its very start in 2010!
The current illustrator,
David Baron
, joined the team during the hiatus after Chapter 6. He is taking over as the main illustrator – a position that was previously held by Katie Tiedrich, Ira, and Karina Weber – and has previously worked on Cartoon Network's Mighty Magiswords.
Allie Smith
, the current writer is taking over from where Timothy Hely and Corina Dransutavicius left off. She's been writing for over eight years and is also working on another webcomic series called
The Supernatural Sleuths
!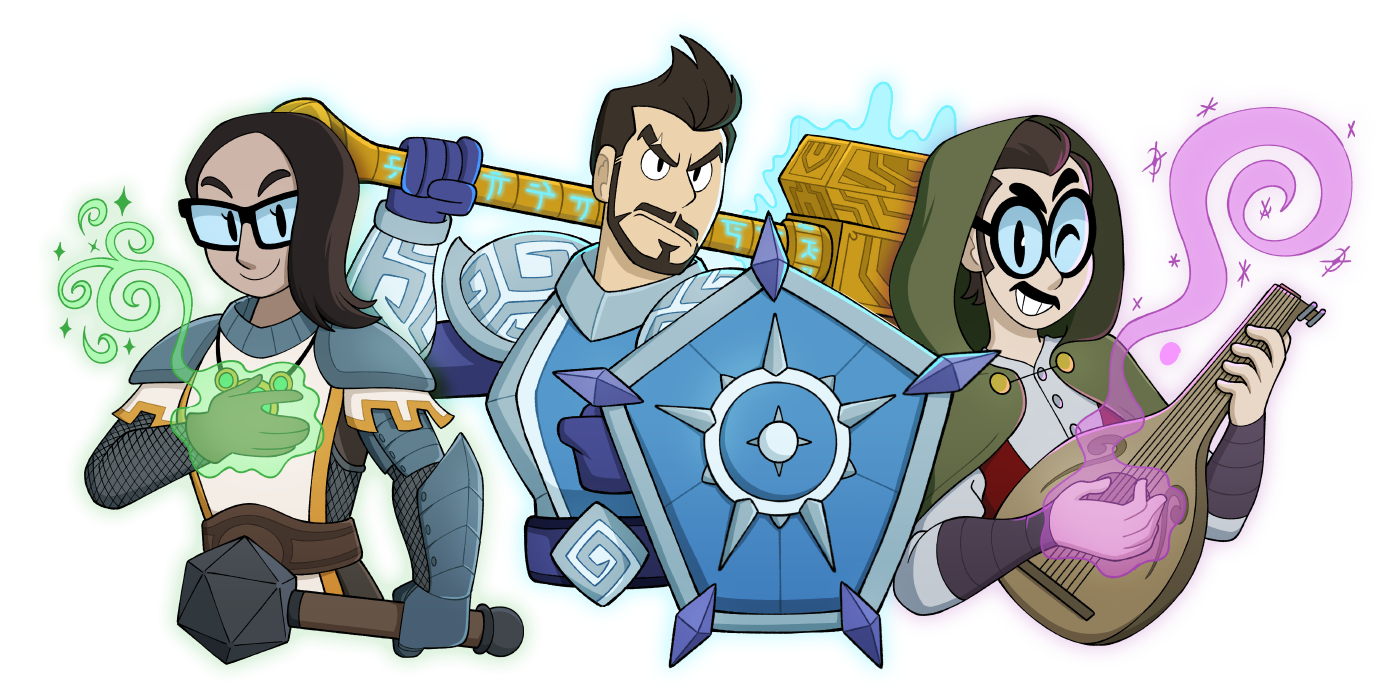 Andrew-David Jahchan:
Creator & Executive Editor (
Twitter
)
David Baron:
Illustrator (
Tumblr
)
Allie Smith:
Writer (
Twitter
)

As a lot of you may already know, creating and managing a webcomic is not as easy as it looks! The ads on the website barely bring in enough revenue to keep the server running and it is becoming harder and harder to have a page ready on time every Monday. We are a team of four and every one of us has a multitude of additional projects on the go to keep us on our feet while we work on the comic.
Becoming a patron means you will not only help cover server costs and general expenses but you will also help the team remain afloat while we dedicate time to work on the webcomic. This will ensure timely releases of new comic pages and the opportunity for additional content (such as a return of the Journal).
No matter what, Aikonia will always remain free to read online.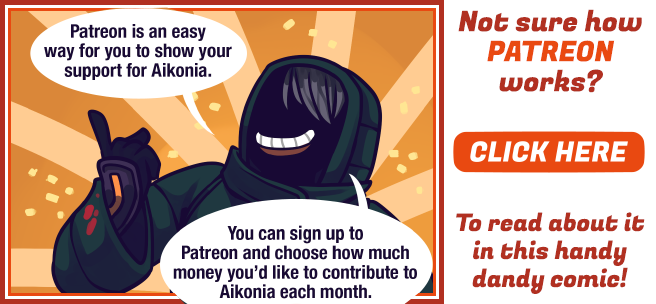 To show our appreciation for all the support given to us by our Aikonia patrons, we wanted to provide a wide variety of different perks and rewards at each patron tier. We've even included some exclusive behind-the-scenes goodies to get an idea for how the Aikonia team works together.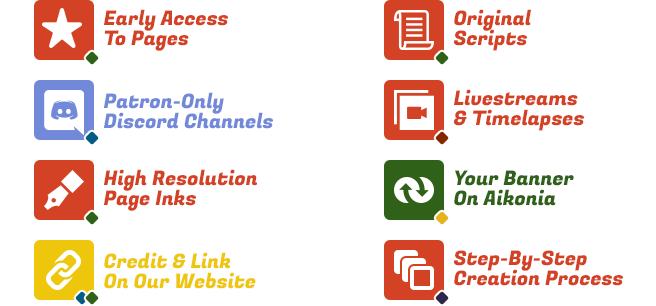 Take a look at the rewards section below for more detailed information.