Alakotila Art
is creating Comics
Select a membership level
Orbweaver
- View Spidersilk 2+ weeks in advance!

Thank you for helping support the making of Spidersilk!

Windsmith crew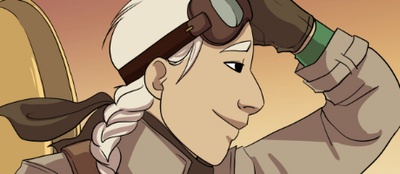 - View pages of Sunlit Silence early on Patreon!

- Also the early viewing of Spidersilk pages!

Storytime
- Read short stories only on Patreon! Most are exclusive here, the others are very early access!

- You will also be able to view early comic pages from the previous two tiers.

About
Hi! I'm Gray. I make LGBTQA+ sci-fi and fantasy comics. I love writing about found family, adventure, and romance.
I currently write two comics and am working on a special project... Read below to learn about my comics, coloring books, and special project! And if you are here because you already like my art, have a look at my tiers and choose one you like.
Thank you!
MY COMICSSpidersilk:
Desperate to find a new home, an ex-soldier falls in with a group of thieves. The thieves' working relationship with the city guard comes under fire when a threat from outside the wall appears, slowly pulling their delicate system of alliances apart. Despite this, Prentice thinks he may have found home. Perhaps more...
Spidersilk has 500+ pages ready to read, all free, at spidersilkcomic.com! If you like games like Dragon Age, I think you'll like Spidersilk.
Sunlit Silence:
Falkner made a deal with their parents to give up on their dreams if they were not recruited for an airship crew within ten years.
After ten years of working as a caravan scout, Falkner makes good on that and pursues something within the city limits. However, that very thing leads Falkner right back to their dreams after an unexpected encounter...
Sunlit Silence is a gentle solarpunk adventure. And like much of my work, will have a strong central romance and a majority LGBTQA+ cast!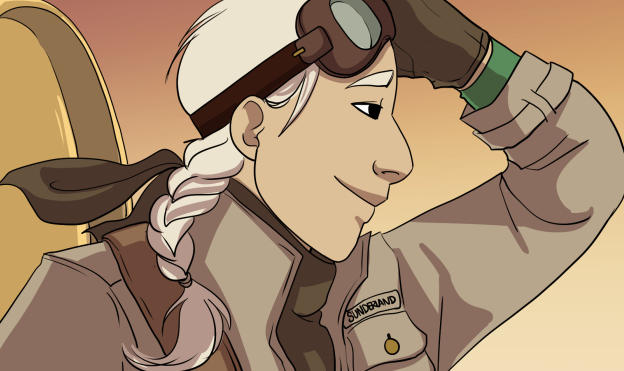 FELL SWOOP
:
A medic and his team encounter a lone scavenger foraging in the ruins. After an attack on the mission party, the pair find themselves alone and drawn to each other, despite the masks they each wear.
This queer sci fi romance is now complete! It can be read on WebToons or tapas.io, and will soon be available in my store (with 20 extra pages and edits!)
You can get the PDF here.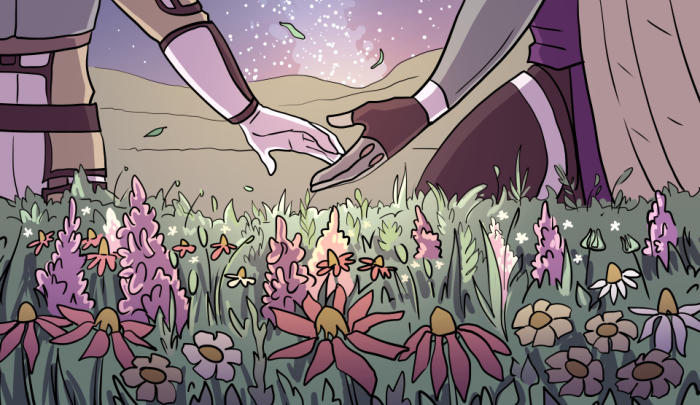 Space Fantasy WIP


This is my current project! Spacer patrons get to see any concept work I create, though some of this is unlocked for other tiers. This one will have a little more adventure but still contains a cute romance, as is my brand!
If you are curious about behind-the-scenes work, the Spacer tier ($5/ month) might be for you!

COLORING BOOKS
Patrons often get the earliest views on any coloring book project I am working on! Both are
available in my store
!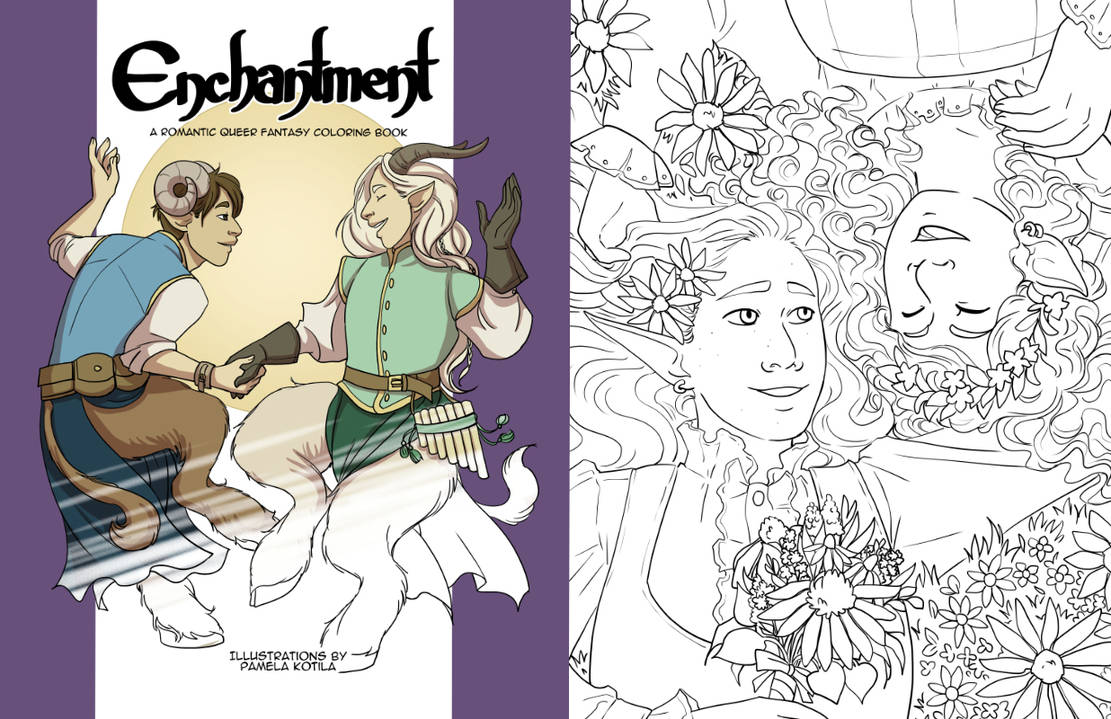 ENCHANTMENT
Enchantment is a queer romantic fantasy coloring book featuring 30 pages of original art (25 by myself, and 5 by two guest artists). The book features a variety of soft romantic scenes, loud and fun playful moments, and more!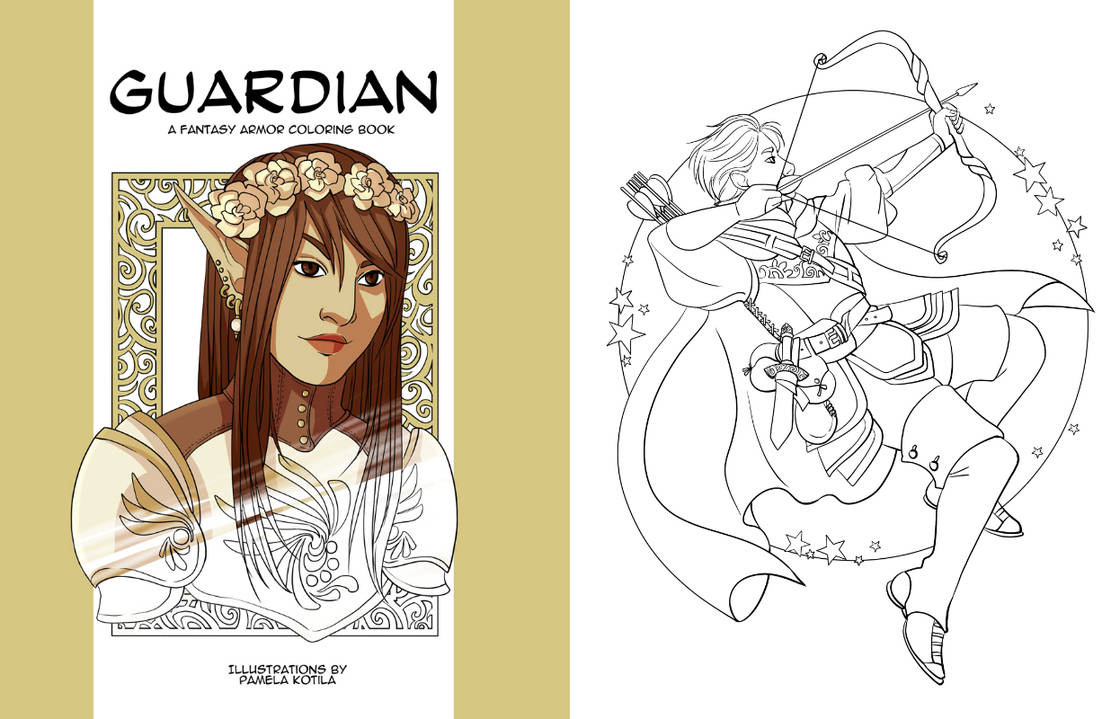 GUARDIAN
Guardian is a fantasy armor coloring book featuring women! There are thirty pages of illustrations of women in fantasy armor, all as the heroes of their own stories!
WHY PATREON?
Pledging here means rewards such as early views on comics, behind-the-scenes concept work, and exclusive sketches or stories -- those are things your individual pledge bring you each month.
Combined, we move towards great comic-focused goals that will allow me to set aside more time for comics, so that I can do more of what I love!
Because of patron support, I have been able to write short stories for nearly two years now. With increased patronage here, I will be able to kick up my update speeds (as I will need to spend less time searching for jobs and completing freelance work). If you like my art, a $1/ pledge helps me make more of it!
✨ Thank you! ✨
Double updates for Spidersilk! What are our thieves up to? We can find out quicker when we reach this goal!
2 of 5
By becoming a patron, you'll instantly unlock access to 837 exclusive posts
By becoming a patron, you'll instantly unlock access to 837 exclusive posts
Recent posts by Alakotila Art