Alan Clements
is creating a podcast, books, videos, shows and a New World Dharma Institute
Select a membership level
Love you! ❤
Thank you for backing me, your support is by itself amazing and more than plenty. You'll get access to new updates on my patron-only feed and my deepest, heartfelt appreciation.
You are a generous friend ❤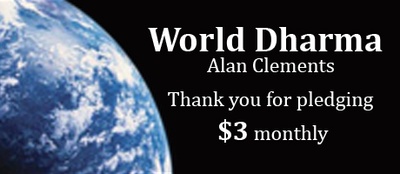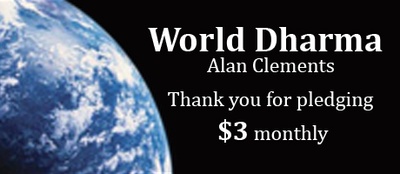 Thank you for being a generous friend and a supporter of my life's work. You'll receive my newsletter, access to my patron-only feed, and a digital copy of my book, A Future To Believe In.

I am touched, deeply ❤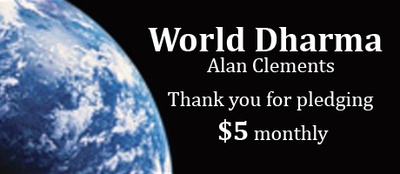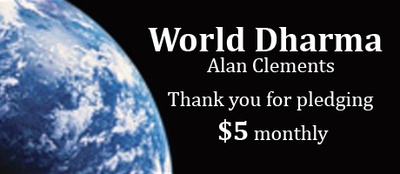 Your generous support is amazing. I am touched. You'll get access to new updates on my patron-only feed,  my newsletter, an advanced digital copy of my new book, Wisdom for the World - The Requisites of Reconciliation: Alan Clements in Conversation with the Venerable Sayadaw U Pandita of Burma (my late dharma and mindfulness meditation teacher).  And a copy of, A Future To Believe In (a book, written for my daughter).
About Alan Clements
WHAT IS PATREON AND WHY AM I HERE


Welcome to my Patreon page. where you can pledge a monthly amount that allows me to create my life and art. What this means in real terms, is that Patreon is for people who want to help sustain my ability and freedom to CREATE WHAT I WANT TO CREATE, ON MY TERMS – liberated from publishers, agents, advertising and other commercial life-sucking, greed driven interests. By pledging a set amount to me monthly sets me FREE.
For a quick overview of how Patreon works, there is a great 2 minute video
HERE.
Essentially, you choose a monthly amount you wish to pledge, give Patreon your credit card number (or PayPal) and you're charged $1 (or more, if you choose) at the end every month to support me and my team of producers and collaborators in our creation of transformational audio and video digital content as well as our general costs-of-doing-the-work.
WHO AM I
For over 30 years I have been an international speaker, meditation teacher, author, activist, retreat leader, the founder of World Dharma (a non-profit), performing artist, journalist in areas of extreme conflict and war, and a former Buddhist monk in Burma.. With two books nearing completion, one of them a 1500 page four-volume set of conversations with non-violent activists and former prisoners of conscience, I'm seizing this pivotal point to re-envision every aspect of my life. In so doing, I'm turning away from producing books (although I love books), and focusing on building a team and creating high-quality consistent audio and video digital content in the form of a weekly podcast and video-series, along with twice weekly international broadcasts and zoom workshops..

At the centerpiece of the vision is the modernization of the World Dharma Institute (started in 2001). The goal is to produce a radically innovative eight-week audio and video driven online certificate course as well as a World Dharma Independent Teacher Training Program, that will include personal mentoring via video conferencing.

The Course (already well into development) will reflect my decades of training in multiple disciplines both East and West, as well as the insights gained both in the sanctity of monasteries and the dark heart of war zones. The course will present what I feel to be the next dimension of transformation training – the practice of mindful intelligence - and, as it interrelates to the complex concerns and demands of the modern day seeker who is challenged on multiple fronts, yet determined to continue to rise to the challenges of waking up in the world.

Frankly, I cannot think of anything else I would rather be doing. It is for that reason that I decided to create a Patreon page so that my life's work can be shared with an even wider audience. I am thrilled that you have found my page and are taking a moment to learn more about my vision and the difference we can make through your generous support.
WHY SUPPORT ME

By supporting me in in creating my vision, you are joining my close-knit community of independent thinkers and seekers, yogis, rebels, meditators, activists, mavericks and other freedom loving people from around the world who care about manifesting their best expression of embodied awakening in the world and who care about the sanctity of life by safeguarding universal human rights, environmental sanity and the future of freedom, itself..

Together, we are working to produce timely digital content and evolving a platform grounded in independent thinking and developing safeguards to avoid the trap of indoctrination, while employing the liberating art of radical self-responsibility and the inner activism inherent in the teachings of World Dharma—a trans-cultural, trans-spiritual, post-traditional freedom training, rooted in the application of mindful intelligence, that of leaning to choose one's own state of mind in every circumstance faced.

Many friends, participants and colleagues in my life have requested that I create a page here. Unlike one-time donations (including cryptocurrencies) that can be made through my website (at AlanClements.com under the support page), Patreon allows you to pledge a specified amount every month and this allows us to have the security to do the work we care about. Through your generous support, I gain the confidence to build a team of co-creators, editors and producers while knowing we have secure financial resources to deliver on our promise.
WHAT I DO

In just the past year, I've been:
Developing a cutting-edge eight week digital course on the application of Mindful Intelligence in the world.
The Course will have an additional tier that includes a certified World Dharma Teacher Training Program.
Delivering spoken-word presentations on the nature of the dharma life in our troubled times, on reclaiming freedom and authenticity and the totality of our everyday life.
Putting the finishing touches to a definitive, four-volume book of conversations with Burma's non-violent activists and former political prisoners, in addition to detailed analysis of their decades long journey from dictatorship to democracy.
In addition, we are near publication of a book of conversations with the Venerable Sayadaw U Pandita, titled "Wisdom for the World: The Requisites of Reconciliation;" his final teaching before passing away.
A feature length documentary film on Alan's acclaimed one person show, Spiritually Incorrect, and his life story is in development by an award winning film company in Australia, as well as short film covering Burma's "revolution of the spirit", along with videos based on his books "Instinct for Freedom" and "A Future to Believe In", among others.
Continuing my annual retreats in Australia, Hawaii, and Burma on the wisdom of mindfulness
And this year, I have big plans to bring to life:
My book with the Sayadaw U Pandita, which Patrons will receive as an exclusive Patreon release.
A video series exploring the nature of Mindful Intelligence
A podcast featuring spiritual mavericks, freedom lovers and activists exploring the vision of World Dharma.
A tour of my new satirical spoken-word show Spiritually Incorrect - The Great Reckoning.
We want to hire a full time social media person, publicist, editor, copy writer, and co-producer of events.
Completing our four-volume set of feature length interviews with Burma's foremost thought-leaders on spiritual revolution, which is near completion after 5 years of continuous work.
A new website with graphics, photographs, video trailers, retreat copy, and proper distribution of books.
Creation of World Dharma audio albums and audio and video streaming and downloading channels.
In order to devote the necessary time to this work—and to build a dedicated team and expand the range of what I can do in this field— the numerous projects underway through the World Dharma vision must generate a reliable source of monthly income.
So, what do you say? Will you pledge a small monthly donation to help me achieve my goals?
Your Patreon support will liberate my life and vision. Every little bit helps, and your kindness will be rewarded with some awesome perks (please check them out). And your donations through Patreon are tax-deductible.
And moreover, your generous support allows our small team at World Dharma to dream big.
As they say in South Africa "Ubuntu" - We cannot be who we are without each other.
During these precarious times, we need each other more than ever.
Thank you for believing in me.
With a deep bow of gratitude.
Many thanks for your help!
Alan Clements
PS: And if you have a large one time donation that you would like to make, please contact me to discus it.
During the course of his career Alan Clements has been interviewed on numerous television and radio programs, including ABC's Nightline, CBS Evening News, CBC and SHAW TV in Canada, German National TV, ABC TV in Australia, Voice of America Radio, Radio Free Asia, the BBC, and in the New York Times, London Times, The Guardian, San Francisco Chronicle, Washington Post, Time and Newsweek, Yoga Journal, Utne, Yes, and scores of other media worldwide.
www.AlanClements.com

Alan Clements is "one of the most important and compelling voices of our times ... a riveting communicator — challenging and inspiring. He articulates the essentials of courage and leadership in a way that can stir people from all sectors of society into action; his voice is not only a great contribution during these changeful times, it is a needed one." Jack Healy, former director of Amnesty International, and founder of Human Rights Action Center.

"This culture is killing the planet. If we are to have any future at all, we must unlearn everything the culture has taught us and begin to listen to the planet, to listen to life – the core intelligence of nature and the human heart. Alan Clements and his World Dharma work not only helps us with the unlearning process – the greatest challenge humankind has ever faced – it provides the essential wisdom, the "mindful intelligence," to open ourselves to finally start to hear." ~ Derrick Jensen, Poet laureate author or A Language Older Than Words and End Game.

"Alan's life is material for a legend. An intellectual artist, freedom fighter, former Buddhist monk, he shares his insights and experience with a passion rarely seen and even more rarely lived. He'll make you think and feel in ways that challenge your entire way of being." Catherine Ingram, In the Footsteps of Gandhi & Passionate Presence

Alan Clements' book "The Voice of Hope should be read by everyone." President Jimmy Carter
$167.39 of $5,000
per month
Hire a full time virtual assistant. Relieve me of day-to-day tasks. Such tasks keep me from creating my most essential work. A podcast. Video series. Tech support for 2 x weekly broadcasts. I have over 20 years of audio & video in archives that needs editing. In addition, we urgently need to modernize the World Dharma website. And there is so much more that we envision and bring to the world. Reaching this first goal is a great beginning. Thank you for making it a reality.

1 of 3
How it works
Get started in 2 minutes