aliceinbondageland
is creating San Francisco Crossdressing Club - Events, Parties & Pageants
Select a membership level
Official Crossdressing Club Sticker!
Just $1 per month gets you an official Crossdressing Club sticker - bonus points if you send us photos of it in-use!

Send Me ALL THE STICKERS!!!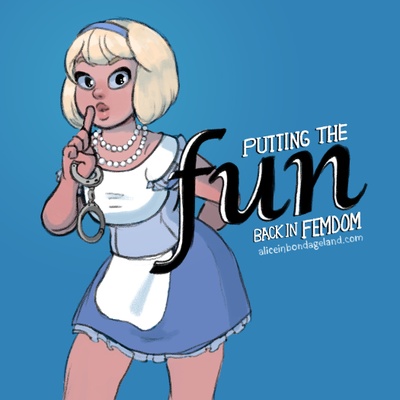 When you pledge $5 per month, you get ALL THE STICKERS!!! Includes official Crossdressing Club sticker PLUS AliceInBondageland's sticker AND future limited edition stickers - bonus points for in-use photos!
Pink Panties Club Pin - PLUS Stickers
Don't let the Leather clubs have all the fun, we have an official pink panties club pin of our own!

You also get all of the stickers too!

About
Celebrating 7 years of femininity together in our unique monthly events!

Your monthly contribution - whether you can attend in person not - keeps our community available for all. We meet participants from all over the world! Consider our unique events when making your travel plans!

During the Pandemic we are meeting ONLINE every month on the 3rd Wed of each month, enjoying movie watching parties, contests and more! The online group is SO SUCCESSFUL that we will keep it going once our live group is meeting again in San Francisco.
. . .

When there is not an outbreak... We meet each month at the Wicked Grounds Annex in San Francisco, California, to get dressed up, share a meal, help each other with makeup and enjoy an adventurous afterparty at a local inclusive nightclub. We keep adding new adventures, classes, field trips, pageants and more as our Patreon grows!

We also host THREE PAGEANTS! Mx San Francisco CD Club and two "outreach" events, Miss DomCon Los Angeles (May) and Miss DomCon New Orleans (October). Pageants feature celebrity judges, fashion, interview and talent competitions with fun prizes and crowns.

We also enjoy TWO CLOTHING EXCHANGES (October and Spring Cleaning). Women's clothing sizes are notoriously confusing so we all have clothing that doesn't fit physically or stylistically. Recycle into the community, see it inspire someone new and find something nice for yourself too.

Charity walks, poker tournaments, dinner theater at AsiaSF, makeup classes at Kryolan, live Broadway shows, private after-hours shopping trips, professional makeovers, tea parties and more! What we do next is up to YOU!!!

Monthly Club Breaking Even!

When we reach this monthly goal it means the Crossdressing Club will be FULLY self supporting. Alice has been funding this herself out of love for a long time but that is not sustainable.

This is an important step in the life of our club if we want to go another 7 years!!!

1 of 4
By becoming a patron, you'll instantly unlock access to 17 exclusive posts
By becoming a patron, you'll instantly unlock access to 17 exclusive posts
Recent posts by aliceinbondageland