Crieve
is creating ALL THE THINGS
Select a membership level
About
Do you find yourself completing old content just so that you can get literally everything for your Collections in World of Warcraft? Say no more! ALL THE THINGS will help you with your endeavor by giving you the ability to track your completion for everything.
ALL THE THINGS is an addon made to help obsessive World of Warcraft collectors. ATT supports tracking of appearances, illusions, mounts, pets, toys, music rolls, and titles. In addition to showing you items you have already collected, ATT will let you know what you still need to collect - you can view raid and dungeon drops, world event and achievement rewards, vendors, rares, quests, and more.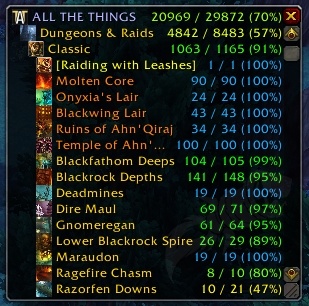 The main window breaks down your collection!
How To Use:
To configure ATT, click the minimap icon or type /att. The main settings page has overall display and database options- essentially "How many things do you want to see?" From here, you can choose whether you want to enable ATT tooltip information, whether you want to see or hide collected items, and whether you want to run on Completionist/hardcore mode, Unique/casual mode (uncheck the "Completionist" box), or if you want to tell ATT that you only care about your main.
There are more detailed options in the "Filters" section, where you can choose specific things to track. From here, you can filter out specific armor types you're uninterested in collecting, music rolls if you don't want to re-collect them on your alts, recipes if you don't care about professions, and much more. There are also lots of options here for filtering out unobtainable items (old rewards from Blizzard promotions, gear that was removed, things that are only available on the Black Market Auction House or Blizzard In-Game Store, and even Elite/Gladiator gear from PvP).
Features
- Supports tracking of Appearances, Illusions, Mounts, Pets, Toys, Music Rolls, and Titles.
- Primary Collections Window is moveable and resizeable.
- Auto Minilist
- Datatext Support
- Multiple Database modules to keep the addon from having to access Blizzard API.
- Filters to allow you to customize the addon to your preferences.
- Extra tooltip information (Models, Icons, Descriptions, etc).
- Fanfare music when you learn anything new.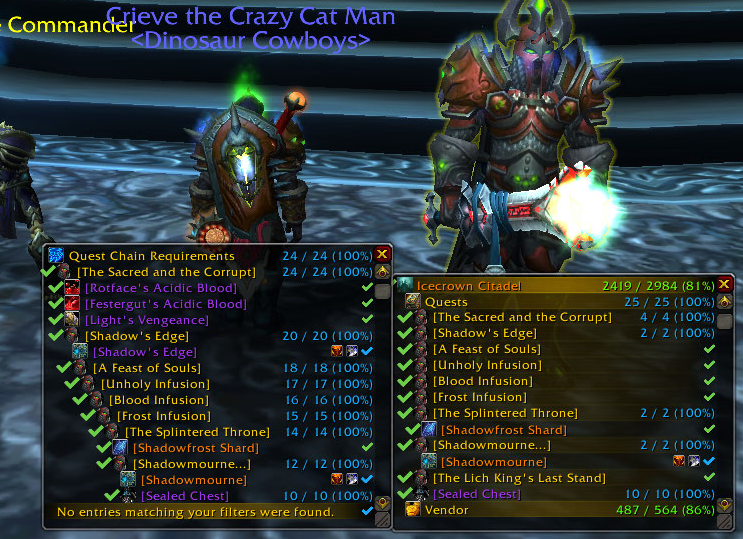 Quest Chain Requirements
-- Right click on any quest in the addon - if it has been updated to link to its parent quests, it ill pop out to its own window showing the full quest chain from start-to-finish!
Why do I need this addon?
- Ability to see collectibles you are missing in a more presentable means than Blizzard's UI.
- The UI has information on quests, vendors, rares, dungeons and raids, world events, and more.
Download link:
https://www.curseforge.com/wow/addons/all-the-things
(Don't worry, it's 100% free! Patreon is for website development only!)
Problem? Suggestion?
If you just updated and are getting tons of errors please completely close your game and then reopen it. Updating addons while the game is running can cause problems!
- Join the ALL THE THINGS Discord
here!
- Download directly from our Git
here
!
Author:
DFortun81
Contributors:
Daktar, Lucetia, Avella, Oiche, Goldenshacal, Infamous, Aiue, Avezza, Slumber, Eiltherune, blueyleader
Special Thanks
AmiYuy - Has helped many times with different aspects of the addon.
Sweetlie - Helped with models for addon.
Gello - Helped us to get NPC localization.
Breanni - Allowing us to use notes from WarcraftPets website.
DeadSerious - Designer of the ATT Logos!
BigBlaris - Verifying drops, testing.
Nightswifty - Featured us in a
WoWHead Guide
We would also like to thank the contributors for the work they do and the users who have submitted suggestions and bugs in discord or on forums we have threads on.
Recommended Addons
-
Can I Mog It?
-- Great addon that adds tooltip info for appearances and overlays for vendors, bags, etc.
-
Locked Out
-- New addon to replace Saved Instances
-
Rematch
-- The best pet journal replacement there is. Many many features.
When we reach $1000 per month, ALL THE THINGS will be able to afford the server costs for a powerful SQL database and T2 Server for comparing collections and generating leaderboards through Microsoft Azure.

1 of 1
Become a patron to
Connect via private message