Amanda Louise Spayd
is creating The World of Dust Bunnies
Select a membership level
Pledge what you wish!
Welcome to my Patreon! I'm happy you are here!  Come join my Dust Bunnies community for behind the scenes photos and blog entries, works in progress, and discussion with fellow Patrons.  Any pledge $1 and over is invited in, and pledge amounts are welcome. 
About
Hello there!
My name is Amanda Louise Spayd, and I create the weirdly cute world of the Dust Bunnies.
Dust Bunnies are wide-eyed, snaggle-toothed creatures full of curiosity, but, not so full of smarts. Ignorance is bliss, however, and they inhabit our world in the shadows and corners, unbothered and unnoticed by humans. They're the ones responsible for that one sock that disappears after you do laundry, as well as those mysterious chew-marks on the bottoms of your wooden chair legs, and the unexplained shuffling sounds from across the house that you can never quite identify. They don't need us to notice them, and don't rely on us for anything. They collect our cast-off things and adorn themselves with the forgotten detritus of eras long past. They are innocent, they are curious, they are weird, and they are wonderful.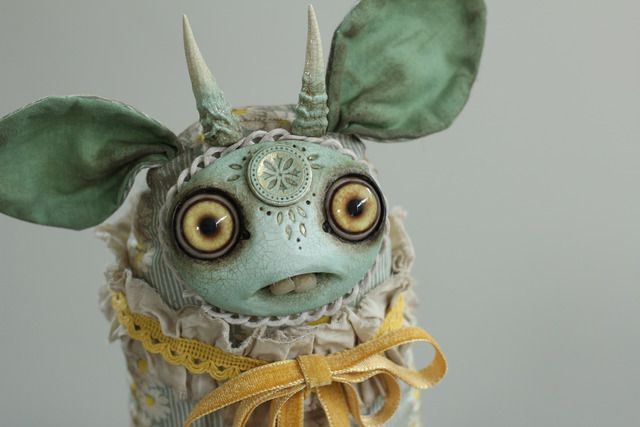 I've been creating and sharing my work online for several years, and have been fortunate to have gained so many followers and met so many people! My goal is to expand the reach of my words, art, and ideas, and introduce more of the world to the Dust Bunnies. I know that buying original art isn't possible for everyone, so I try to include a wider audience by creating enjoyable content that anyone can see. I have a lot of fun doing it, but making videos, staging photo shoots, and creating meaningful and fun stuff takes a lot of time and resources. Every dollar I receive from Patreon will go directly to the production of more and better content for everyone. It will help me purchase supplies and equipment, as well as allow me more freedom to spend extra time and care making high-quality videos, photographs, and written documentation of my work, my process, and my inspiration.
I'm really excited about growing my community here on Patreon - we will have a lot to talk about! If Patronage sounds cool but isn't something you can do right now, that's okay too - you might want to join Patreon as a member anyway, because you can follow your favorite creators and see all of their public posts for free! It's a good way to stay on top of what I'm doing, because unlike Facebook and Instagram, the Patreon feed is chronological and never arranged by popularity or engagement potential! So whether you choose to follow me here, or you want to be a Patron - welcome to Patreon!
By becoming a patron, you'll instantly unlock access to 100 exclusive posts
By becoming a patron, you'll instantly unlock access to 100 exclusive posts
Recent posts by Amanda Louise Spayd