Amanda Palmer 
is creating Art
YOU ARE HERE TIER
$1 or more per thing

∙ patrons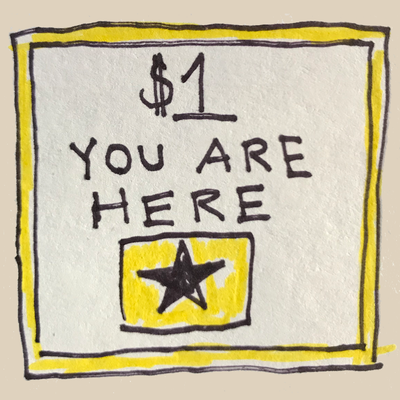 you are...here. you're supporting me and that's huge. thank you. you'll get my patron-only posts and access to the patron-only feed, where the community centralizes and everything gets posted & talked about. you'll also get downloads of some of my larger projects. and so you know: your voice is just as important as some well-off mofo giving me $100. 
DOWNLOAD TIER
$3 or more per thing

∙ patrons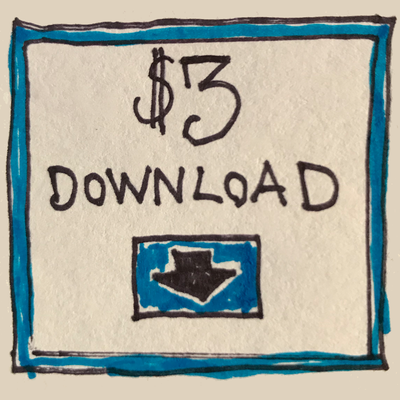 you're supporting me even more, and you are also awesome. thank you. you'll get access to the patron-only feed, as above, where we hang, and you'll also be DIRECTLY emailed keepable/playable/readable downloads of any content (PDFs, MP3s, etc).
RANDOM SURPRISES TIER
$5 or more per thing

∙ patrons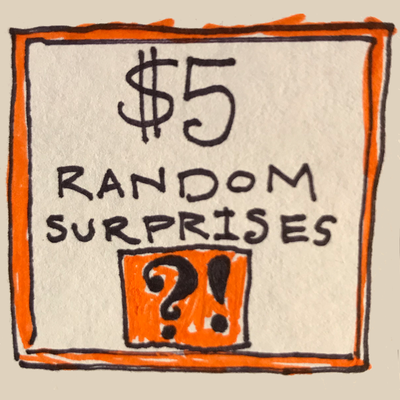 you're supporting me a lot here, dear one, and $5 a song (or Thing) is really generous. thank you! you'll get all of the above, plus you'll get random surprises in your email. i'll share extra stuff with you every once in a while, including more personal videos and photos (and sometimes voicemails) that i don't want out in the public. so far i've sent random little digital tidbits every few months that seem to really delight people. i'm always open to ideas and feedback about how to get weirder.

WEBCHAT TIER
$10 or more per thing

∙ patrons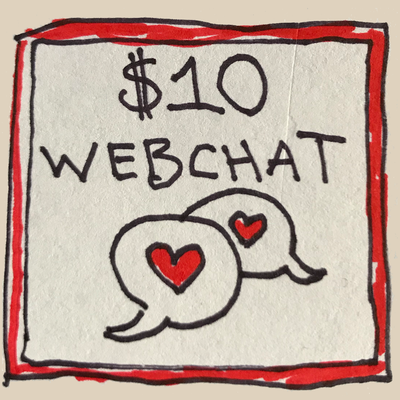 this is a lot of money to give to an artist, and you are really showing me some serious art-love here. THANK YOU. i'll try to make it worth it: you'll get all of the above, random surprises and all, plus access to my patron-only webchats in which i'll chat/perform live/discuss things with you. for the last few years, i've really enjoyed and appreciated these talks with the higher-level patrons, and we talk about some serious stuff. i usually do these chats from my home or from whatever recording studio i'm working in, so you get a glimpse of what real life is looking like (there are often babies and husbands and friends around). i love doing these, but not with thousands of people. i'll do the monthly webcast even if i haven't made any art, so you may be getting free webcasts if i'm in a funk, and we'll just talk online about how unproductive and fucking depressed i am. FUN!
ART-IN-THE-MAIL
$25 or more per thing

∙ patrons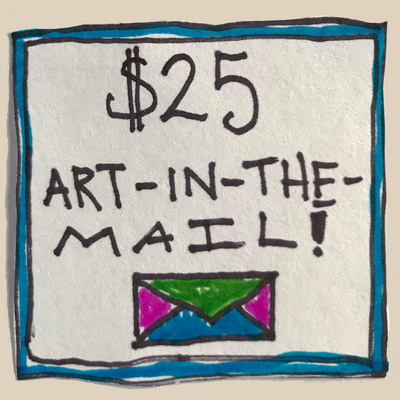 THIS IS A NEW TIER!
i have been thinking for ages about how to reward people who want to support at a higher level, and i've found it! introducing ART-IN-THE-MAIL. this tier will get all of the above (access to all downloads, webchats, etc) AND every few months, as a gesture of my extreme gratitude, you can opt-in to receive a piece of beautiful physical art. the art may be something i draw and print in a limited edition, or something i commission from another painter/artist/maker. it may be a watercolor print that was created for a tour or an album, it may be a rolled-up print of a panel from a comic i'm working on. it may be socks. we can fit socks in an envelope. we're gonna have fun with this one. 
(Signed) ART-IN-THE-MAIL + GUESTLIST
$75 or more per thing

∙ patrons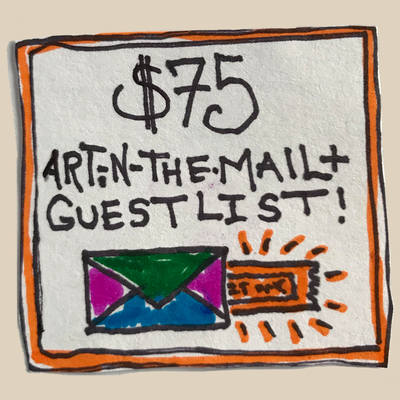 THIS IS A NEW TIER!
same as the ART-IN-THE-MAIL Tier, except you have the option to have your art (or socks) personalized + signed by me; the personalization can be for anyone (including you). it's a massive undertaking to get things signed/shipped from place to place (especially if i'm in japan and you're in brazil), so we try not to do too much of this....but i love the idea of being able to do this as a gesture of gratitude for the massive amount of dough you are putting into the system. you will also get access to the guestlist (+1 - note that not every appearance i do has a guestlist, i.e. if i'm playing a festival, but for my own headlining shows, we should be able to accommodate everybody). THANK YOU AND I LOVE YOU.
OLD-SCHOOL POSTCARD TIER
$100 or more per thing

∙ patrons

(sold out!)
(limited to 30) - hello, Amazing Art Angel. this is massive. you'll get all of the above...patron-feed, random surprises, webcasting, plus i'll also
send you weird vintage/kitschy postcards from weird places i wind up
(i've been having a TON fun with this). and you'll get access to the guestlist, +1, anywhere. we will email.

note: this tier is VERY FULL, but spots open up occasionally. 
EVERYTHING IN THE MAIL
$250 or more per thing

∙ patrons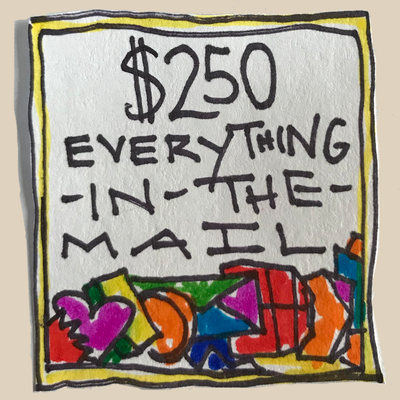 THIS IS A NEW TIER!
HELLO AMAZING PERSON. you will get EVERYTHING the $75 tier gets, plus we will will give you extra guestlist access (if you'd like to bring 2 guests with you to any given official AFP show) and we will invite you to request ANY physical merchandise whenever new items are added to the store (you want a few copies of the new poster? you got it). you'll basically get personalized concierge service and we'll sign and send stuff to you for you/your loved ones anywhere in the world. thank you so, so so much. holy shit.
ALL THE THINGS
$1,000 or more per thing

∙ patrons
wtf. we'll talk. we'll have dinner; i will probably cry. you may cry. all the things, pretty much. thank you (holy shit the end).