Amelia And JP
is creating Fun & Informative Videos of Our Unconventional Life in Ecuador
Select a membership level
The Band of Unconventionals
Join our Band of Unconventionals and hangout with Amelia And JP, as well as other Unconventionals from around the world. Plus, you'll get an extra Q&A video, and access to our Ecuador Scrollodex and private chat community.

At this level, you'll be a full-fledged Unconventional army member! At just 10¢ per day, this patron level is a steal!

Here's what you'll get:

•  Access to our Patreon-only Feed where we interact with our patrons and share exclusive videos, photos, posts, polls and more.

•  Access to our continuously updated Ecuador Scrollodex. That's our digital rolodex of English-speaking service providers in Ecuador. 

•  Immediate access to more than 12 past patron-only Q&A videos plus a new Q&A video each month answering questions given to us by our patrons.

•  Access to our fun, private, safe and secure Discord Chat Community that's just for our Band of Unconventionals (and not on Facebook!)

•  Our extreme gratitude for your amazing generosity! 

Includes Discord benefits
Unconventional Insider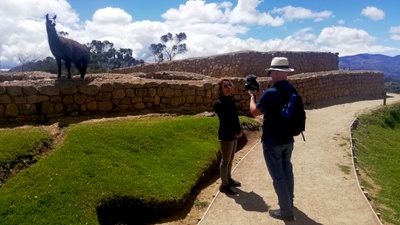 At this level, you'll be an honored Unconventional Insider with special access to even more exclusive behind the scenes videos and content!

Here's what you'll get:

•  All the benefits from the previous level, PLUS...

•  Immediate access to more than 12 past Insider videos plus one extra exclusive video per month that will only be available to patrons at the Insider tier or higher.

Includes Discord benefits
Unconventional Zoomer
At this level, you'll be an Unconventional Zoomer with special access to a monthly Zoom Webinar with Amelia And JP. You'll be able to ask us anything and we'll respond in-real-time via live video.

Here's what you'll get:

•  All the benefits from the previous levels, PLUS...

•  Attend a monthly Zoom Gathering with us, as well as other current and future expats. You can share your video or just your audio if you don't want to get all gussied up. You can ask questions, make suggestions, comment on videos, tell us about your unconventional life and we can interact right then in real-time! 

• It's a great way to meet other unconventionals, too!

Includes Discord benefits
About
Our Unconventional Life
Hola Unconventionals!
We're Amelia And JP. We sold everything we owned, converted our jobs to virtual, moved to Cuenca Ecuador with our two dogs, and launched a YouTube Channel to document this crazy adventure. Now we're living in the small beach town of Olón so we can share what it's like to live on the coast of Ecuador.
Each week, we post new videos about our unconventional life as American expats living and working online in our small South American country. Join us for a few laughs, lots of smiles, valuable expat info and a bit of inspiration.
We enjoy sharing our unconventional life with you, and we encourage you to live yours, whatever that may be.
What It Means To Be A Patron
This is WAY outside our comfort zone to ask for help, but the practice of patronage isn't a new one. Michelangelo and Leonardo da Vinci had patrons, as did most other artists throughout history. Creating things that have real expenses, but intangible value like art, poetry and YouTube Videos, often require the generosity of others in order to become reality.
As a patron, you'll not only help us continue to create our entertaining, informational and smile-inducing videos, you'll also help us keep our videos free of annoying YouTube popup and interruption ads. 
"I would also like to echo what you said about the Patreon group. I am not in Ecuador, yet, and have lots of questions. I joined the Patreon group and I get answers to my questions not only from JP but also from the group members. It's a wonderful group to be part of 😊." ~Jeff Hoyle, Patron
Once you join our Band of Unconventionals, you'll also gain access to even more content, like a monthly early access video, a monthly Q&A video, plus behind the scenes videos, blooper reels and zoom meetings (depending on your patron level). Our top patrons will even get public recognition for their support!
You'll also have our guarantee to respond to every single comment and question. We have been spending a LOT of time responding to emails, direct messages and comments on our YouTube and other social media channels. And we LOVE hearing from you so please don't stop!
But as our channel continues to grow, that's obviously not sustainable. We simply won't have time to respond to every comment and email like we have been. As a patron, your comments and questions will get top priority.
Why We Need Your Help
When we started our YouTube channel, we didn't realize how much it would cost us out-of-pocket as we grew. Our first videos were recorded with an iPhone and no external microphone. We quickly realized that wasn't a viable long-term solution if we wanted to reach more people. So we bought a nice camera with an external mic. 
As my video editing skills improved, I realized the outdated editing software I was using wasn't good enough and neither was the free music library. So we upgraded to a better video editing platform and a service that licenses the amazing music that we use in our videos.
Along with hosting for our website and cloud backup storage, we spend over $100/month on software and music licenses. That's $1,200/year! Yikes!
Thankfully, we have Amelia's job to help cover all these costs because the filming, editing, publishing and promotion of our videos, plus responding to emails and comments, is requiring so much of my time that I've stopped taking on new web design clients.
I'm spending more than 40 hours per week working on our YouTube Channel, so I only have time to serve my existing web design clients, which has reduced our income. Reducing our income while increasing our expenses isn't a good situation for us to be in as time marches on.
Your support will help us continue to create videos about Ecuador and other interesting expat destinations. You'll help us keep our channel popup ad-free. And you'll help us put food on the table (and in the dog bowls).
You'll also help us purchase new and improved filming equipment so we can continue to enhance the quality of our videos.
And you'll help us visit more parts of Ecuador, like the coast, the Amazon, Salinas, Quito and other popular expat and travel destinations. Cuenca isn't the only place to expat in Ecuador (or south of the States). Depending on your personal interests, health and weather preferences, you may like another place better and we'd like to show them to you so you're more informed. Plus, you'll get to see more of Ecuador's diversity and unparalleled natural beauty.
Where Does Your Contribution Go?
Your pledge goes directly to the creation of more inspiring, entertaining and informational videos (except for the Patreon and credit card processing fees).
Our biggest monthly expenses right now are:
Video Editing Software
Music Licenses
Cloud Storage
Web Hosting

Some future expenses that we're expecting are:

Travel Expenses - transportation, lodging, tours, etc. for Mindo, Quito, Galapagos, Amazon Rainforest, Cotacachi, Baños, Playas, Las Esmeraldas, Manta, Guayaquil, etc.
Telephoto Lense - for distance photography and videography (birds, whales, mountains, etc.)
Video Editing Consultant - to free up some time so we can create even more content.
What If You Can't Give?
We totally understand that you may not be in a financial position to help us cover the costs of creating our videos. Here are some other ways you can help out:
Subscribe to Our YouTube Channel (be sure to enable notifications by ringing the bell)
Watch our videos, sign up for our newsletter, join our Facebook group and SHARE SHARE SHARE!!! The more you share our videos and blogs on social media (YouTube, Facebook, Twitter, Instagram, Reddit, Tumblr, Snapchat, etc.) the faster we'll grow and the more high quality content we can create.
Send links for our videos to your friends and family and ask them to connect with us on YouTube, Facebook and Instagram.
Suggest us as guests on YouTube channels, podcasts, blogs, magazines, public speaking events or other media outlets for potential coverage.
Or just send us some positive energy and thoughts! 
Whatever you can do to help support our creation of videos that inspire, entertain and educate unconventionals around the world is appreciated more than you can imagine! 
What If You Want to Contribute Without Signing Up for Patreon?
We get it. Maybe you enjoy our videos and want to support our creation of them, but you don't want to sign up for Patreon. We've got you covered. You can make individual donations via PayPal through our website 
Support Page
.
Thank You!
Thank you for your interest in becoming an Amelia And JP patron and joining our Band of Unconventionals. We'll keep doing our best to deliver high quality, inspirational, informational, educational and smile-inducing videos for you. ¡Muchas gracias y buena suerte!
We'll Share A Special Patron-Only Video for ALL Tiers

To show our extreme gratitude to all our patrons, we'll share a special patron-only video and we'll even take requests from you and film things that you want to see! We'll also give a shout out in the video to all our patrons at the Supporter Tier and above. Tell your friends so we reach our goal faster!
5 of 5
Become a patron to
Unlock 100 exclusive posts
Connect via private message
Recent posts by Amelia And JP