I'm on Patreon to PTSD Awareness to centerstage - literally.
A full production of "Imprints" at the New York City Thespis Festival in January 2017 will require $10,000.  
Every bit counts, and we appreciate any bit of help you can provide.  More details to follow!




Trauma affects everyone differently, but creativity can be a lifeline for everyone and start a vital message for society.

To celebrate how the arts can heal trauma, I will make one creation a day.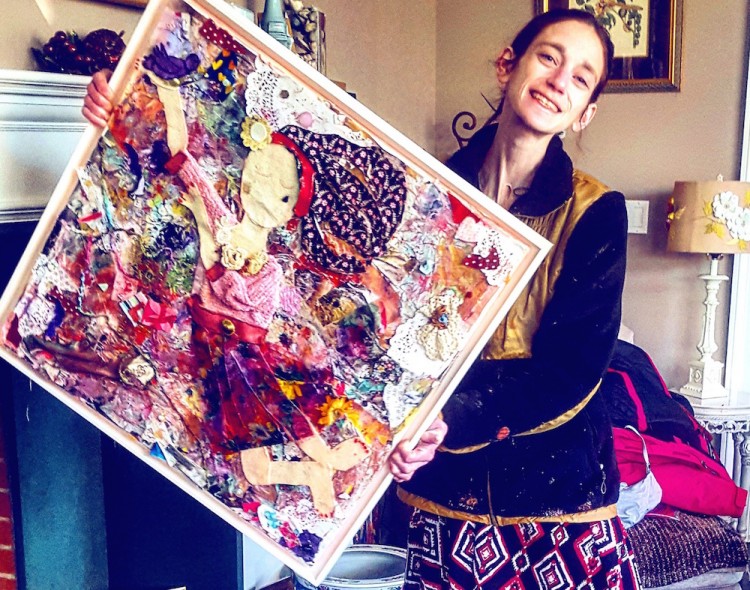 What will I paint/write/sing/perform/share/sculpt tomorrow?
That's
your call.


I'm an artist, finding inspiration from daily life experience and an life-shattering experiences.
After almost losing my life at 18 years old, I celebrate life's daily miracles through my art, theatre, music and writing.


I HAVE A HUGE GOAL: To mount a full production of a full-length drama I've worked on for six years about my life,  a survivor and "thriver" of sexual abuse, 27 surgeries, coma, organ failure, six years being unable to eat or drink, and the PTSD that comes from ten years of trauma, starting from my senior year of high school.
Learn about it 
here.

What exactly happened to me?  Basically, my stomach exploded.
(Seriously.)
So, my life didn't go exactly as I planned it – but does anyone's?
I also, wrote a one-woman musical about my life,
Gutless & Grateful
,which I tour not only to theatres, but to colleges, conferences, shelters, hospitals and organizations as a sexual assault prevention and mental health advocacy program.
 With your pledge,
my goal is to reach even
more
 students, survivors, health advocates, teachers, leaders and allies with my message of gratitude, hope and resilience.
I'm a PTSD peer-peer specialist, artist, author, writer for The
Huffington Post
, speaker for TEDx and RAINN, award-winning health advocate, actress and playwright. As a survivor and "thriver" of nearly
30 surgeries
, a coma,
sexual abuse
, organ failure and a decade of medical trauma, I've been challenged with moments of extreme difficulty. But as an
artist
,
actress
, author, dancer, foodie, 29-year old
college
student and overall lover of life, I'm grateful that these "beautiful detours" have made me who I am today.
Because of my ten-year surgical marathon,  I discovered the world of mixed media
art
as an amazing way to express what I had been through.  Now I'm addicted to creativity because it saved my life, and I share because I think it can improve anyone's life!   I hope my story (and what I've done with it) inspire you to navigate your own "life detours" by simply following that unexpected path, and turning obstacles into creative adventures...which ultimately become opportunities!
Now 29 years old, I'm a visual artist, theatre artist and writer with a story to share with you...and a mission to guide others through their own detours and unexpected paths.
Creativity is my lifeline.
 Through the highs and lows of the past decade, I have been creating hundreds of
pieces of art
, speaking at various
conferences,
performing
nationwide, and building other
creative minds
along the way.
My biggest dream is to get this empowering inspiring message out there in the largest way possible
- the stage.  
Theatre changes lives!

Along with my show, I'll be leading 
mixed media art and creativity workshops
to bring out the artist in us all - because trust me: when life gets shaky, we need to bring our inner artist out as a survival skill.
Creative Expression empowers us when life feels out of our control, and I believe EVERYONE deserves to create.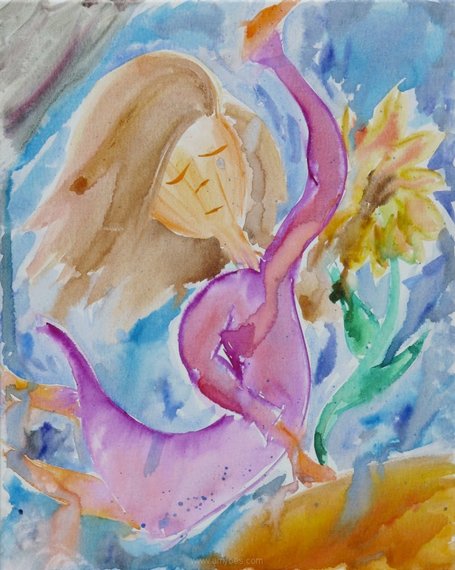 Help me make that happen for the world!
I want to build this journey with you.

So, I will:
(a) make a new piece of art every week and share it with the community(b) make a new video about making art of all types (theatre, writing, painting, sculpture) once a week(c) make coaching sessions to help you build out the artist/detourist inside you(d) make writings, articles and inspiring things to read, do, think about to help your transform adversity into life lessons
Be a patron and:
(Level 1)
(two dollars per month) get on the exclusive mailer where I share tips, tricks, and amazing ideas - get a (#LoveMyDetour) official logo to show you're part of the movement!
Level 2:
 You will also gain access to Patron-Only posts of unreleased images. These are images that need a title before they can be published to my portfolio. Tell me what you would call them in the comments - if I pick your title, you'll be listed on my site with a backlink to yours included! (up to you, of course!)
(Level 2a)
(5 dollars per month) all of Level 1, AND you will be on the short list for art tutorials AND an open-questions roundtable where I answer real questions about art, creativity, or your artsy topic of choice.
(Level 2b)
(5 dollars per month) all of Level 1, AND you will be on the short list for art tutorials AND an open-questions roundtable where I answer real questions about Health/Mental-Health.
(Level 2c)
(5 dollars per month) all of Level 1, AND you will be on the short list for art tutorials AND an open-questions roundtable where I answer real questions about Theatre - I'm talking anything from musical theatre ad composer trivia, how to write your own show, what's my inspiration, polishing your monologue, marketing yourself as an actor, or how to break into the biz!
(Level 2d)
(5 dollars per month) all of Level 1, AND you'll receive weekly inspirational quotes, poems and writings - all original, never before seen, and customized for you, to help you on your own journey. Trust me - I'm a writer fueled by unique, inspiring life experience. I'd love to share my inspiration with you!
(Level 3)
(10 dollars per month) all of Level 1, 2x, AND I will write you a monthly poem - the topic is your choice - anything, for anyONE, on any occasion! It's the perfect meaningful present for a friend!
(Level 4)
(15 dollars per month) all of Level 1, 2x, AND you will get access to the (weekly/monthly) live stream of me in the studio making something inspired by a loyal community member
Level 4A
($40) You'll get a writing power session with me! Send me what your working on and I'll gladly look it over and help you with the edits, adjustments or revisions you need! Check out my
writing portfolio
to see a bit of what I've done!
Level 4B
  ($50) Not only will you get a writing power session with me, you'll get coaching on how to get your piece published, where to get it published, and how to turn your passion for writing into a business, or to take your business of writing to the next level!
(Level 5)
(75 dollars per month) all of Level 1, 2x, 3, AND a front-seat view at any of my shows or conferences (sent to you via a private live stream if you can't make it)
Why should you become a patron?
You can always just give what you can...

First of all, you'll get my unending gratitude for supporting my passion for the arts to help others transform adversity into creative growth.
Anyone can be an artist – and my biggest thrill is bringing that out in others.
It doesn't matter what you pledge – it's truly the thought that counts. Your donation is a beautiful acknowledgement that
creativity is a mindset,
a survival skill, and the best way for anyone to find joy!
Secondly, you become my inspiration, turning my own mission into
helping you find your own creative voice.
On my
blog
, I get tons of
comments
and emails asking me about certain techniques that I've created over time – I'm completely self-taught, so all of my
"techniques"
are uniquely me. At first, I loved sending people
step by step
instructions on how to create some of my favorite pieces, and some of my tips really caught, but because of the amount I receive now and there being sonly so many hours in a day, I feel terrible that I can't respond to every one of them! So, eventually I try to get around to everyone because I think creativity NEEDS to be shared, but you will definitely be my first!
Thirdly, you'll get exclusive live content of me in my studio,
painting for hours
and going with the flow until somehow, a new canvas gets made – you'll be
amazed at what I can come up
with by just throwing paints on a canvas and banging it around! In live footage, anything can happen, and since I also happen to be a s
inging, dancing musical theatre ham
, who knows, you might even get a bit of song and dance in there as well!
And finally, you also get exclusive patron only access to the entire archives of not only
behind the scenes work
in my art studios, but backstage footage of me performing, and
life on tour!
I have a pretty crazy life (which is probably why I've been offered a reality show a few times!) between my stomach exploding, touring a one-woman musical about my stomach exploding, having to eat
6000 calories a day
because of my stomach exploding, and a lot of other crazy random things that have nothing to do with my stomach exploding, but sure have to do with my insatiable hunger for life! Plus, my adorable Pomeranian and toy Australian shepherd will probably make a few appearances.
I'm working on more rewards to show my appreciation of your support for this crazy dream of mine,
so expect more to come!
My "beautiful detour"
has inspired a passionate desire to create and help others. My writings have appeared in
Washington Pos
t and
On Being
with Krista Tippet, my story has appeared on the
TODAY Show
and
CBS
, and my one-woman show has been
seen in theatres
across the country, earning rave
reviews
and accolades since it's
BroadwayWorld Award-nominated
NYC debut. It's also the name of my
upcoming book and TEDx talk!
I'm so excited to share the lessons learned from trauma with you, and hope to bring out the detours that unite us all through my
writing
,
mixed media art
,
performance
and
inspirational speaking.
Remember, detours may side-track you, but they do go somewhere…
…so follow that detour and discover the beauty in the road less travelled!
I #LOVEMYDETOUR!
Do you?
(Just more proof that sometimes a "setback" is a "springboard if you want it to be!)
Or see where my detour is headed next in my
event calendar!