Who I Am
I'm a full-time artist. I paint small, strange watercolors in abstract and impressionist styles, and draw fancy stick figure fan art comics. I have
an Etsy shop
selling greeting cards, prints, and other ephemera, and I run a monthly virtual art show on my website called the
Floating Gallery
.
My self-portrait looks like a cross between a Bond villain and a crazy cat lady. This is... not inaccurate.
What's the Point?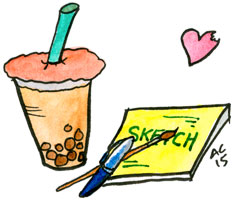 If you love my art and want a way to support it that doesn't accumulate stuff, or require the commitment of buying a painting, this is the way to do it. It's like a monthly tip jar, giving your patronage to support the arts -- specifically, my art.
Since I'm a full-time artist, the money goes to things like rent, boba tea, and cat food. Also art supplies and sources of inspiration such as books, movies, and iPhone games. What can I say, I love Neko Atsume.
How it Works
Patreon has made a convenient video explaining itself, so I'll just leave that here for you.