Anatomy Of Marriage
is creating podcasts, support groups, videos, resources and more...
Select a membership level
2 buck chuck, or chuckette
You've heard the show and you like it and didn't turn it off  right after listening!  
Supporters of AOM
You like what we do and find value in it.  your contribution allows us to create awesome material that makes marriages better!  Go on! Skip that cup of coffee and help out!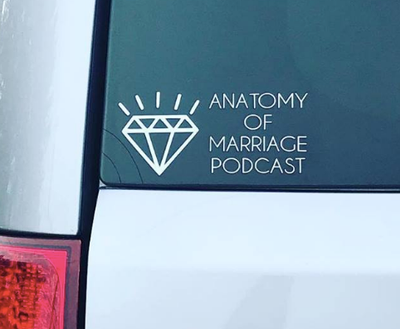 Partners of AOM-!!
 Go ahead, you're awesome and you want an awesome marriage and relationship! 
About Anatomy Of Marriage
Melanie and Seth Studley are the dynamic couple behind the
Stronger Marriages (Anatomy of Marriage) Podcast
, they have been married for 14 years, have three kids together and were nearly divorced seven years ago. Seth is a Licensed Marriage and Family Therapist and Melanie is an audio engineer and podcast creator . Together they take listeners through the ups and downs of their marriage with topics ranging from domestic violence and pornography to communication.
They use the story of their almost failed marriage to help spread understanding and education about the many aspects of marriage that are hard to access in a therapy session or in premarital counseling.  They leave nothing out of their personal story, from recorded arguments, to actual sex therapy sessions, they share it all in hopes of helping you and your partner. 
Melanie and Seth want to do this all for FREE.  They want people to have better, more enriching relationships and will not allow money to stop them from sharing their content or stop fans from receiving it!!
Recent posts by Anatomy Of Marriage