Sebastien Andrivet
is creating ADVi3++
Select a membership level
Pre-build binaires + docs
Access to new releases, source code and documentation
Exclusive support on ADVi3++ Community
Access to Patron-only content. In particular, early access to Beta releases, new documents, pre-build binaries and some areas of ADVi3++ Community such as the Advanced User Manual
Pre-build binaries + docs + voting right
Access to new releases, source code and documentation
Exclusive support on ADVi3++ Community
Access to Patron-only content. In particular, early access to Beta releases, new documents, pre-build binaries and some areas of ADVi3++ Community such as the Advanced User Manual
You will also be able to vote for the features to implement in the next releases (5.x)
About Sebastien Andrivet
I'm Sebastien Andrivet, the creator of
ADVi3++
, a custom firmware for Wanhao i3 Plus 3D printers and their clones.
What is ADVi3++?

ADVi3++
is an alternative and better open-source firmware for Wanhao i3 Plus 3D printers and their clones. It is based on the latest stable version of Marlin and add some features like the tuning of your printer (stepper motors tuning, bed leveling, thermal protection, etc.), thermal protection (in case something wrong happens to your printer), buzzer control (no more this annoying sound), screen dimming control, etc.
I also publish technical documents about i3 Plus printers, their internals and some other useful information.
Why Patreon?
Working on
ADVi3++
takes a lot of time and effort. I make my best to release good quality software, useful and precise documents. I track bugs reported by users and record enhancement requests. I invest also time and money to build, for example, a printer simulator.
If you like what I am doing, please consider supporting me as a patron so I can continue and develop new releases and new documents. Supporting this project is a guaranty for you that it will continue and become better and better.
What I will do with your donations?
I will use your donations mainly to buy hardware and better support the different flavors of modifications you can perform on your printer. For example, I have bought four BLTouch sensors: a classic, a smart v2, a smart v3.0 and a v3.1, just to be sure my support is fine for all. I bought two different LCD screens because there are currently two different models used by the i3 Plus. I bought also runout filament sensors to support them in a future release.
But I can give only a small amount?
And it is perfectly OK. My goal is not to become rich. Your support will help me keeping motivating, and is a very concrete way to show me that you like my work.
What have been done since the beginning of Patreon's campaign?
Here is some of the new features or documents I have released thanks to sponsors:
BLTouch support including BLTouch Smart version 3.0 and 3.1.
New in version 5: Tool to help diagnosis BLTouch hardware issues.
Head parking and filament change including when you send a M600 command
Support of Mark II (except power loss recovery, planned for a later 5.x version)
Support of Aldi Balco 3D Printer.
New in version 5: Alignment with Marlin 2.x sources. Thanks to that, it was possible to use the new Junction Deviation instead of the old Jerk settings.
Multiple PID values for different temperature. PID tuning of the Bed.
New in version 5: A redesign Main panel with more information like time elapsed and time to complete when printing.
New in version 5: A Setup panel to help you configure your printer when settings are reset.
New in version 5: Direct entry of values with an on-screen keyboard.
A lot of support on ADVi3++ Community
Etc.
Some screens
The new Main panel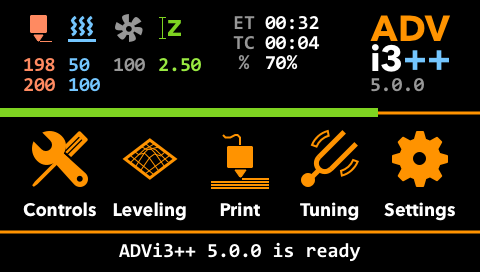 The new Setup panel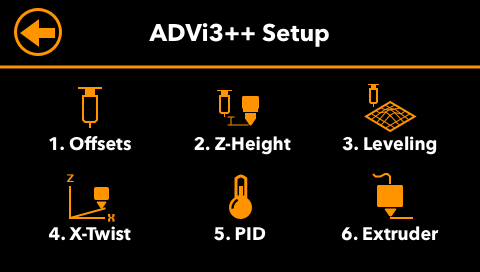 The new BLTouch testing panels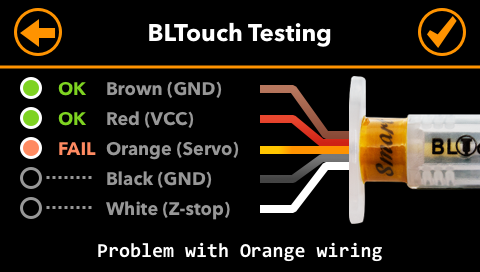 The new on-screen keyboard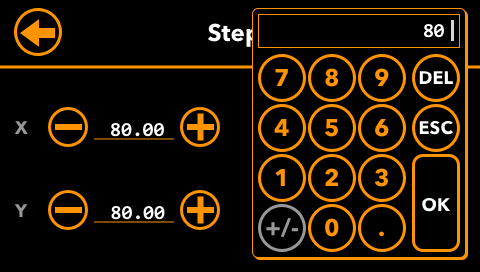 What you can expect in the coming weeks and months?
Here is some of the new features I plan to release in the coming month:
Alignement with the latest version of Marlin.
Semi-automated bed leveling (without a sensor)
Better support of some hardware like Power Loss Recovery
Support of Filament Runout detectors
More tools to help diagnosis hardware issues
The exact list of new features will be decided by sponsors of this project on Patreon ($8 or more). See 
What's next with ADVi3++?
Pre-Build Binaries
As a supporter of ADVi3++ project, you get exclusive benefits. In particular, you get pre-build binaries (.hex files for the mainboard, .img files for the LCD Panel).
Of course, the sources remain public and up to date for everybody under GPLv3 (Mainboard) and
Creative Commons Attribution-NonCommercial-ShareAlike 4.0 International License
(LCD screens).
More information
By becoming a patron, you'll instantly unlock access to 33 exclusive posts
By becoming a patron, you'll instantly unlock access to 33 exclusive posts
Recent posts by Sebastien Andrivet
How it works
Get started in 2 minutes